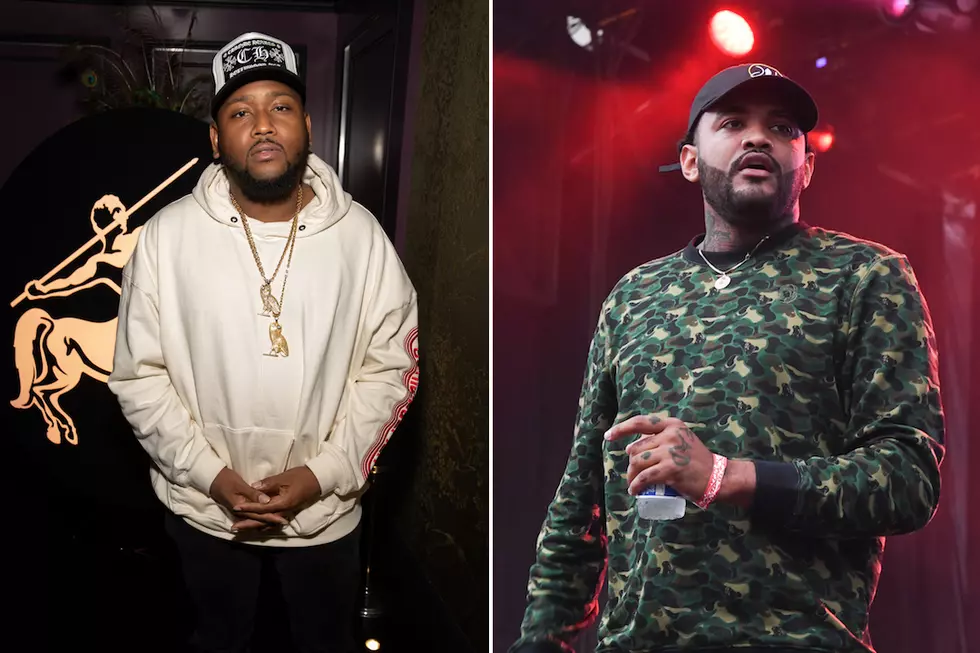 Boi-1da Calls Joyner Lucas One of the Best Lyricists He's Ever Heard
Randy Shropshire / Paras Griffin, Getty Images (2)
An executive producer on Lucas' commercial debut, 2017's 508-507-2209, Boi-1da has been heavily involved with ADHD as well. He says he's excited for the world to hear more of what Lucas has to offer.
"He has a lot of records that are standout songs," promises the multi-platinum hit-maker. "He's really doing things that no other artist—especially in hip-hop—is doing right now. He's touching on certain topics. I think it's going to be a moment."
Joyner Lucas has managed to garner praise and acclaim from critics and legends like Eminem following the release of several buzzworthy mixtapes. Boi-1da's stamp of approval came as a result of a combination of the lyricist's pen game and his creative capabilities.
"Not only the fact that he's one of the best lyricists and storytellers I've ever heard, but also his creativity and his ideas were just way outside of the box," says Boi-1da when asked what initially made him want to work with his "FYM" collaborator. "He's not your conventional artist."
Credited with scoring hits for Drake, Rihanna, Eminem, G-Eazy and many others, Boi-1da knows talent when he sees it. He first spotted the Worcester, Mass. MC's range of abilities during the producer's initial encounter with the multifaceted artist's music.
"The way he put the video and song together was one of the best things I've ever seen from a rapper slash director—period," says the Grammy-nominated beat-maker, as he discusses 2015's "Ross Capicchioni." "It's so dope and done masterfully."
A nominee for Producer of the Year honors, Boi-1da has several reasons to be amped up for the 61st Grammy Awards. The "God's Plan" producer is a contender in six categories, including Song of the Year and Record of the Year. Lucas is up for Grammy glory this year as well. He is nominated alongside Eminem in the Best Rap Song category for their top 10 Kamikaze collaboration, "Lucky You." He also received a nod for his controversial single, "I'm Not Racist."
"Don't conform, man. Just keep being you. Keep doing you." Boi-1da says he has advised Joyner Lucas. "He's only been doing that and he keeps getting better and better."
A release date for ADHD has yet to be announced. In October 2018, Joyner tweeted that the album is "coming soon."
See Photos of Drake's Different Looks Over the Years