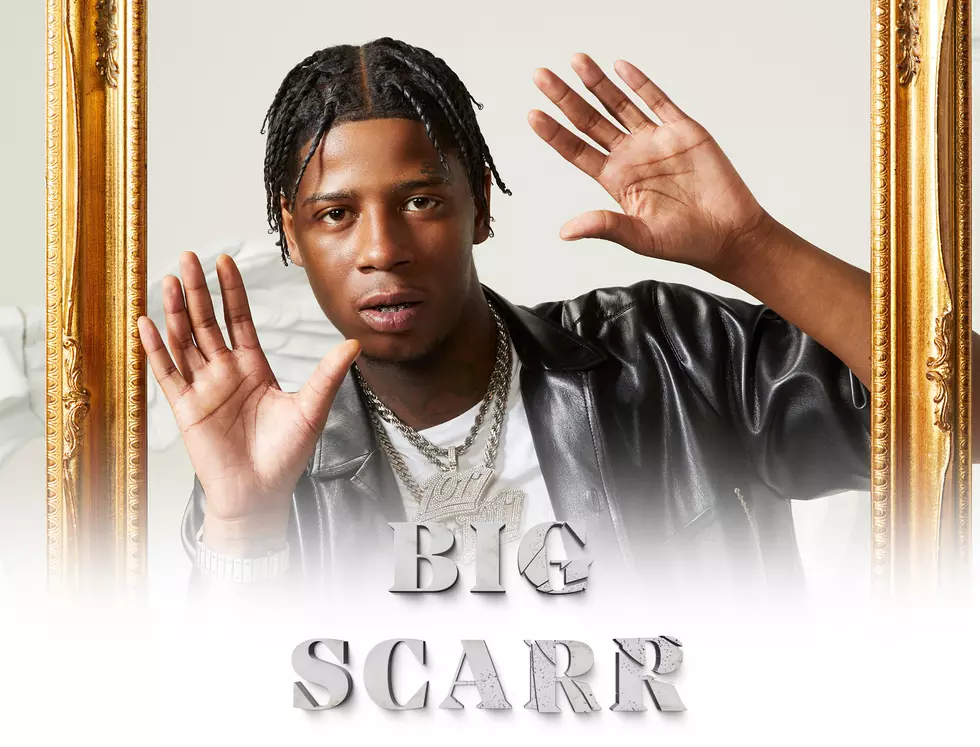 Big Scarr – 2022 XXL Freshman
GOV'T NAME: Alexander Woods
AGE: 22
REPPIN': South Memphis
TWITTER: @bigscarr1818
INSTAGRAM: @bigscarr
TIKTOK: @bigscarr18
NOTABLE RELEASES: "SoIcyBoyz 2" featuring Pooh Shiesty, Foogiano and Tay Keith, "Traphouse," "Frozone"; Mixtape: Big Grim Reaper; Guest Appearances: Pooh Shiesty's "No Clues," OhGeesy's "Slide Thru," Foogiano's "Hacker"
LABEL: 1017/Atlantic
CURRENTLY WORKING ON: As-yet-untitled project due this fall.
WHO ELSE SHOULD BE PART OF THIS YEAR'S CLASS: "I ain't gon' lie, Nardo Wick gotta be on there. For shit sure. Before even me. Not even to discredit myself or anything like that, just give a nigga their flowers type shit. Who's here is who I expected to be."
INFLUENCED BY: "Myself and whoever on trap music. You know, the culture of whatever I'm on. I'm really influenced by myself. I be in my own lane."
AS A FRESHMAN IN HIGH SCHOOL: "Class clown, bursting out. I'm checking you all day. I'm checking the teacher. I'm making her laugh. That's how I'm passing. Making everybody laugh. Give me some D's. Shit, in the hallways. Wasn't in class. Shit, but I was that nigga, though."
TRUTH ON BEING AN XXL FRESHMAN:
"[It's important for me to be a part of the 2022
XXL
Freshman class because of] my flow. Who can copy that? Who can rap to be like me? If you ask me, nobody. Anybody can sound alike or anything voice-wise, but when it comes to tempo or random beats, it goes.[Being a Freshman became a dream of mine] when it happened. When I dropped my first video. Actually, when I first did my first song is when I seen I could be able to do this. It was never a thing I wanted to do. I just tried the shit one time and it went. Just like my partner was saying, you ever had some shit going and you never paid attention to the other shit you were doing because this shit was bringing you in so much good shit? It's a thing like that.If you ask me, it's been my time, but I ain't rushing. I ain't forcing nothing. I'm in my own lane. I feel like whatever comes my way is a blessing.
[When my fans find out I'm on the XXL Freshman cover], they're gonna go crazy. 'Cause like, this early in the year in my career, like for me, it's big, if you ask me. For the city, it's gon' be big."
BIG SCARR'S 2022 XXL FRESHMAN FREESTYLE
The Memphis rap scene has cemented its position in the game as a hotbed for young talent once again, and 1017 Records' Big Scarr is next in line as an artist on the rise. He's equipped with all the necessary tools to continue racking up accolades. Gucci Mane's next-in-command currently holds the title of being a 2022 XXL Freshman. For his concise Freshman freestyle, the 22-year-old rapper utilizes his distinct cadence to foretell his trajectory in hip-hop and look back at his growth and progress.
Big Scarr takes pride in his sound. His voice is what he feels sets him apart from his peers, both seasoned and newer on the scene like himself. In conjunction with his intonation, the South Memphis ascending talent is dodging distractions as he boasts about what his newfound success has afforded him thus far. "Whoa, know they ain't stoppin' my legacy/Nigga throw shots and they think I ain't catchin' it/Richest young nigga, got the hook and my section lit/Walk in the mall, like I'm pick store a shopping fit, tryna invest in some property," he raps.
The self-proclaimed Big Grim Reaper is both poised and focused as he delivers bars that encompass a juxtaposition of gratitude and rapper hubris. "Look like a gang leader, this shit like Monopoly/Havin' my way, ain't no stoppin' it/Gotta thank God that I made it out poverty/Long way from kilos and robberies/Pockets on swole like I just hit the lottery/Now every day, it's a shopping spree," Scarr spits through his thick southern twang.
He closes out the freestyle by affirming that he hasn't missed his moment. In fact, Big Scarr's time is right now. "Pushed out the motor without the key/Give it to my engine, the police ain't catchin' me/I got the sauce, yeah, the recipe/Head of the game, I don't think no nigga seeing me/These niggas ain't seeing me," the rhymer adds.
The last few years have included a 180-degree turn for the 2022 XXL Freshman, who didn't initially have a passion for rap. His friend and fellow artist, Baby K, put the rhyming bug in Scarr's ear. "Make a Play," the song Scarr dropped in 2019, was the result of him trying his hand at the craft. After garnering 50,000 YouTube views in one week, then receiving acknowledgement from YouTube personality Tommy Craze via a reaction video to that track, Scarr's career path was realized. He went under Guwop's wing and signed to 1017 the following year. The Tennessee native has since dropped mixtapes like Big Grim Reaper, his first musical release, and the effort's deluxe, Big Grim Reaper: The Return.
Big Scarr has also scored wins with his tracks "SoIcyBoyz 2" featuring his cousin and former 2021 XXL Freshman Pooh Shiesty, Foogiano and Tay Keith, "Traphouse," "Frozone" and "Fantasy" with Offset. He's also makde appearances on Gucci Mane's So Icy Boyz compilation album.
As fans await his as-yet-untitled project due out this fall, check out Big Scarr's 2022 XXL Freshman freestyle, powered by Puma, below.
—Aleia Woods
BIG SCARR'S ABCs
BIG SCARR'S 2022 XXL FRESHMAN CYPHER
The 2022 XXL Freshman Class is here. You've seen their ABCs, listened to them respond to trolls for the Mean Comments segment and heard them spit in their individual freestyles. Now, for the moment you've all been waiting for: the 2022 XXL Freshman cyphers. Jacksonville, Fla. native Nardo Wick, Memphis' Big Scarr and Big30, and KenTheMan, who hails from Houston, grab the mic to showcase the skills that got them inducted into the class in the first place.
This year, Mississippi native Wheezy Outta Here provides the soundtrack that all four Freshman slide on. Wheezy has been on the fast track to production superstardom lately as the man behind the boards on trap-style anthems like Lil Baby and Drake's "Yes Indeed," Young Thug and Gunna's "Hot," YSL's "Ski" and more. The Freshman quartet deliver Southern-fried bars over the "Pushin P" producer's bass-heavy, hi-hat-laced score.
This year's youngest Freshman Nardo Wick bombs first, igniting his freestyle with the explosive bars, "Bang, bang, bang, bang, bang/Big brother always tryna touch a nigga brain," the soft-spoken 20-year-old artist raps. "Leave him neckless, he try reachin' for my chain/Izzy always tryna hit a fuckin' stain/Brush my teeth with Scope, but promise I got Aim." From there, Nardo speeds things up a bit, showing impressive versatility.
Sliding in behind Nardo, Big30 brings big energy to the cypher. He doesn't let off the gas in his lengthy rap, which stays true to character in pushing the rapper's gangsta persona. "50 racks on me right now and this Dior is made of silk/Nigga spin my block incorrect than somebody gettin' killed," 30 spits. "My young nigga 15 with four bodies, can't even buy a fifth/He ain't even old enough to vote, that lil boy bangin' Crip," he adds, later shouting out incarcerated fellow Memphis rhymer and 2021 XXL Freshman Pooh Shiesty.
1017's Big Scarr delivers what might be the shortest cypher verse in Freshman history, with his mic drop moment in the cypher clocking in at less than 10 bars. "I'm in the eggshell coupe, this bitch here a hatchback/I don't do the basic bitches, Hemi here a Scat Pack/I don't do no talkin', roll a nigga in the outback/I'm with your main bitch, we eatin' steak, chillin' at Outback," Scarr rhymes. In and out.
KenTheMan is the show closer. Putting on for H-Town, TheMan is small in stature, but big on bars. She slips in and out of flows over the menacing track with ease. "ATL, hopped off a plane and hit the stage with Kali/I'ma P, I got some hoes that's ducked off in the valley/Ask about me, I been 100, my card super valid/I drop a ho, I get another one like DJ Khaled."
Man, oh, man. It's up.
Watch Nardo Wick, Big Scarr, Big30 and KenTheMan's 2022 XXL Freshman Cypher
—C. Vernon Coleman II
See Every Artist in the 2022 XXL Freshman Class
Which rapper is your favorite?