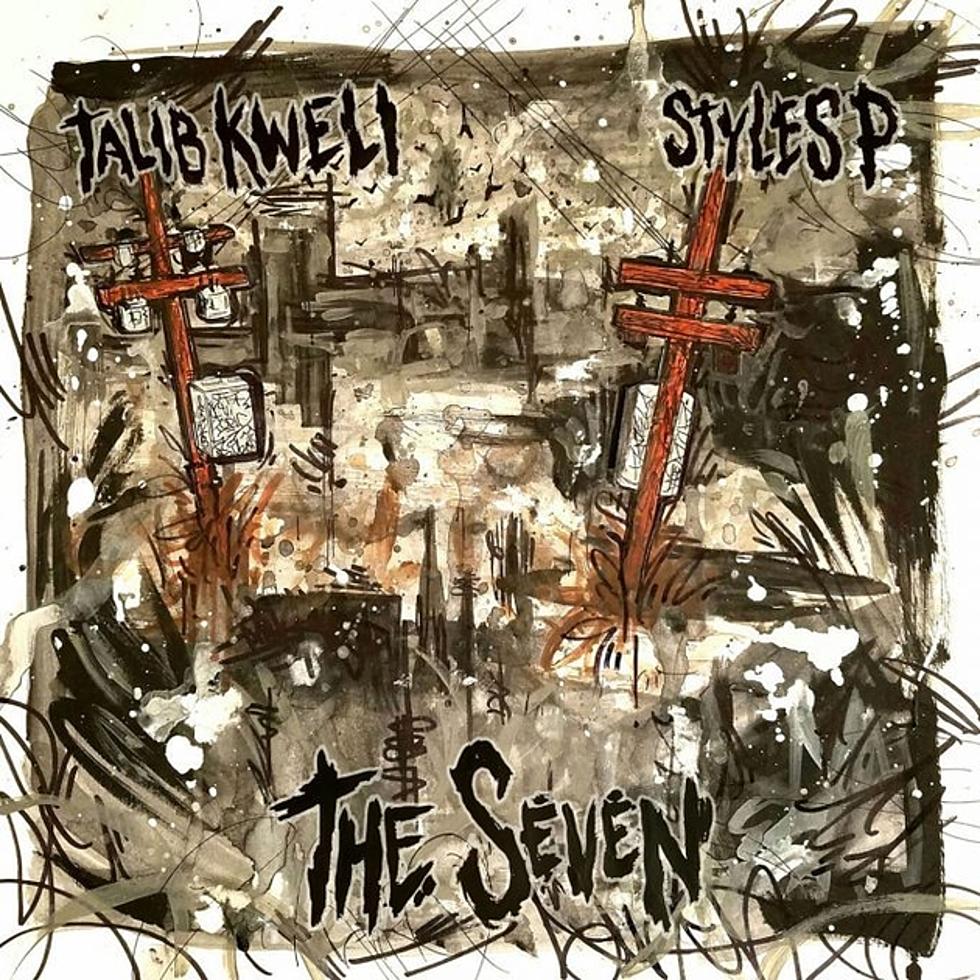 20 of the Best Lyrics From Talib Kweli and Styles P's 'The Seven' EP
Javotti Media / 3D
On April 14, in the midst of Kendrick Lamar mania, veteran New York rappers Talib Kweli Styles P dropped a solid EP, The Seven. The seven-song project delivered the heat that fans had been anticipating since the duo announced the joint effort in February, after dropping the Amadeus-produced single "Last Ones."
Talib, who is undoubtedly one of the most outspoken—and trolled—rappers on Twitter, and Styles P, who's never been one to hold his tongue, have teamed up numerous times since P's 2006 Time Is Money album on the track "Testify." The Seven EP features production from 88-Keys, Oh No, Nottz, Marco Polo, Khrysis and Amadeus, as well as guest verses from Common, Rhapsody, The LOX and son of the iconic Big Pun, Chris Rivers. The project is a well-crafted, concise set with little wasted space or unnecessary filler.
Sharing similar political views and reputations for being bar heavy, the two trade timely, potent gems about everything from police brutality and racism in America, to good old-fashioned sucker MC shaming. Here at XXL, we've put together a list of 20 of the best lines from the EP.
"Poets & Gangstas"

Talib Kweli and Styles P

"Wanna chat with ghost fuck a Ouija/Only board you need is the engineer's/Armageddon and Venom here/Lyrical warfare dies if you send 'em here/MC graveyard the lyrical pallbearer" - Styles P

"Poets & Gangstas"

Talib Kweli and Styles P

"This freedom, that they dangle in front of us like some car keys/Snatch it back and peel out like a car thief/I'm sharper than shark's teeth/They prayin' 'cause the bars is godly/I'm a Black star like Marcus Garvey" - Talib Kweli

"Brown Guys"

Talib Kweli and Styles P

"I am a Brown guy/But don't call me nigga, please/Nigga please, you see that White boy, that's a nigga b/Nigga ain't a color, it's a mindstate, you diggin' me?/Maybe not, I get it tho'/But all them White boys blowin' weed they some niggas too" - Styles P

"Brown Guys"

Talib Kweli and Styles P

"I don't need your sympathy/I don't need your empathy your opinion is not required here/That's why you're hidin' on the Internet/'Cause all that nigga shit you're writin' will probably get you fired, yeah/Fucked up, too" - Talib Kweli

"Nine Point Five"

Talib Kweli and Styles P Featuring Sheek Louch, Jadakiss and Niko Is

"Information lead to knowledge, knowledge lead to wisdom/Wisdom lead to understanding, once you have all that
/You start demanding justice/Justice is what love look like in public/I ain't just writing for it, I'm out here fighting for it
" - Talib Kweli

"Nine Point Five"

Talib Kweli and Styles P Featuring Sheek Louch, Jadakiss and Niko Is

"No more tears, right now no more years/And we could throw a million protests, no one cares/'Cause we just get all out of character and throw some chairs/Eventually they burn us out and tell us 'go somewhere'" - Jadakiss

"Nine Point Five"

Talib Kweli and Styles P Featuring Sheek Louch, Jadakiss and Niko Is

"Made in his image, are we worshipping the man or not?/Get an uncomfortable feeling every time I hear 'Planet Rock'/Disappointed in the leadership, hand to God/Evidence is more than the images the cameras shot" - Talib Kweli

"Nine Point Five"

Talib Kweli and Styles P Featuring Sheek Louch, Jadakiss and Niko Is

"Contemplating, I be hating how we coming up short/Filling up court, my skin pigment new black thought/Telling me lies, ain't nothing about you moving no pies/Fabricating on your Instagram, listen fam you a king" - Sheek Louch

"Nine Point Five"

Talib Kweli and Styles P Featuring Sheek Louch, Jadakiss and Niko Is

"Yeah, I got my third eye, wish I had my third ear/Seventh sense, I got my sixth sense in third gear/On a highway to hell, learn how to swerve fear" - Styles P

"In the Field"

Talib Kweli and Styles P

"Yeah, it's Black on Black crime but it's Blue on Black crime/Police killin' the brown man and doing no time/The judge is a Nazi, but he ain't in the Klan/The jail's the plantation they spread it across the land" - Styles P

"In the Field"

Talib Kweli and Styles P

"Yeah, there's Black on Black crime/But there's White on White crime/When you adjust for population all the numbers they align/So why we never hear White on White on the nightly news?/Ain't no profitin' over criminalizin' White dudes" - Talib Kweli

"In the Field"

Talib Kweli and Styles P

"I ain't go to Harvard or Yale, I went to jail/But hold a horse that's pale, and the slave ship sails/It ain't on water, but I know who's steerin' it/The reptilians hid the truth about the pyramids, damn/My genetics is kinetic, the devil is a lie/His agenda is pathetic" - Styles P

"Teleprompters"

Talib Kweli and Styles P Featuring Common and Little Vic

"It's impossible to be anonymous when the presence in the mark is so dominant/(Fuck society)/Mr. Robot, voice of the apocalypse, the rapper with the golden esophagus/I tower like an obelisk, Egyptian subologist try to follow it" - Talib Kweli

"Teleprompters"

Talib Kweli and Styles P Featuring Common and Little Vic

"Dead presidents yo, print your money out/Nigga had paper, so we took the money route/Sheets get rolled up like housekeepers/My guy don't leave the house without reefer/Eager for the evening, the night is like breathing/We do wrong for all the right reasons, I'm fresh like I'm teething" - Common

"Teleprompters"

Talib Kweli and Styles P Featuring Common and Little Vic

"The jewels don't glitter on the page, told the demons shoot the faith full of rage but I move with such ease/I ain't full of poison, my vibration is up/Devastating the white noise while blazing 'em up/I'm peaceful, I pray to the East too, North, South and West Because I know what the streets do" - Styles P

"Let It Burn"

Talib Kweli and Styles P Featuring Rapsody and Chris Rivers

"Progression is forward, regression is back/But if you make it to the essence, that's a blessing in fact/Fuck a stripper, I got mother nature makin' it clap/I could rain dance a rain rhyme, pass me a track" - Styles P

"Let It Burn"

Talib Kweli and Styles P Featuring Rapsody and Chris Rivers

"Our pain is no illusion, no matter how you frame it (solidarity)/We spit our life, you actin' like it's just entertainment/Nah, that's what a fetish is/Hip-hop way more than cars, clothes and necklaces" - Talib Kweli

"Let It Burn"

Talib Kweli and Styles P Featuring Rapsody and Chris Rivers

"We don't change up, we just a better version this time/I bet we get it right the next time/Millions march and they still buildin' Dakota pipelines/I'm still writing pipe lines, crack, Prince said this a sign of the times" - Rapsody

"Last Ones"

Talib Kweli and Styles P

"Put nine minutes to the casket, you bastards/Stare in the abyss and the Leviathan (oh, yeah)/You say a prayer for the dying men/Looking for that pleasure but you findin' sin/Can't be scared to take a loss if you tryin' to win" - Talib Kweli

"Last Ones"

Talib Kweli and Styles P

"Recognize greatness, tenacious/Gracious, mark of design, the new Matrix/I can make Dr. Strange brain look basic/MCs on the dinner menu and I ain't ate shit/Who's the entree? I'm a giant like Andre/ You just an appetizer, weak rapper in harm's way" - Styles P