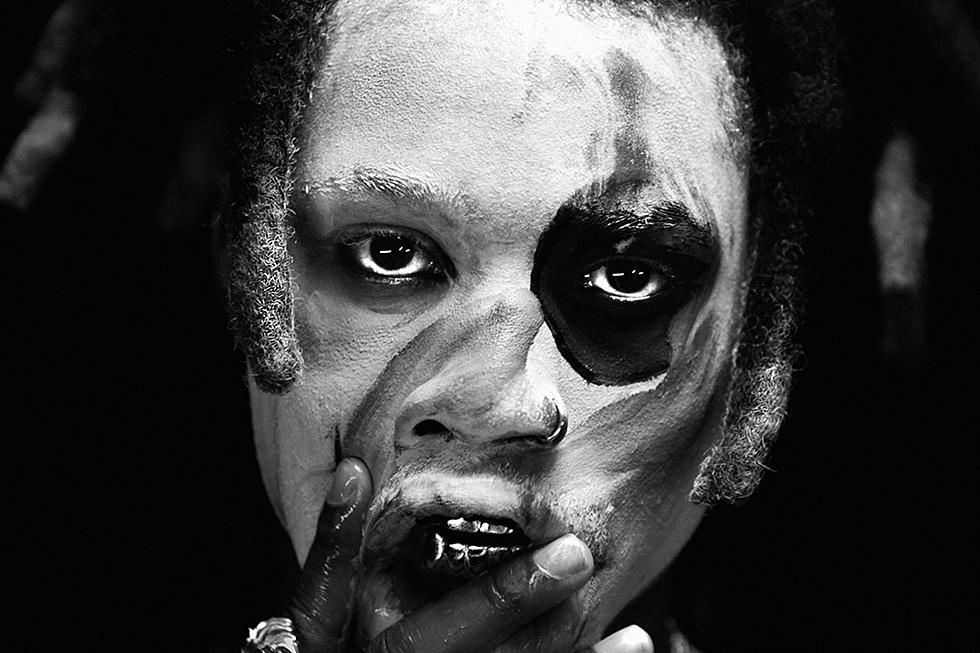 20 of the Best Lyrics From Denzel Curry's Three-Part 'Ta13oo' Album
PH Recordings
It's hard to think that Denzel Curry is only 23 years old, because he already feels like a seasoned veteran of the rap game. Even his earliest projects felt more cohesive and mature than those of artists a decade his senior. His latest album Ta13oo, released on July 27, is no different.
Curry got his start while he was still a teenager, catching the eye of Spaceghostpurrp and joining the Miami rapper/producer's Raider Klan group. Curry was a standout of the collective's collaborations, and he quickly became a top artist to watch in the world of "cloud rap," which was influential to today's Soundcloud rap scene.
In 2013, Curry split from Raider Klan and focused on his solo work, starting with this debut studio album Nostalgic 64. He's remained prolific ever since, releasing his sophomore album Imperial in 2016, and EPs like 32 Zel/Planet Shrooms and 13 in between full-length projects.
On Ta13oo, the former XXL Freshman splits the album's 13 tracks into three acts: Light, Grey and Dark. Each act reflects the mood of the music. The project features GoldLink, J.I.D, JPEGMAFIA, ZillaKami, Twelve'len and Nyyjerya.
"There's a lot of things and a lot of topics that we don't talk about like, just as a people or with yourself or with your family," Denzel tells XXL about Ta13oo's inspiration. "There's certain things that are taboo and certain things that you don't like to talk about and I go through the whole thing of really examining who I was from my childhood and from this newfound fame and even losing it to a certain degree, like, me falling off to really reflect on myself."
XXL dove into the highly-anticipated project and to compiled 20 of the best lyrics from Ta13oo.
"As you cry a me a thousand lakes on my shoulder blade/I say/Everything's gonna be okay/I'ma hold tight till I see the next day with you/Stay with you/Play with you/Pray with you/And pray to you/Curry kill a pussy hoping I can kill the hate in you" —Denzel Curry

"Black Balloons"

Denzel Curry Featuring GoldLink and Twelve'len

"Sky is the limit/I could die in a minute/Got my mind in a skillet/Suicide not a mission/See the vibe very timid/I'm tired and very sad/Translated my thoughts and feelings I pivot into the pad" —Denzel Curry

"Black Balloons"

Denzel Curry Featuring GoldLink and Twelve'len

"And I just wanna be the rightest I could be/Show my son to think so he could fly high as could be/Always show examples how they kill niggas like me/Thinking as straight as me but call me crazy/Sign is my attitude, so I'm cool like Jay-Z/Andele, andele my intelligence for threes/Cancel me like I ain't the king of D.C./Cancel me like I ain't the number one G/Cancel me like you don't like 'Dance On Me'" —GoldLink

"Cash Maniac"

Denzel Curry Featuring Nyyjerya

"In my Wonderland, I'm back on my Alice/Back in my palace, I'm fly like Aladdin/Serving my fans all my dope 'cause they addicts/Haters mad 'cause I'm on top like an attic/And if it's beef then we're shooting sporadic/Game is like Disney, my words are like magic" —Denzel Curry

"Pocket too big, they sumo/Tell me who the hottest motherfucker that you know/If it ain't me, you a puto/Curry get the flame, call a nigga Prince Zuko/Swimming through the money like a flounder, hold up/I just want the knowledge and the power, hold up/Why these niggas looking at me sour?/Chopper eat a nigga like Chowder" —Denzel Curry

"Money come around like a hoover/Making Freebandz in the Future/Pockets on a nigga look super/Bills on me blue, Sly Cooper/Money on my mind just like a tumor/Spread my money out, and then I call that bitch a rumor/Curry the killer is on the move, no Uber/People try to block a nigga shine like lunar" —Denzel Curry

"Super Saiyan Superman"

Denzel Curry

"White on white, while I'm on this beat/Make a masterpiece like Mona Lisa/Shout out to the reaper, I drop ether/Drop more crack than eggs on Easter/I don't need a feature, boy you either/Leave it to me but you leave it to Beaver/Killin' these niggas like shots on the evil/I am a god, nigga call me young Shiva" —Denzel Curry

"Switch It Up"

Denzel Curry

"Maybe I shoulda been shot on the day that it happened/When you started snappin' on me/They only see what's on one side/Now it's deeper than rap and a nigga move back to the 3/Get back to it with the boys in my hood 'cause ain't about no other/I got new niggas tellin' these new niggas that I don't fuck with my brother/They only know Denzel Curry, but they don't really know Denzel/Everybody wanna ride waves and jump when the ship don't sail" —Denzel Curry

"Mad I Got It"

Denzel Curry

"They expect the royal treatment/Talkin' slick like it's oil speakin'/Down to earth till my soil weaken/Venomous words, watching the poison leakin'/Bandana on my motherfuckin' face/.38 on my motherfuckin' waist/When you see me, better man up/Better make like a roller coaster, put your hands up" —Denzel Curry

"Mad I Got It"

Denzel Curry

"Death knocking at my door, who could it be?/Life not sweet like suit with an 'E'/Try to read me, would it be, Stephen King/Big cheese only bring me misery/Insane with no brain, I'm low zane/No fame and no thangs is so strange/Do things that I don't see violent/Stick a nigga up 'cause I'm mad he got it" —Denzel Curry

"Sirens"

Denzel Curry Featuring J.I.D

"This for Trayvon and Tree, burn the bush and the chronic/Speakin' honestly, we livin' in colonies, CNN sit-comedies/Monstrosity run rampant all throughout United States/Talkin' about let's make a fort, talkin' about let's make it great/If the shoes fit, tie it, grab the guns and riot/Time to run with lions on the road to Zion/In this age of violence, time to grab the iron/When I pop the silencer, it's nothing but silence when" —Denzel Curry

"Sirens"

Denzel Curry Featuring J.I.D

"Oh say, can you see a hundred dead bodies in the street/By the dawn's early light, double Sprite and a R.I.P. tee/So proudly, lights gleam, let the gun blow in the night time/Of the slum house, little drum bump of the one thousand/Come-come, here they come" —J.I.D

"Sirens"

Denzel Curry Featuring J.I.D

"Birds chirpin', dogs barkin', kids missin', milk cartons/Soul dark as black markets, war is startin', more is sparkin'/Historic prophets praise Muhammad/Diff'rent Strokes, Philip Drummond/Gave me crack like I'm plumbin', Jesus Christ, second coming/Cut myself, now I'm numbin'/Never scared, never runnin'/Chosen one, I'm one hunnid/Pray for me, pray for London/Guilty me, he ain't done and gun me down, all for nothin'/President in abundance/President is a puppet/Gotta hate, gotta love it/Pass a class I rise above it/Wise enough, advise the public, pistol bust, screamin' fuck it" —Denzel Curry

"Clout Cobain"

Denzel Curry

"People be thinking that I won the lottery/So paranoid, I don't know who be plotting on me/Out of nowhere, try to fight you/I'm feeling like Raichu 'cause everything shocking to me/Gotta be aware of the wicked, the time will be ticking/Them niggas still clocking on me/Lord is my witness, I handle my business/You niggas ain't never ball blocking on me" —Denzel Curry

"The Blackest Balloon"

Denzel Curry

"Watching me and watching you is like some on-demand shit/Niggas want the clout so they can buy a fucking mansion/Niggas on them percs and might just shoot a fucking campus/Everybody and they mama tweakin' on that Xan shit/Shit is messed up, pills be on the dresser/Buddha bless ya, give instructor X some/Look at my eyes, let the beat ride/Ain't shit changed since Lil Peep died/On the south side, it's suicide, in a box with a suit and tie" —Denzel Curry

"Okay! All y'all niggas fu' as fuck/I'm ULT, and I don't fuck with you if you ain't us/In me I trust, I turn these niggas into cosmic dust/I'm Loaded Lux with a loaded K, cock back, I spray, I bust/That player shit, that Raider shit still running through my blood/These brand new niggas took my name and drug it through the mud/I get the hammer, I be the judge like Dredd, police judge my dreads/Fuck your favorite artists, make sure they all dead" —Denzel Curry

"Get it straight, I innovate, you ad-libs on a 808/Don't need a tattoo on my face 'cause Denzel is a different race/I don't even try to hate, I'm just saying what I ain't/People sleeping on me hard, and I'm the hardest in the paint/Eight years in the game, and I never rode a wave/I may be overlooked, but I'm never underpaid/And when I win a Grammy, I'ma take it back to Dade/You signing to a label where they treat you like a slave" —Denzel Curry

"Vengeance"

Denzel Curry Featuring JPEGMAFIA and ZillaKami

"Who the fuck you think you tryna creep on?/Who them niggas in that black Nissan?/I'm that nigga Freddy wouldn't sleep on/Catch a nigga in the bushes doing recon/Cops found a body in the alley/Gotta rock the club like a caddie/I'ma push your button like an innie/Switch it up and head to Cali" —Denzel Curry

"Vengeance"

Denzel Curry Featuring JPEGMAFIA and ZillaKami

"Made it past 25, I'm set, bitch let me die/Bet you respect me when I check in with that .45/Slide, ride, this a homicide, pull up to the side, let that man retire/I ain't Drake, this ain't 6ix, issa 9ine, sticky, blicky, iron/Heard you fuck with swine, that ain't my kind/Fuck who you run to, keep it tucked, you know my chopper shy/When I cry, it cries, if you die, you die, pussy, meet the sky" —JPEGMAFIA

"Black Metal Terrorist"

Denzel Curry

"Back and I'm dark and mysterious/Laughing away till I do something serious/Attitude only imperious, rest all my enemies like I'm insidious/These times I'm feeling so hideous/Fuck everybody, I murder you idiots/I am a little perfidious, fuck a civilian, we're not equivalent" —Denzel Curry