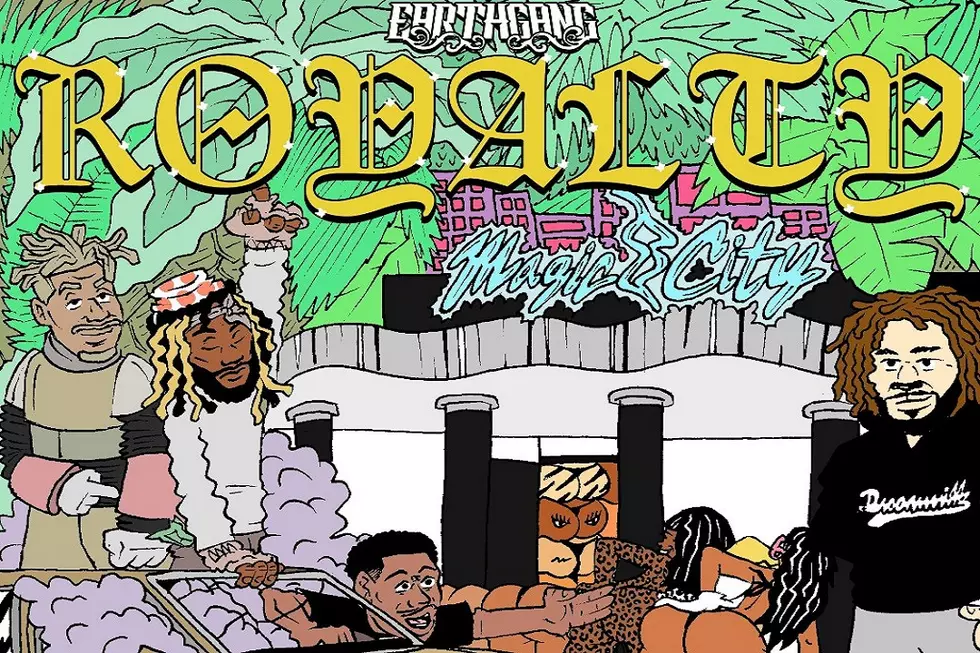 20 of the Best Lyrics From Earthgang's 'Royalty' EP
Spillage Village/Dreamville
The OutKast comparisons may be premature, but Earthgang—a funky, lyric-driven Atlanta twosome equipped with a flowing cape of creativity—is making some major strides in rap with its eccentric brand of nostalgic, everyman hip-hop.
Comprised of Johnny Venus and Doctur Dot, the duo has quickly mastered the art of mixing digestible songs with pulsating originality thanks to multiple years learning and laboring in ATL's underground circuit. They signed to J. Cole's Dreamville Records just last year and have thrice dropped serious heat under that respected brand name. Earthgang released its Rags and Robots EPs back in 2017 and have now completed that alliterative EP trifecta with Royalty.
"This project really is us sitting in that space ready to free yourself from whatever is going on around you," Johnny Venus told Consequence of Sound. "This EP is the launching pad that is going to allow us to take that next step. We're right at the edge, and all of those feelings are wrapped into one project. It's like, the world is yours after that—after you take that next step and hit that next goal."
Royalty is the perfect mix of jazz, boom-bap bops and eccentric rap/sung hybrids with some skits courtesy of comedian and online personality (and fellow ATLien) DC Young Fly sprinkled throughout. Despite its brief 23-minute runtime Royalty is jam packed with strong lyrical stylings from both Venus and Dot. Of course, it still oozes with quirky millennial references that has become par for the course on Earthgang's distinctive offerings.
Royalty will quench the thirst of those who are impatiently waiting for their Mirrorland LP. In the meantime, XXL selects 20 of the best lyrics from the project.
"I'm the latest phenomenon you should be hip to/Bandwagon seats goin' extinct/Don't give a fuck, don't judge if you hoein' for free/Came out the mud wink-wink if you know what I mean" —Doctur Dot

"Leave me be, might as well take one for the team/Hot as hell on the block, scrambled eggs on the street/Good genes, whole family keep they hair and they teeth/I ain't playin' nigga, this is not the fantasy league" —Doctur Dot

"I'm just gettin' lost in the melodies/Music for my niggas with the felonies/And fellas with some fellas who done left the scene/And strippers with asses, all hella queens/Ladies in corporate inhalin' green/See when it's a shortage they bet on me/And quiet time, babe that's the remedy" —Johnny Venus

"It's a new road I ain't been down/Mama said can't keep honest with your chin down/Couples shows for a couple pennies/But I know they fuckin' with me" —Johnny Venus

"The internet's a crazy place and so much of that shit is fake/I'm a '90s bae, so I'll probably look you in the face/And tell you I don't give a fuck, 'bout whatever you tryna say" —Doctur Dot

"Before I reply, I supply the silence/Comin' up seen a lot of violence/Stay high through the struggle, I'm a fighter pilot/Shawty ass so fat, wanna die behind it/How that boy from the darkest side of life/Become a marvel of modern science/Really I go harder than all these artists" —Doctur Dot

"Why you can't tell me shit like a substitute/Might pull up and just dump on you/Keep it G in my element/All my P's and Q's come away with the W" —Doctur Dot

"Blessings in disguise, I know what you were thinkin'/That nigga dance crazy, singin' at graduation/Them niggas ain't gon' make it/Who wrote this anyway? I did/That's how you whip up the story and cook it to life, kids" —Johnny Venus

"Nothing but the Best"

Earthgang Feat. Ari Lennox

"I used to be just like you, keep in mind we do this shit for the freeski/Me, Johnny V, J-I-Deesky, mixtape Weezy made it look easy/Lil did we know 'bout all the politics and meetings/And these old-ass pussy niggas caught up in they feelings" —Doctur Dot

"Nothing but the Best"

Earthgang Feat. Ari Lennox

"Ridin' on the leaves through the lightning though/Fallin' on my knees, what you like to know/I whip the feast, I put the heat while under microscopes/Now stream all the reasons to siphon the flow" —Johnny Venus

"Off The Lot"

Earthgang Feat. Mereba

"Asked yo baby mama if she ready to ride/Swervin' through the hood on the way to Dubai/Please don't run up on it unless you ready to die/I went out and bought the best car my money could buy" —Doctur Dot and Johnny Venus

"Off The Lot"

Earthgang Feat. Mereba

"Poverty-stricken, hot wings was kickin'/Grew up with God and grew up with nadda/Ain't that a bitch? So I married her, too/Spiritual folks don't eat good/Clearin' my throat as I bless the food" —Johnny Venus

"Off The Lot"

Earthgang Feat. Mereba

"Sellin' waters for a dolla', hope my niggas don't see us/Speak about it at the school, watch how quick I bust a lip/Red light, catch me outside 28's and up/I just wanna be that nigga that they look up to for once" —Johnny Venus

"Off The Lot"

Earthgang Feat. Mereba

"Key scratches on the paint, stick shift on the fritz/I'm like fuck this whip, can't bag no hoes like this/I'm on my go-go gadget, movin' through jungle traffic/I was a hoodrat magnet, I had to drop old habits" —Doctur Dot

"Off The Lot"

Earthgang Feat. Mereba

"First thing that nigga did scooped that E-Class Benz/Turn a humble family function to another event/And we been neck-and-neck since we was kids, you know what that meant?/After we signed to the 'Ville, right to the auction I went/So what would you rather get nigga? A car or a crib?/Got released from them leases, never again payin' rent/We all suffer through struggle, you never know the extent/Catch me on Old Nat' and Godby, never forget where I been" —Doctur Dot

"My intentions always clear when I'm here/Black magic, keep the stick, make yo' ass disappear/Nigga missed the mark, but hit somebody you hold dear/Make a T-shirt, every funeral we jump up the price for the feature" —Doctur Dot

"I do my best to show you love from a distance/And if I didn't you probably wasn't worth my attention/Politicians is the gangstas and the gangstas is the artists/And the artists is the politicians, everybody switching, real nigga shit" —Doctur Dot

"I pissed away some golden opportunities from living wrong/Put a pin in that, wait, hold up, hold up, lemme pin it down/Plenty hoes make me old, but independence make me wild/Flow sicker than the nigga telling Bobby Whitney drowned" —Doctur Dot

"Smoke sesh with the chick, I like to call my sister/We never fucked or did no business but she check a nigga/That's what I need though/We taco 'bout the guac and chop the pico/And how I was a hostage to my ego" —Doctur Dot

"Wait, what the fuck happened?/Wait, what the fuck, cancer?/Wait, what the fuck Campbellton, what the fucking Atlanta/What the fuck with all this tragedy while I was asking?/Wait, did I really do all this damage with double standards?/Wait, why I'm I allowing these distractions?/Wait, what the fuck matters? It all depend on who you asking/Niggas' fantasies can turn them into natural disasters" —Doctur Dot