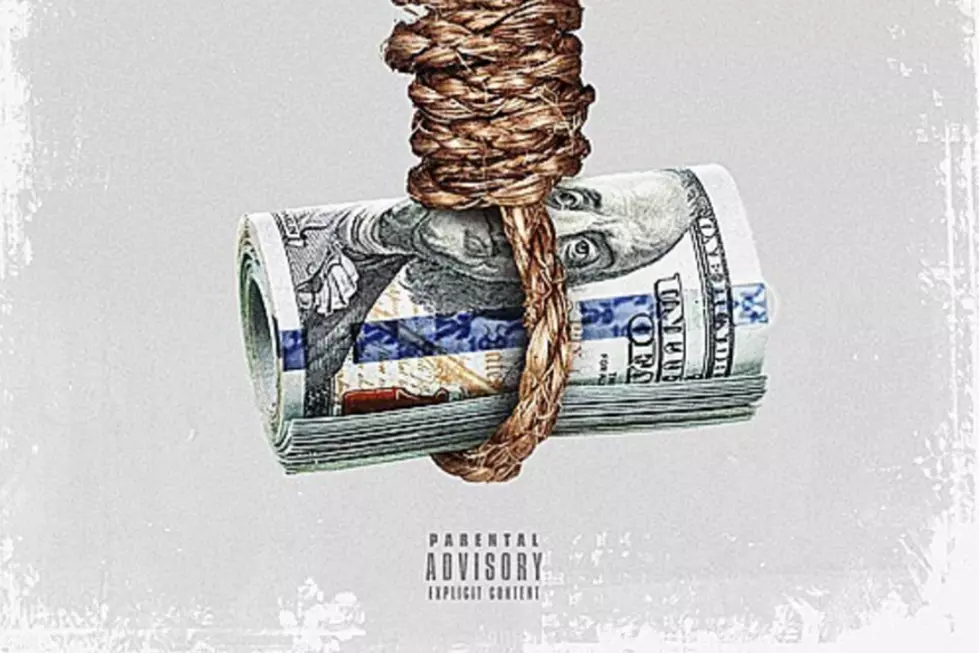 20 of the Best Lyrics From Dave East's 'Karma 2′ Mixtape
Def Jam Recordings
When New York City produces a hot prospect with the potential to be a star, the rap world takes notice. Dave East is one of the latest NYC spitters to emerge in the past couple of years. Having spent the better part of this decade building his skills and developing his style, the Harlem native looks to put himself in elite territory with his new mixtape, Karma 2.
Initially finding himself on rap's radar after earning a cosign from Nas and inking a deal with Mass Appeal Records, East made the most of the hype, unleashing a string of acclaimed mixtapes and albums, including Hate Me Now, Kairi Chanel, and his Paranoia series. Since then, the former ball player and XXL Freshman's brand and fan base has only grown in scope, giving Def Jam Records the confidence to bet the farm on Dave East and tap him as one of the new faces of the iconic label in 2016.
Making his Def Jam debut last year with his album Paranoia, Dave East has continued his hot streak and hit the ground running in 2018, releasing his P2 project earlier this year, scoring a profile in the Netflix documentary series Rapture and becoming a global ambassador for Luc Belair.
The sequel to his 2017 mixtape with DJ Holiday, Karma 2 arrives with high expectations. Running 19 tracks long with features from Fabolous, BlocBoy JB, Lil Durk, Gunna, Don Q, Floyd Miles, Kiing Shooter, and Border Bucc, Karma 2 is a robust offering that mixes quality and quantity.
XXL takes a deep dive into Dave East's latest to pick out 20 of the best lyrics from Karma 2.
"Audermar face, the car came with drapes/Your bitch spent the night, she calling in late/The cameras was on us, we walked in so late/Nobu for dinner, got shark on my plate/Just come to my room, I'm not tryin' to date/Tryna book me, just send me that bag, pick a date/She ain't used to the stars, kick that hoe out the Wraith/Get money fuck bitches and get the way" —Dave East

"Nothing Personal"

Dave East

"10 years ago, I was dreaming that I was touring/Had the ankle Ralph Lauren, these rap niggas wild boring/They ain't entertaining me/Behind the Gucci belt is where the stainless be/Better catch a body if you aim at me/I be where the jackboys, the hustlers and the gangsters be/Did a couple corporate deals, honestly, ain't no changing me/Drop 'em in the river, bury his ankles where the anchor be/Powder for your bitch face like maybe it's Maybelline" —Dave East

"Nothing Personal"

Dave East

"I'm with robbers and killers/Clocking in, I do my job and get busy/You gotta rob me, shit, you gotta come kill me/Sleep with the pound on me/Nowadays, I'm going up, all these bitches go down on me/Light work, 60 dub bags, quarter pound on me/Crown on me, I don't claim king, just run the town homie/At the lounge doly, the hoodie low, don't need the crowd on me" —Dave East

"Traumatized"

Dave East Featuring Kiing Shooter

"Broad daylight, if forever running to 'em, I won't even see the witness/Burned out on a Sunday, I'm high on the one-way and I don't even see the speeding limit/Pac prolly had the same feelin', Biggie prolly had the same feelin'/A lot of sucker shit I ain't feelin'/I'm blowing sour out the Range ceilin'/Niggas really got me hot, catch him in the drop, trying to leave his brains in it/We never shaky and we ain't timid/Ya momma lobby, I be waiting in it"—Dave East

"I got no pics on Kairi/New Glock 9 on my hip, you get clipped if you reachin'/Make the bartender send you a shot of some bleach/We gon' make you go viral, you cry like Tyrese/You say my name on a single, my niggas gon' lean you, we'll be at your album release/Jay might pick me up, we just got him a jeep/Dre Mac called me my phone, said he got him some freaks/If I ain't in Dolce Gabanna, they bite like piranhas, I probably Versace my teeth/Send threats on the net but be hiding from me/I play Soho that's why this designer on me"—Dave East

"I got a bitch, came from Russia/Don't understand her when I fuck her, gon' spend all the money/I rush every hour, Chris Tucker/I'm balling on 'em like the Rucker, we laughing it's funny/I beat it like I'm DJ Mustard/I got your bitch all through the gutter, I just told her bust it/We got them sticks on us in public/I cannot kick it for nothing, might fuck up your budget"—Dave East

"Scale and a Razor"

Dave East

"I told that bitch take off her makeup/Come eat me while I smoke this eighth up/If I get a scale and a razor, you gon' think a nigga play for the Lakers/Go play for the Clippers if you was a barber my nigga, you could never fade us/Shorty don't work at the bank, but she like to chase, she won't get no pay stubs"—Dave East

"No Stylist"

Dave East Featuring BlocBoy JB

"I took your bitch and I fucked on a island/Get fresh on my own, I do not got a stylist/I'm fly as fuck like a mo'fuckin' pilot/I step back and shoot 'cause these niggas be foulin'/My young'un gon' shoot, he in love with the violence/I just popped a pill and it fucked up my balance/I lay 'em down like I just did a tile in/I throw 'em down like intentional grounding"—Dave East and BlocBoy JB

"My Nigga Dead (Interlude)"

Dave East

"I can teach you how to drive, sit and park it with ya/We fought before we was hitting, shit, really off the liquor/Let me tell you about my man, he made his maths double/Like Biggie song, they shot his daughter in the calf muscle/A hundred percent, wasn't the type to half-hustle/Might die from greed, it's guaranteed if a bag touch you/He was connected in Milwaukee, came back to Harlem/550 the same color as coffee" —Dave East

"My Nigga Dead (Interlude)"

Dave East

"Body language different, he feeling like niggas talking/Keep praying to Jesus, he feeling like niggas crossed him/Hard to find his homies, he feeling like niggas lost him/Connect said he would front him a brick, but it would cost him/His connections from the Midwest just had him flossing/Flexed on the plug, said he'd had enough, he could toss 10/Spanish nigga with him helped understand when they talking/Connect kept telling jokes, he said he was Kevin Hart's friend" —Dave East

"Levelin' Up"

Dave East Featuring Fabolous

"Freaky died I thought I'm losing my mind/Mugga died I thought I'm losing my feelings/I'on know nothing, I know how to grind/I got a deal, trappin' right out my building/Hundreds they got me so open I hang out the window like Joker/I had to get cool with the smokers/I had to get cool with the fiends/Make moves with the players, have talks with the coaches" —Dave East

"New levels, bring new devils, never let it turn you devil/Call them plays so the team win, Coach K to my blue devil/They was transporters like Jason Statham/Now they ball like Jayson Tatum, my Grant Hills gettin' hand deals/My J. J. Redick's got flooded Pateks/Chasing millions in my Jason Williams/My Jabari Parker is a Rarri parker/Late looks from my Kyrie's, my playbooks like a diary" —Fabolous

"This Summer"

Dave East Featuring D. Jones

"Georgetown inspired me, painted the foregin Hoya blue/Fuck police, I say what I want, I got a lawyer too/Stash in the Bentley, I'm hood, still riding filthy/I told them I could walk on water, oh, God forgive me/If you got a plan to rob me, hope you got a plan to kill me/Bitch this Crip, plus I've been sick, ain't no doctor can help me/Came up with all the hustlers, mastered how to chef/Gettin' head in a foreign, gotta steer with the left" —Dave East and D. Jones

"Cut Em Off"

Dave East Featuring Don Q

"I orchestrated the whole corporation/Totin' bangers, prayin' we avoid the station/Bitch, I get that pack and I go walk the pay in/Running back, I get a sack and let the corner taste it/Clockin' in, I work the night shift with that ready rock/Longs you hit it with the right whip, they gon' steady cop/Please don't call me talkin' prices, make my celly hot/Said I ain't got hits, still buy the same jewelry that Nelly got" —Don Q

"I Don't Understand It"

Dave East

"Home invasions, homie over any amount of bread/Flip the fish tank, shoot the dog, make sure the house is dead/I'ma flight risk, no ankle monitor, I prolly fled/Claim you got the work with no job, same shit that Tommy said/I don't understand it, before I ever got booked for any show, I was scammin'/We was wildin' out way before I met Nick Cannon/End up dead was boiling eggs in the morning, I was scrambling/I got chased for my biggie, my cousin got shot for his Vanson" —Dave East

"I Don't Understand It"

Dave East

"When I was dead broke, none of these bitches called me handsome/I got my weed from Audebum, my cousin got his from Branson/Couldn't sleep in the projects, now I sleep up in a mansion/Throwing parties in the Hamptons/ All these sticks think we camping/I'm serious as cancer/Bartenders too bougie, I slid off with the dancers/Strippers, I'm in L.A., they treat me like a Clipper/Laker, she fuck my Gucci up with all that makeup" —Dave East

"We On"

Dave East Featuring Border Bucc

"Talking how they getting it, we gon' see/Paparazzi follow me, you cannot call, I'm out of reach/I can see, promise Momma, shit I know she proud of me/I'm too high for this, it's quiet guess it's all this loud in me/Privacy, I pull up like I just hit the lottery/I could take they flow, they can't take mine, the greatest I could be like Ali/Let me get Cardi flow back, mention my name and it's so packed/You taking pictures with niggas hating on me, watch what you say when you post that" —Dave East

"Imagine I never got a deal/You met me on the block, first thing I said to you, 'I got the pills'/Niggas dumb hard in they raps, meet em, they not as real/I did the Reeboks, had to see how Balenciaga feel/I got my young bitch a flight, we in Vegas watchin' 'A Time To Kill'/Lay up under his car just to let him know that this drama real/Bag comin' in every way, honestly, I'm just tryna chill/Work like slave, whips and these chains as I survive the field" —Dave East

"Oh, you bought Rollies for your niggas? Don't make us take y'all wrists/Rapper's food, I tell my niggas, 'Go head, take y'all pick'/Not in the mood, but if it's women, go head, take y'all pick/Get rich and it's legal, think 'bout what we can make off hits/Not leavin' me off 'Bad and Boujiee,' I won't Takeoff shit/Won't pay no attention, they breath stinkin', they just talk shit/Even Shooter rapping now, we 'bout to get more rich/I mixed the flaggin' with my fashion, now I see more grip" —Dave East

"I Ain't Goin"

Dave East Featuring Trouble

"I'm in a drop and I'm speedin', talking police, I don't see them now/I got the Glock for no reason, it's hard to tell who be scheming now/I ain't going back to selling smoke/I ain't going back to selling pills, loaded weapon in my coat/Now I'm somewhere in the hills, private jet, Givenchy clothes/Need some Fronto, I could roll/Shit, I'm counting, got me cold" —Dave East