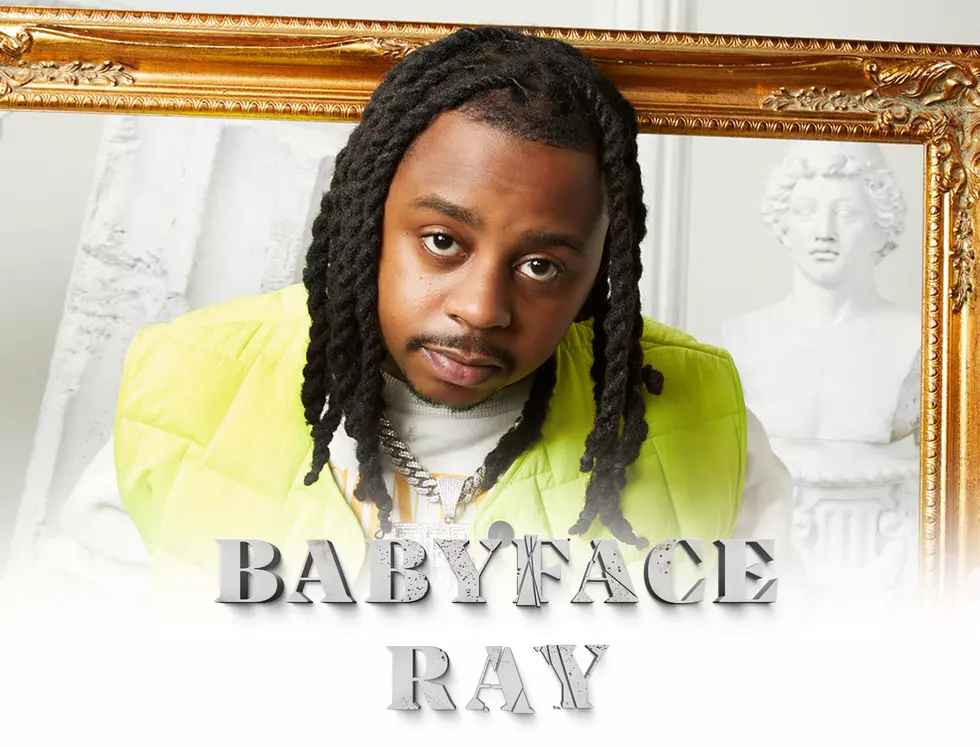 Babyface Ray – 2022 XXL Freshman
GOV'T NAME: Ray Register
AGE: 31
REPPIN': Detroit
TWITTER: @babyfaceray
INSTAGRAM: @babyfaceray
NOTABLE RELEASES: Songs: "If You Know You Know" featuring Moneybagg Yo, "Paperwork Party (Remix)" featuring Jack Harlow, "Like Daisy Lane"; Album: Face; EP: For You, Unfuckwitable; Mixtape: MIA Season 2; Guest Appearances: Future's "No Security," Big Sean and Hit-Boy's "Offense" featuring 42 Dugg, Trippie Redd's "Captain Crunch" featuring Sada Baby and Icewear Vezzo
LABEL: Empire
CURRENTLY WORKING ON: As-yet-untitled album due at the end of the year.
WHO ELSE SHOULD BE PART OF THIS YEAR'S CLASS: "Teezo Touchdown. He got his own style of music. He's hard. Baby Money from Detroit. He's fucking hard. Veeze should've been on there. Los and Nutty. War Tour Mafia. Basically, all of my niggas. The whole cover should've been me and all my niggas."
INFLUENCED BY: "I'm influenced by a lot of things: my environment, other artists that I seen make it in the industry that I had the chance to be around. Just the everyday life. Fans and shit, they inspire me. Anybody who's hard in the music game has influenced me. From Jay-Z, Tupac Shakur, The Notorious B.I.G. on down to A$AP Rocky and Future. Whoever is hard, man. I always try to take what they do and implicate it in my stuff."
AS A FRESHMAN IN HIGH SCHOOL: "I was the freshest person. I won High School Lord. Lord is like homecoming king, but you won it for the ninth grade. So as a freshman in high school, I was like the freshman in high school. I'm talking Prada. I'm talking about Louis [Vuitton]. I'm talking about Juicy Couture for men. Purple Label polos without the Polo man on 'em. Rock & Republic jeans. When everybody was doing True Religion, we was doing Nudies and all of that shit. I been fly."
TRUTH ON BEING AN XXL FRESHMAN:
"I feel like everything I've been doing, it's just like climbing up the ladder lately. So, it only makes sense for me to be on the cover right now. And everything has been coming organically, too. It ain't been no forced, extra gimmicky, nothing. It's just been like some real, genuine people fucking with Babyface Ray. So, that's what I like about it, for real.I done really been through the motions, the ups and downs. My story is authentic. A different view of Detroit. A different view of the streets. I bring a different outlook on how niggas look at this shit. A lot of people are going to be proud because my city has been fucking with me heavy for years. So, they're just proud to see this happening. But some people are gonna be mad about it and hurt because it's me and not them. But it is what it is.
[My fans are] gonna have to enjoy these fresh-ass outfits that I'm putting on. [I want them to see] the freestyle. Just seeing me in this mode. [When the cover comes out, I'm going to] post it on Instagram with a slide of Lil Boosie daughter saying, 'I told y'all niggas!' For real. I couldn't even fathom this moment. So, maybe somebody seeing me can give them the motivation and let them know that maybe one day they can do the same shit."
BABYFACE RAY'S 2022 XXL FRESHMAN FREESTYLE
The Detroit rap scene's artists have made a hefty amount of noise over the last few years. Though Babyface Ray's entire brand is built off being stilly, his movement has been one of the loudest. By laying the groundwork and building a sizable catalog, his status in hip-hop has been consistently going in an upwards direction. That's why he recently earned his spot in the 2022 XXL Freshman Class. The Midwest rhymer puts his skills to the test in his Freshman freestyle, where he rhymes off-the-top for close to two minutes.
The opening scene of Babyface Ray sitting on a gold throne and sporting a white, striped 'fit speaks to how comfortable he is whenever it's time to step up to the plate. Hooded up, he spits about his rise from the pavement to the skies, and addresses his peers, who unfortunately were blocked from having that opportunity.
"My youngin' caught a case, he been in it since the ninth grade/Fucked his scholarship because he tried to rob a dice game/When I let God lead the way, that's when my life change/When you take a trip to go and get 'em, that's when the price change," he raps tranquilly.
Also within his verse, which is strong enough to hit DSPs as an actual song, Ray waves off the unimportant people that come around him, declares to his enemies that he'll let the bullets of a 9mm rip through the lane like a Rajon Rondo pass and faces his newfound status. "You know I tax niggas, it ain't no taxing me/I had to tell her ass to slow down, quit runnin' after me/You know yo' mans will get smoked down, he like a pack to me/How it feel that you the G.O.A.T. now? That's what they askin' me," Ray rhymes in between pauses to catch his flow.
Rounding things out, he speaks to the notion that his growth and relevancy is everything but limited. "Window open I'm coolin'/Concrete I grew/West love me like Snoop/I'm international, too."
Babyface Ray has been building a steady catalog for several years now. Plus, he's only getting sharper with every release like he's got a point to prove. His 2021 album, Unfuckwitable, and the 2022 release of Face amplify that statement. Both of those efforts, led by tracks like "Paperwork Party (Remix)" with Jack Harlow and the Moneybagg Yo-assisted "If You Know You Know" on the former and "Sincerely Face" on the latter embody his trademark style, which pairs a talkative delivery and perspective of becoming a breadwinner.
According to the 31-year-old, Detroit-bred artists getting hit with the mainstream stamp of approval is a well-deserved win for everyone in his city. "The city has been seeing this work for a long time," Ray tells XXL during the Freshman shoot in mid-May. "What the world is seeing right now is what the city already saw. So for us to get this type of notoriety, it's like, they're glad we're here now type shit."
Now that he's earned a seat at the table, Babyface's hunger still isn't satisfied. "I really can't put no limit on it," he explains. "We're just going to keep reaching until we can't anymore, until it ain't no more that we can get. We ain't ever gonna stop."
From Detroit to the world. Watch Babyface Ray's 2022 XXL Freshman freestyle, powered by Puma, below.
BABYFACE RAY'S ABCs
BABYFACE RAY, KALI, COCHISE AND BABYTRON'S 2022 XXL FRESHMAN CYPHER
During the 2022 XXL Freshman shoot in Atlanta this past May, selected artists were tasked with stepping up to the plate and leaving no crumbs behind by the time everything was said and done. The quad of Kali, Cochise, Babyface Ray and BabyTron did just that in their cypher. Fusing for a track strong enough to go platinum, the layered artists prove here that the only time they fold is when it comes to the dead presidents in their pockets.
The beat is laced by multiplatinum-selling producer Wheezy Outta Here. Offering his usual brand of romantic trap, the Grammy award-winning talent utilizes a combination of chordophone and woodwind instruments for the melody, along with a turbulent drum kit to match. Additionally, the foundation, best described by the viral clip of Future saying "sensational," is, of course, equipped with his standout producer tag, which came from an old studio session with Pluto and Young Thug.
Thanks to Georgia's own Kali, things couldn't have gotten off to a better start. Talking greasy, she uses an array of flows to detail her player mentality when it comes to having prospects and authentic motion in the rap game. "Niggas only hard to they homeboys/Niggas only hard to that weak-ass bitch/Flashin' them guns in the videos, and don't even know how to load up a switch/I ain't even havin' no sneaky link, 'cause a nigga gon' brag on the shit," she spits.
Next is Florida's own Cochise, who's typically known for his high-pitched delivery, zippy cadences and carefree bars that precede his lively ad-libs. He puts all of those on display here. Keeping things fun and truly going off the top, he raps about being in the presence of his day ones and recruiting people's girlfriends to keep them company. "OK, excuse me, got your shawty she loosie/I slap on her booty/She show me the boobies/And all of my niggas we getting some cuties, OK," he rhymes.
Third up is the respected Detroit rhymer Babyface Ray. Prevailing with his signature conversational flow, 'Face flexes about staying true to himself from an infant. Despite always having special qualities, he expresses that, nowadays, he has juice on tap, flexing, "Face yo' baby, face her, baby, drive her crazy/New Mercedes, huggin' me good the new 580/Blue 500, done made 500, just call me the greatest/From nothin' to somethin', now I'm a stunna like Weezy and Baby."
Rounding things out is another Michigan native, BabyTron. He opts to go a cappella, emphasizing his caption-worthy bars about being a savage-hearted hustler who gets to the bag by any means while also being quick to put his enemies in one. "Play with us or one of mines, be done left y'all/Why you playin'? Once it's up, you can't press pause/Sonic to the blues, get to runnin' like the hedgehog/Catch 'em in a Off-White tee, get 'em X'd off," he raps.
Talk about ending the Freshman rollout on a high note.
Watch Kali, Cochise, Babyface Ray and BabyTron's 2022 XXL Freshman Cypher
See Every Artist in the 2022 XXL Freshman Class
Which rapper is your favorite?