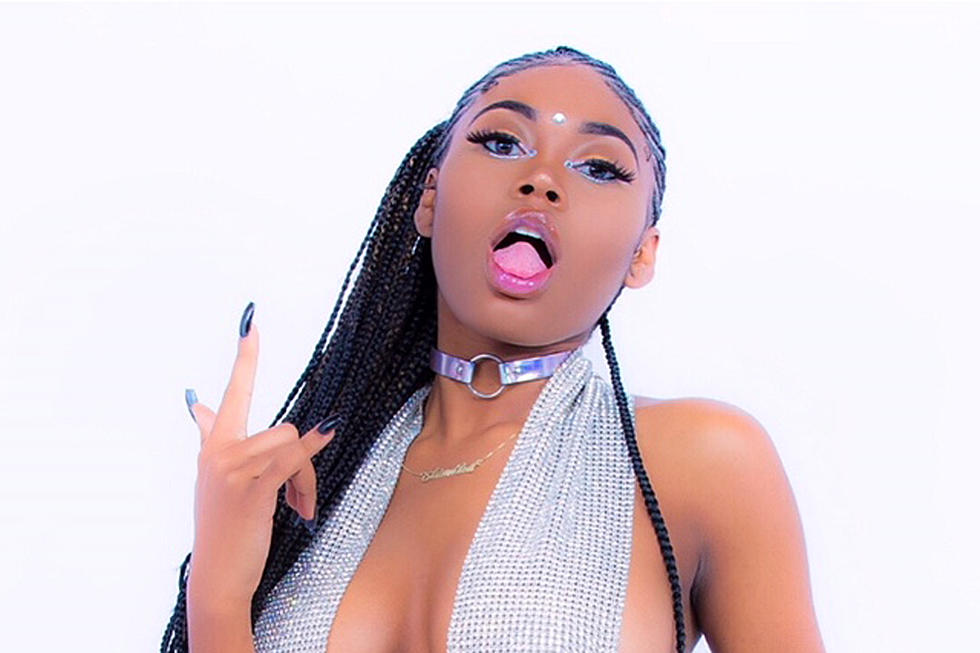 The Break Presents: Asian Doll
Hannibal Matthews
With versatile songwriting skills, a ferocious mic presence and a knack for melody, Asian Doll has just about all of the qualities you might look for in a rising rap star—and hip-hop fans are definitely taking notice.
Over the last two years, the 21-year-old Dallas native has become one of rap's more prolific artists, working with the likes of PnB Rock ("Poppin'") and dropping six projects of her own: Da Rise of Barbie Doll Gang Empire (2015), Drippin in Glo (2016), Project Princess Vol. 1 (2016), Outtaspace (2017), Kill Bill, Vol. 1 (2017) and most recently, Doll SZN, which dropped last month. She also gained a sizable bit of face time when she delivered a standout verse on Bhad Bhabie's "Hi Bich (Remix)," the video for which has been viewed over 30 million times on YouTube.
Flaunting her skills on each of these six projects, the talented up and comer—who is currently accompanying Bhad Bhabie on her Bhanned in the U.S.A. Tour—has delivered a steady stream of confrontational bars. It's her ability to switch between different sounds that's helped her stand out in rap's dollhouse.
"I got the whole trap side down pat," the 21-year-old artist tells XXL. "I can go in there and do some trap shit so fast. When I start making records like 'Poppin'' and stuff like that, then people start seeing, 'Okay. This is an artist.'"
Get to know Asian Doll in this week's edition of The Break.
I grew up listening to: "I listened to rap, radio music. Whatever was on TV when we had cable. Whatever was on on-demand. Lil Wayne, [A$AP] Rocky. Whatever I can vibe with."
My style has been compared to: "My style really not on the same—it's nobody that's me. So, if people compare my style to somebody, they probably just hating and some shit like that. It's definitely nobody like me, nobody with my style. And if they do got my style, they can't do it like me."
Most people don't know: "I'm a goofy person. I'm just really, like, just me."
My standout moment to date: "Bhanned in the USA Tour. We do overseas and stuff. I knew I was going to Paris one day, but I never thought I would be 21. I actually get to see my fans all across the world. I was getting booked like crazy, but touring—I don't know what the fuck I be expecting behind those curtains. I don't know who there. I don't know if it's two people, 10 people—I don't know. And every time we go it's like a house full of people and they know every word. Seeing that shit with my own two eyes is like, 'Damn.' When I get off this tour I'm gonna go on another tour."
My most slept-on record: "This song I got called 'Janet Jackson.' The ad-libs crazy on 'Janet Jackson.' A lot of my music is slept-on that's out—I got six tapes."
My goal in hip-hop: "[To] keep leading the youth. I feel like girls—especially from the hood, where I'm from—they have no voice. They have nobody. Sometimes when you get super famous, you forget what you started doing this shit for. I just wanna keep motivating the girls [to] keep being themselves. Especially for dark skin girls. I wear every color hair style. I don't give a fuck what color the hair is, if I like it I'ma wear it. So girls seeing me do that, girls do that, know what I'm saying? I just wanna keep inspiring girls to just be their self, and to know that it's a way out. You don't gotta depend on niggas for nothing. You can really do it yourself. That's been my goal since day one, since I started to rap."
I'm going to be the next: "Generational female rapper. I'ma be one of them."
"Hi Bich (Remix)," Bhad Bhabie featuring Asian Doll, MadeinTYO and Rich the Kid
Check Out the 2018 Hip-Hop Music Festivals You Need to See