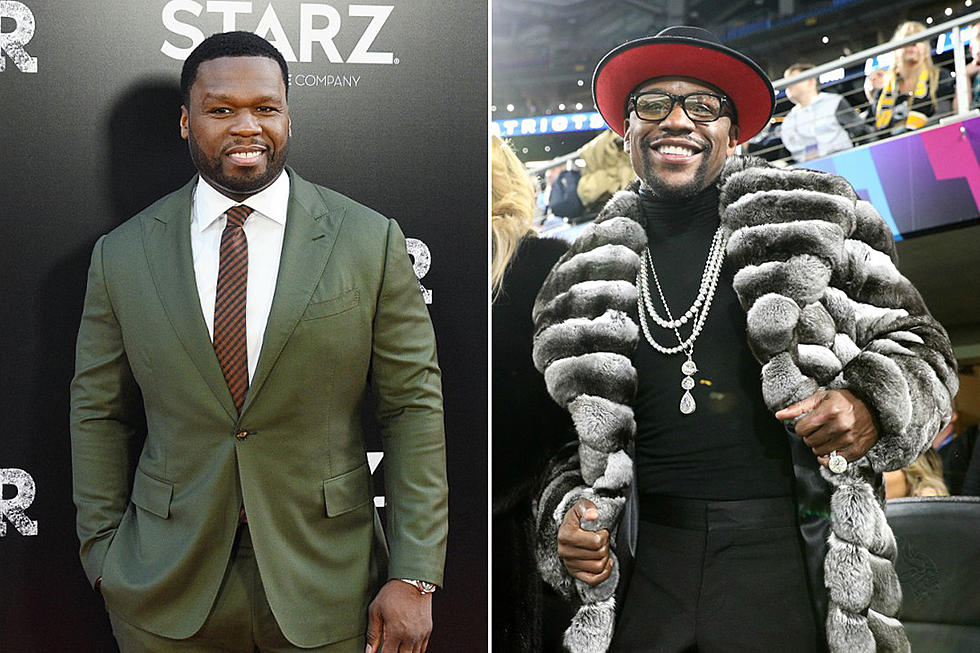 A History of 50 Cent and Floyd Mayweather Jr.'s Love/Hate Relationship
Nicholas Hunt / Patrick Smith, Getty Images (2)
Hip-hop has seen few love/hate relationships like that of 50 Cent and Floyd Mayweather Jr. The two polarizing giants of the sports and entertainment worlds have come to epitomize the term "frenemies." After first seemingly becoming BFFs (The Money Team!) over their brash bravado, antagonistic natures and ridiculous net worths, the two had a major falling out. And in the wake of the dissolved friendship, Fif and Floyd have been trolling each other on and off for the past few years.
When Fif and Money Mayweather were on good terms, their bromance was one of hip-hop's tightest. They even cemented their friendship by appearing on the cover of XXL together back in 2011. But their beef has played out publicly and pettily, with the two figures throwing bitter shots at each other. They made peace with each other a few years ago and put their differences aside, yet Fif and Money Mayweather have since resumed their feud, which has become the talk of the rap and sports world once again.
Despite the recent uptick in friction, this weekend 50 Cent insisted that Floyd is still his "little brother" and that he wouldn't disparage him while in front of the TMZ cameras, before adding in a zinger: "Don't tell him I said this, I know he can't read this shit." The saga continues.
With the recent turmoil and bad blood between the two, XXL compiles a timeline of 50 Cent and Floyd Mayweather Jr.'s friendship, from the good to the bad to the ugly.
50 Cent Walks Mayweather Jr. Into the Ring at Oscar De La Hoya Fight

May 2007

50 Cent Accompanies Floyd Mayweather Jr. to Wrestlemania

March 30, 2008

50 Cent Brings the Mother of Rick Ross Child to Floyd Mayweather Jr.'s House

November 2009

50 Cent and Floyd Mayweather Jr. Launch Film Company

January 2011

Floyd Mayweather Jr. Appears in Street King Commercial

October 2011

50 Cent and Floyd Mayweather Jr. Appear On XXL Cover Together

November 17, 2011

Floyd Mayweather Jr. Announces 50 Cent Will Get Into Boxing

April 2012

"As far as boxing I think he is going to be involved with the promotion side, we might even have him fight on pay per view one time," Mayweather told XXL. "We don't know what the future holds, but he is getting involved with boxing."

50 Cent Walks Floyd Mayweather Jr. to Ring for Miguel Cotto Fight

May 5, 2012

On the night of Floyd Mayweather Jr.'s mega bout against Miguel Cotto, he was accompanied by some of the biggest names in music, one of them being his good friend 50 Cent. Joining the likes of Justin Bieber and Lil Wayne, 50 Cent made his presence known, as The Money Team took over Las Vegas.

50 Cent Supports Floyd Mayweather Jr. as He Begins Prison Sentence

June 1, 2012

50 Cent Picks Floyd Mayweather Jr. Up From Prison

August 3, 2012

After serving roughly two months of his three-month sentence for domestic violence, Mayweather was released from prison and greeted by a small group of family and friends, which included 50 Cent. Fif announced Floyd's impending releasing the day prior via Twitter. He and his partner-in-crime were officially back in business and ready to get TMT, their boxing promotion company, off the ground.

Floyd Mayweather Jr. Says 50 Cent Will Be a Film Legend

August 2012

"I'm always gonna support my friend 50 Cent," Floyd said. "He's a great guy and in the music industry he's done some record-breaking things and I think that he can also do it in the movie industry."

50 Cent Addresses Status of Friendship With Floyd Mayweather Jr.

September 2012

In September 2012, the first signs of a rift between 50 Cent and Floyd Mayweather Jr. became apparent during Fif's appearance on The Rickey Smiley Morning Show. Despite insisting that he and Floyd are "always gonna be cool," the G-Unit general revealed that the two hadn't hung out lately and that he was not content with waiting around on Floyd to come around.

"Everybody around him is waiting on the next time he feels generous," the G-Unit general said of his friend and business partner. "And I have a lot, so I don't wait for nobody. It's just a space and time. I'll go and do what I have to do. I don't gotta sit around and wait for the next time he feels like giving somebody something."

50 Cent Teams Up With Manny Pacquiao

September 13, 2012

50 Cent and Floyd Mayweather Jr. Diss Each Other on Twitter

November 4, 2012

"A male boxing groupie.. hold my belts because your album sales have declined," Floyd tweeted, subliminally referencing Fif.

Not one to let a beef become one-sided, 50 Cent quickly responded, referencing Floyd's history of domestic violence and poking fun at his alleged rap aspirations, officially putting the beef between the two on front street.

50 Cent Admits Twitter Beef With Floyd Mayweather Jr. Was a Publicity Stunt

November 5, 2012

"I'm sick of all this nonsense Floyd asked me to act like were fighting cause no one was paying any attention after his 60 days.#SMSaudio," the Jamaica, Queens native tweeted. "Domestic violence is very serious my apologies,my grand mother said we need to stop playing I'm done sorry#SK"

50 Cent and Floyd Mayeather Jr. Offered $5 Million to Box Each Other

November 2012

"50 has been boxing for years and has a sizeable difference over Floyd, but it equals out with Floyd's experience," David said at the time. 50 and Floyd passed up on the offer.

50 Cent Claims Floyd Mayweather Jr. Ducked Manny Pacquiao

February 2013

During a February 2013 visit to ESPN's morning debate show First Take, 50 Cent accused Floyd Mayweather Jr. of ducking Manny Pacquiao and avoiding a title bout with the No. 1 contender. When asked about how prison had affected Mayweather, 50 referred to Floyd's incarceration as a "traumatic experience" and expressed his curiosity of how it would affect him in the ring moving forward.

Rick Ross Accompanies Floyd Mayweather Jr. to Weigh-In

May 2, 2014

50 Cent Warns Floyd Mayweather Jr. to Stay Away From T.I.'s Wife

July 1, 2014

Becoming embroiled in a beef with T.I. over his relationship with Tip's wife, Tiny, Floyd Mayweather Jr. was making headlines for all the wrong reasons, particularly for his interaction with Tiny on the BET Awards red carpet. A magnet for controversy, 50 Cent poked fun at the awkward moment, warning Mayweather to stay away from Tiny in Instagram posts that have since been deleted.

Floyd Mayweather Jr. Calls 50 Cent "Irrelevant"

August 21, 2014

After finding himself in a string of beefs with rappers, Floyd Mayweather Jr. decided to send shots at artists like Nelly, T.I. and 50 Cent, all of whom were at odds with the champ. "You've got to realize, I've been relevant for 18 years," Mayweather said. "God has blessed me with an unbelievable talent, with fast feet, fast hands, unbelievable defense and a very, very sharp mind. So I'm thankful for that. Of course, hip-hop artists, they come and go. They come and go. But I'm still here."

50 Cent Offers Floyd Mayweather Jr. $750,000 to Read

August 21, 2014

Much has been made about Floyd Mayweather Jr.'s lack of a formal education, and 50 Cent used that tidbit as ammunition in response to Mayweather calling 50 "irrelevant." First alleging that Nelly slept with the mother of Floyd's child and clowning him for allowing Nelly to take his girl, Fif' issued a challenge to Floyd to prove that he can read.

"I will donate $750k to a charity of your choice, If you can read a full page out of a Harry Potter book out loud without starting and stopping or fucking up," Fif asked via social media, with Jimmy Kimmel also jumping in the fray to offer to set up the bet during Mayweather's appearance on his show.

Floyd Mayweather Jr. Responds To 50 Cent's Reading Challenge

August 23, 2014

After being challenged by 50 Cent to read a page of a Harry Potter book, Floyd Mayweather Jr. clapped back with a brief Instagram post. Uploading a picture of two checks totaling over $72 million, Floyd captioned the pic, "Read this $72,276,000.00. God bless," a blatant reference to his immense wealth and a witty decline to 50's challenge.

50 Cent Disses Floyd Mayweather Jr. Again

August 24, 2014

In response to Floyd Mayweather Jr. posting two sizable checks, 50 Cent continued his assault on his former friend, using Instagram to wage war. Posting Photoshopped photos poking fun at Floyd's reading skills and pointing out the fact that the checks Floyd posted were from Oscar De La Hoya's company, Golden Boy Promotions, Fif showed that Money Mayweather's flex-worthy post did not phase him at all and only put more fuel on the fire.

50 Cent Speaks On Beef With Floyd Mayweather Jr.

August 26, 2014

"People think I get angry with Floyd, that's like my younger brother," 50 said. "So he'll do things and I won't necessarily understand why he does it but it'll agitate me and I'll do things in response."

50 Cent Offers to Fight Floyd Mayweather Jr.

August 26, 2014

"If you want to fight I'll be in Vegas next week.#SMSaudio" 50 wrote in a post, which also included 50's urging Floyd to get in touch with his family members.

50 Cent Says Floyd Mayweather Jr. Won't Kick His Ass

August 29, 2014

Beefing with a boxing champ could leave you at risk of catching a serious beat-down, but according to 50 Cent, he has no such concerns in regards to his rift with Floyd Mayweather Jr.. During a visit to the LA Leakers radio show in 2014, Fif said as such, giving Mayweather his props, but insisting that he was no slouch himself. "Don't get it twisted at all, he's still the best fighter," 50 said. "He won't kick my ass. I'm 220, b. I'm 220 right now."

50 Cent Predicts Outcome of Fight With Floyd Mayweather Jr.

September 10, 2014

In September 2014, when asked during a Q&A session on the "Hang With" app about what the outcome would be if he were to ever fight Floyd Mayweather Jr., 50 seemed rather confident.

"He wanna fight, we can fight," Fif said. "You don't gotta organize the shit for a boxing match. Two swings, he'll see a white light."

50 Cent's Son Poses For Picture With Floyd Mayweather Jr.

September 2014

50 Cent Insists Floyd Mayweather Jr. Is Scared to Fight Manny Pacquiao

February 9, 2015

50 Cent and Floyd Mayweather Jr. Reunite

April 23, 2015

50 Cent Bets on Floyd Mayweather Jr. to Beat Manny Pacquiao

April 29, 2015

50 Cent Says Floyd Mayweather Jr. and Manny Pacquiao Shouldn't Have a Rematch

May 2015

"It's obvious it's huge business. [They made] $200 million in 36 minutes" 50 said. "I wouldn't. I don't think the response he got from the fight was positive. I don't think people were jumping up and down demanding a rematch."

Floyd Mayweather Jr. Denies Telling 50 Cent to Mock Ronda Rousey

November 17, 2015

When Floyd Mayweather Jr. rival Ronda Rousey suffered a vicious loss after boasting about being able to get the best of the boxing champ, social media was ruthless with commentary—50 Cent being among them.

Posting a meme with the caption "LMAO Floyd told me to post this, he want me to do the dirty work," Fif put Mayweather in the position to have to address the post given their relationship, which he did shortly after the fight.

On the contrary, Mayweather offered words of encouragement to Rousey, adding, "I want Ronda Rousey to hold her head up high and don't let this discourage you. If you need help as far as with boxing, I'm here to help you. It's all about timing and inches. Her ground game is unbelievable. She'll be okay."

50 Cent and Floyd Mayweather Jr. Party Together in Las Vegas

July 23, 2016

Dana White Reveals 50 Cent Helped Set Up Floyd Mayweather Jr. and Conor McGregor Fight

December 6, 2016

"I was at dinner in New York for [UFC] 205, and we bumped into each other at dinner," White said. "So we were hanging out, we were talking for awhile, and then I went over and sat back at my table and I ate. And then when we were leaving, he said to me, 'When's your boy gonna fight Floyd?' And I said, 'My boy? Who are you talking about, Conor?' And he said, 'Yeah.' I said, 'Floyd don't want to fight Conor.' And he goes, 'He does, Dana. He's dead serious about it.' And I said, 'I don't know, man. Call Floyd and see what's going on.'"

Although it wasn't a guarantee that the fight would take place, 50 Cent's words set the stage for one of the biggest sports spectacles of the decade, for which he would later take credit during an appearance on Jimmy Kimmel Live!

50 Cent and Floyd Mayweather Jr. Renew Beef

May 26, 2018

"Some body please tell me why Floyd would be doing this right now? l don't understand this one," Fif questioned on Instagram after getting wind of a flyer promoting the party. He later posted screenshots on social media of a conversation via text between him and Floyd, with Floyd arguing that 50 was being hypocritical due to his affiliation with Shantel Jackson, a woman who sued Floyd. However, Fif apparently had a different view of things and proceeded to question Floyd's financial situation, as well as bring up his alleged struggles with reading, reviving the bitter feud once again.

50 Cent and Floyd Mayweather Jr. Trade Shots on Instagram

July 21, 2018

On July 21, 2018, Floyd Mayweather Jr. went on the offensive in his back-and-forth with 50 Cent, posting an open letter disparaging his former friend on social media. "Curtis 'Confidential Informant' Jackson, you're mad because your oldest son Marquees mother doesn't want to be with you!" Mayweather began in the post, before speaking on Fif's strained relationship with his son, writing "Your Son, your own flesh and blood don't want nothing to do with you!"

"You haven't had a hit song on radio in who knows when and you're definitely not hot enough to even sell records anymore so Interscope dropped you," Floyd continued. "You are jealous of any rapper, athlete or entertainer that's hot or got something going on for themselves. You are a certified snitch and we got paperwork to prove it."

In response to Mayweather's open letter, 50 Cent uploaded his own posts highlighting his history of domestic abuse and poking fun at his open-letter and his reading ability, putting even more gas on their fiery war of words.

50 Cent Claims Floyd Mayweather Jr. Slept With Rapper Earl Hayes' Wife

July 23, 2018

In 2014, Hayes reportedly FaceTimed Mayweather Jr. before murdering Moseley and continued to talk with the boxer on FaceTime before committing suicide. While rumors Trey Songz as the man Moseley slept with while her and Hayes' were married, 50 Cent claims that it Floyd was actually the man in question.

"Tell everybody why you was on FaceTime when he killed Stephanie and himself. Because he was confronting you about fucking his wife," 50 wrote on Instagram, before accusing Floyd of also attempting to sleep with rapper P Reala's ex-girlfriend. Given the seriousness of the allegations, the chances of this round of disses being a publicity stunt are slim to none.

50 Cent Shares Police Report Written by Floyd Mayweather Jr.'s Son

July 24, 2018

The war between 50 Cent and Floyd Mayweather Jr. got even uglier on July 24, 2018, when Fif shared a police report written by Floyd's son Koraun on social media. According to the police report, Koraun said at the time that he saw his father kick his mother and repeatedly hit her. "I came out [my room] and my dad was hiting (sic) my mom. It happed (sic) at 4:00 am in the morning," Koraun wrote at the time.

While 50's post insinuated that Mayweather and his son had a bad relationship, Koraun defended his dad by posting a black-and-white photo of him and his dad, with the caption, "All good over here. Worry bout your family first. Love you @floydmayweather," referencing 50's own issues with his son. Not to be deterred, 50 continued to strike, bragging about him and Mayweather's spat making the news and joking about a photo of Mayweather and Diddy talking while being close to each other in his latest attack on the undefeated champ.

50 Cent's Son Facetimes Floyd Mayweather Jr.

July 26, 2018

50 Cent's takedown of Floyd Mayweather Jr. continued on July 25, 2018, with 50 poking fun at Mayweather's reading skill's once again. But he got a dose of his own medicine when his son Marquise uploaded a screenshot of himself FaceTiming with Mayweather Jr. Writing the caption "How my Uncle look my age? #MoneyCall," Marquise let it be known where his allegiance lies in this beef, which show's no signs of ending anytime soon.

50 Cent Calls Floyd Mayweather Jr. His "Little Brother" Despite Ongoing Beef

July 28, 2018

50 dealt the latest blow days after his son, Marquise Jackson, slighted him by posting a photo of himself Facetiming Floyd Mayweather Jr. 50, however, appears to be taking it all in stride, judging by his latest Instagram post. According to Power's executive producer, he avoided questions from TMZ regarding their back and forth because the the boxing champ is his "little brother." "don't tell him I said this, I know he can't read this shit LOL get the strap [sic]," 50 added.

50 Cent Mocks Floyd Mayweather In Nike Ad Meme

September 5, 2018

In September 2018, 50 Cent used Colin Kaepernick's Nike ad campaign as an opportunity to poke fun at a few athletes and entertainers, one of them being Floyd Mayweather. Posting a meme with an image of Mayweather with text reading, "Ufbdbdjdndndkxnx dj'n shhsbdjd," 50 Cent wrote, "Champ must have done this one himself. LOL," in what was his latest jab at the boxer's lack of reading skills. In response, Mayweather uploaded an image of Fif, with text over the rapper's face reading, "When I have a herpes flare up, my boyfriend always says don't worry get the strap!"

50 Cent Claims Floyd Mayweather's Money's Running Low

September 16, 2018

After insinuating that he would be coming out of retirement for a rematch against boxer Manny Pacquiao*** in a clip on Instagram, Floyd Mayweather caught the attention of 50 Cent, who commented on post, claiming The Money Team leader's decision was due to financial instability. "We been Knew you finished that money Champ," Fif says in the clip. "We can tell when you start doing club visits but l will be tuned in in Dec. all work easy work let's go! Hard Work Dedication get the strap #lecheminduroi."

50 Cent Pokes Fun At Floyd Mayweather's Upcoming Opponent

November 5, 2018

Upon hearing news that Floyd Mayweather would be stepping back into the ring to fight Japanese kickboxer, Tenshin Nasukawa, 50 Cent went on the offensive once again, posting a clip of a pre-fight showdown between the two, with a disparaging caption. "Champ fighting a Uber driver before the IRS embarrass him again. Pay-pre-view my ass, we watching this on YouTube. Get the strap #bellator #lecheminduroi," he wrote. Fif also accused Mayweather of ducking boxer Gennady Golovkin,  noting, 'What happen to GGG, couldn't find his phone number? Get the fuck outta here with this shit. Champ done turned into a circus act ... at least Canelo fighting killers.".

50 Cent Clowns Floyd Mayweather's Basketball Skills

July 9, 2019

Floyd Mayweather was the subject of 50 Cent's ridicule once again following an embarrassing clip of him on the bad end of a match-up during a celebrity basketball game made the rounds online. Sharing the video on his own Twitter account, Fif wrote, "What the fuck champ,are you alright? Get the strap,the man tried to kill you. Now you got ace bandage on ya ankle and shit. LOL #lecheminduroi #bransoncognac," in the caption of the post.

Floyd Mayweather Pokes Fun At 50 Cent's Business Ventures

August 10, 2019

Roughly a month after 50 Cent's last attack, Floyd Mayweather decided to clap back, comparing Fif's failed business ventures with his rivals' more successful ones. "JAY-Z been killing the champagne game with Ace of Spade selling worldwide at premium prices for well over a decade, while Curtis got a bottle with a cheap chess piece on it that taste like shampoo," he wrote in a post on Instagram. "Diddy got Ciroc and its still selling worldwide and you can't find Effen in no stores and it's well known the shit taste like rubbing alcohol."

50 Cent responded with a post poking fun at the boxer's reading skills that's since been deleted, but followed up with a caption congratulating Mayweather on his accomplishments, with a humorous twist at the end. "Tell Floyd I said he won he is the greatest of all time," Fif wrote. "and nobody I mean nobody can ever take that away from him what he's done with his life is amazing. I'm done with all of the back and forth. Now Can Someone Please Read This To Champ."

50 Cent Disses Floyd Mayweather's Outfit

October 4, 2019

The back-and-forth between 50 Cent and Floyd Mayweather reignited when the Get Rich or Die Tryin rapper poked fun at one of the boxer's outfit. Posting a photo of Mayweather photoshopped alongside an identical photo with an elderly woman's face over Mayweather on Instagram, Fif wrote, "Champ on his bullshit again, dats that granny drip," in the caption.