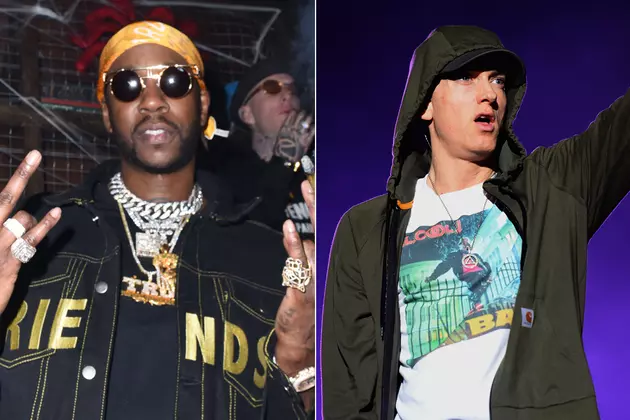 2 Chainz Uses Angry Face Emoji to React to Being Left Off Eminem's 'Revival' Album
Vivien Killilea / Theo Wargo, Getty Images (2)
After 2 Chainz shared his initial reaction to being left off Eminem's Revival album with a set of emojis including an angry face and a fist, now the rapper is changing his tune. Tity Boi deleted the Instagram post showcasing he wasn't too happy about being removed from the song "Chloraseptic"—Phresher was added in his place—and replaced it with a new Instagram post featuring a photo of himself and Em, along with the caption, "Grateful for the opportunity ,new music on the way !"
Following the release of the tracklist for Eminem's upcoming Revival album, 2 Chainz seems to be upset that their previously-teased collaboration doesn't appear on the project.
On Tuesday (Dec. 5), the Atlanta rapper posted the tracklist on his Instagram and made his feelings known with three simple emojis. "👀😡👊🏿," 2 Chainz put in the picture's caption.
The Pretty Girls Like Trap Music rapper originally revealed in July that he was working with Em, detailing how their recording session went. "He let me hear this song and it was funny," said 2 Chainz. "I heard some things in there where his vernacular was 2 Chainz-y. It was crazy."
The rapper added that he gave Shady "some of the ATL flavor" and when it was over, Em praised him, questioning how he rhymed "tabernacle with Adam's apple." But while 2 Chainz never revealed the name of the song, we now know which track they collaborated on.
During a recent interview with This Is 50, New York rapper Phresher revealed the Revival song he's featured on with Em, "Chloraseptic,: originally included 2 Chainz. "They were like, Oh, you know, 2 Chainz is on the record too. Listen to his verse,'" he said. "And I'm like, now we're playing."
Along with Phresher, Eminem's upcoming project will include guest appearances from Ed Sheeran, Alicia Keys, X Ambassadors, Skylar Grey, Kehlani and Pink. Beyonc é will also be featured on the previously released single, "Walk on Water." The album is set to release on Dec. 15.
Check out 2 Chainz's Instagram post below.
See New Music Releases for December 2017