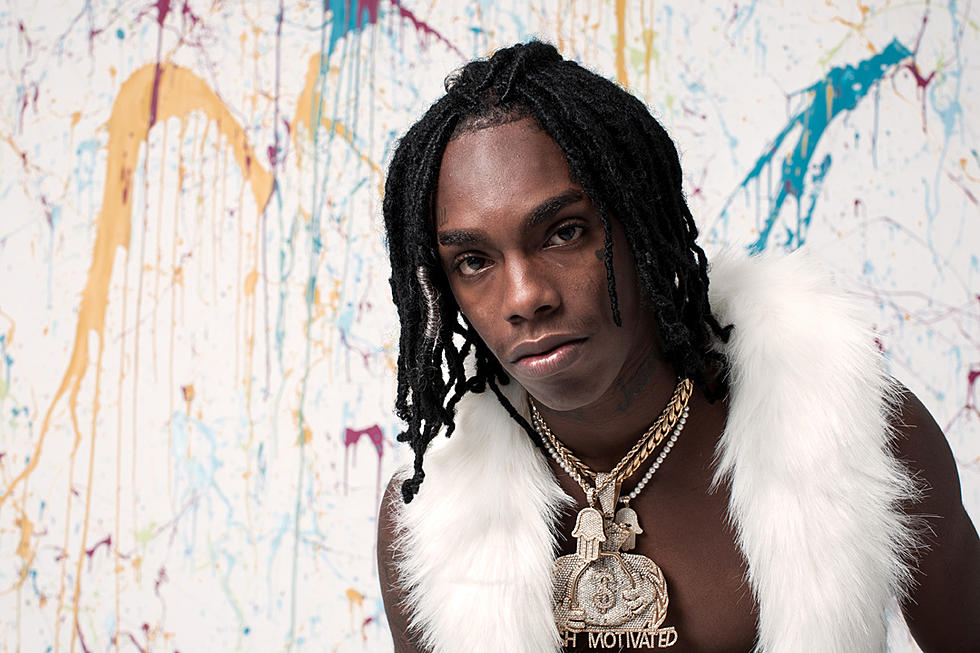 The Break Presents: YNW Melly
Esdras Thelusma
All dreams have to start somewhere. Florida rapper YNW Melly is known for his mesh of vivid bars about the street alongside vulnerable moments in love, but he originally wanted to be like the pop stars he admired when he was around 9 years old.
"I was singing then, I wanted to be Chris Brown and Michael Jackson," he tells XXL of his early musical inspiration. "Then I heard Lil Wayne, that's when I was like OK, I'm Chris Brown, Michael Jackson and Lil Wayne? Oh yeah."
He began to take music serious in the eighth grade, when he first recorded on a friend's mic. His rap hobby began to make real waves in 2017, when Melly was making poignant songs like "Murder On My Mind," which put him on the map (it's now has amassed more than 22 million plays). The pained, emotive (and homicidal) track was written in one of Melly's darkest moments but he turned his darkness into a light at the end of the tunnel.
Involved in a 2017 shootout when when he was just 16 years old, YNW Melly found himself facing very real charges, including multiple counts of aggravated assault with a deadly weapon. The year he spent in jail birthed, amongst other songs, the aforementioned "Murder On My Mind."
"I made most of them songs from beating my chest in a jail cell," he says. "It's a God-given talent. When I pray every day and I ask God to give me a melody, it come outta nowhere, while I'm locked up."
His first project, Collect Call EP, dropped in 2017, while he was still jailed. He followed that up with loosie releases that helped to boost his popularity while showcasing an artist who continued to develop his sound. Melly's most recent project, I Am You, reflects a clarity and connectedness to everyone around him.
"I Am You just means I relate to everything you do." The project has been doing well, with its songs earning Melly even more online traction. He's planning a sequel to the project and a Young Nigga Waves mixtape, where his whole crew gets to shine.
Learn more about YNW Melly below in the latest edition of XXL's The Break.
I grew up listening to: "[Young] Thug, Drake, Gucci Mane, Future, Mario, Usher, [Lil] Uzi [Vert], James Brown, Ed Sheeran, Taylor Swift—all type of shit."
My style's been compared to: "Thug, Lil Wayne, Uzi, Future, Michael Jackson, [Lil] Durk. They compare me to every body. Famous Dex. I don't see none of that. I get a lot of different shit. I don't even be sweating that shit. They be saying weird shit. 'If Kodak and Famous Dex had a baby' and shit."
Most people don't know: "I really see the future. I can tell what's gon' happen before it happens."
My most slept-on song: "I feel deep in my heart, really, 'Risk Taker'—that's my favorite song. 'Free Trell,' 'Drop Top,' 'Wine 4 Me.' They gon' get it. You think they sleepin' on it, but I know I put something in that song. Just gonna take the world a lil' bit longer to see it."
My standout records to date have been: "'Melly The Menace,' 'Virtual,' 'Murder On My Mind,' 'Slang That Iron.' It's a couple of 'em. '772 Love.'"
My standout moments to date have been: "I ain't even reach it yet. All this stuff happening now, I been said it was gon' happen and I prayed for it. But when I really reach the tip-top, that's really gonna be like, OK, now I'm aight. I'm thankful for everything, when I was reaching 10 million on WorldStar. What? I'm thankful as fuck for all that."
I'm going to blow up because: "I recognize talent. Don't get me wrong, all these rappers got talent. But I know where they made they mistakes at. I studied they ass like that, too. I'm every single one of yo' [favorite] rappers in one [and] I'm not making the mistakes they made. How the fuck you ain't gon' like me?"
I'm going to be the next: "YNW Melly and Michael Jackson. They ain't gone be able to categorize it."
"Virtual (Blue Balenciagas)"
Here's the Ultimate Guide to Rappers With Acronyms in Their Name