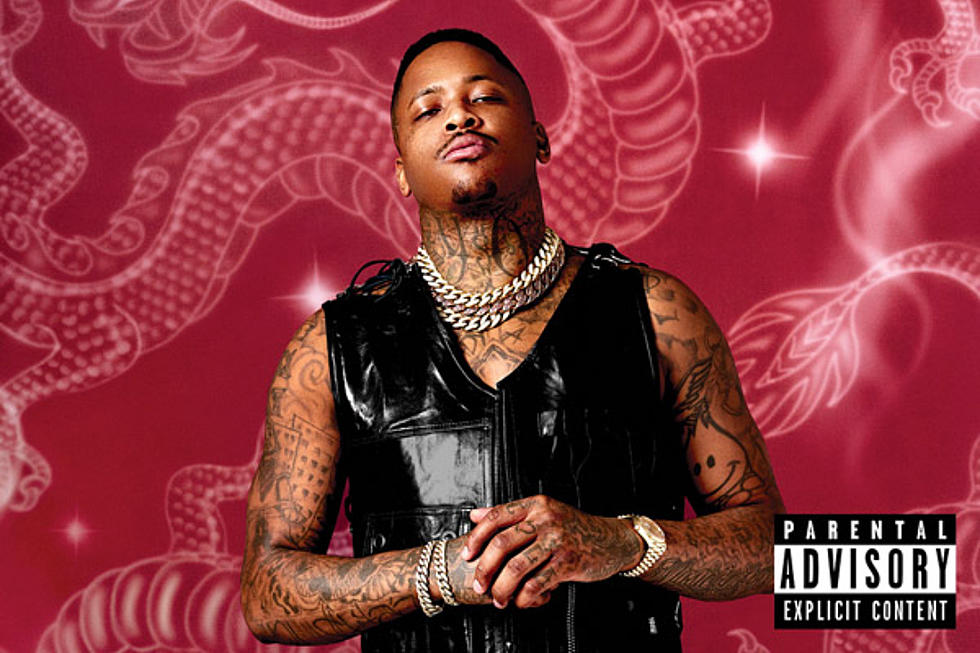 YG 'Stay Dangerous' Album: 20 of the Best Lyrics
Def Jam Recordings
Since striking platinum success with his debut album My Krazy Life, YG has emerged as one of hip-hop's more beloved young artists, pairing his substance and charisma with a consistent stream of quality projects. In a year that has been filled with blockbuster album releases, YG crashes the party with Stay Dangerous, the Compton native's third solo studio album.
Coming two years after his acclaimed sophomore album Still Brazy, Stay Dangerous finds YG basking in all of his gang-banging splendor, with songs like the lead single "Suu Whoop" making it clear where his allegiance lies. The album also includes ample dedications to romance ("Power") and introspect ("Bomptown Finest") to balance out the proceedings, a testament to the former XXL Freshman's understated versatility.
Although fully capable of carrying a project on his own merit, YG calls in a few collaborators to help with the heavy lifting on Stay Dangerous, with a list of guest stars that includes Quavo, YoungBoy Never Broke Again, Nicki Minaj, 2 Chainz, Ty Dolla $ign, Big Sean, A$AP Rocky, Mozzy and more. Stay Dangerous also finds YG teaming up with longtime partner-in-crime DJ Mustard, who handles the majority of the production with additional boardsmen like TM88, J Holt, Mike WiLL Made-It and more rounding out the project.
After giving YG's latest offering a listen, XXL picked out 20 of the best lyrics from Stay Dangerous that rank among its best and are sure to become some of the most quotable bars from the album.
"Fuck the DA, fuck the P.O./Fuck the president, fuck the po-po/They follow me, wanna keep me close/Try to hold me back, let me go/I sip the drank, I sip the drank/Pick up the phone and call Michel'le/She hold me down, I gotta make the plan/If the plan don't get me, then I don't care/Look in my eyes and tell me what you see/A whole lot of lives depended on me/But I hold it down, I hold it down/I check in when I'm not in town" —YG

"Bulletproof"

YG Featuring Jay 305

"Twos, threes, fours and fives, 800, 900 on mine/I commit crimes all the time, I convinced my homies to slide/Take this pistol, you down to ride? Cock the pistol, it's hammer time/Paparazzi, I'm tryna hide, fuck the bitch, she traumatized/Yeah, just for thinking you surpassed me/Yeah, me and Mustard linkin', we go hammy/Yeah, we both 'bout to cop the Lambies/Yeah, valet the '64 at the Grammys" —YG

"Bulletproof"

YG Featuring Jay 305

"Hop in the coupe, subtract the roof, like what it do?/Her jewels like neither, nigga fuck it too/Heard you tryna wife her up, I'm tryna pipe her loose/All my niggas got stripes, sabertooth/Big Ps, Big Bs, nigga suu whoop/Hello? What it ru?/900 block, back down to the deuce/I'm the man, bitch I walk 'round like I'm bulletproof" —YG

"Bulletproof"

YG Featuring Jay 305

"Ooh, Khloe Kardashian in my T-shirt/For you hatin' ass nigga, I know that gotta hurt/Ghetto superstar since I was 16/Now I got a billboard, the Crenshaw King/Yeah, all around the world like Ice Cube/Pimp a bitch, fuck peace in all my interviews/Gettin' rich, fuck a bitch, cracker fuck your rules/Porsche coupe, two bitches, I'm the fucking truth" —Jay 305

"Handgun"

YG Featuring A$AP Rocky

"Uh, uh, pastry cup/Cakey, rump, ice cream 'Cedes truck/Nine screens, Brady Bunch, wide screen/I was 13 with fake bling/When Killa Cam was on the corner with the pink mink/My little man was on the corner with the clink clink/Gold bank, roll 8, gold links" —A$AP Rocky

"I'm from West Side Bompton Tree/Fuck all the fake Bloods and the enemies/YG 4Hunnid chunkin' big P's/Niggas went quiet, then Mustard did the beat/Suu whoop, my coupe, suu whoop, suu whoop/Suu whoop, my bitch, put red on her shoes/Suu whoop 'til I die, no lie, that's truth/Suu whoop, gang ties, bullet wounds, that's proof" —YG

"Big B, Gucci bag, blue hundreds in my bag/'YG, how you feel about the hundreds bein' blue?'/Nigga, I ain't mad/The Crips know I'm with this Blood shit/Need a Piru and that's Blood, bitch/Always down with this thug shit/She get fly, she suck dick/Pull up Bentley, mean muggin'/All daps, she ain't huggin'/If you a square, you ain't fuckin'/She love 2Pac, she thuggin" —YG

"Suu whoopin' in my songs/My enemies sing my song/My suu whoopin' so strong/I can't do no wrong/My whoopin' can't be cloned/I'm berious, I'm bold/My bitch in a suu whoop robe/Take it off, she in a suu whoop thong" —YG

"Yes, I'm too cocky/My bitch broke up with me, it shocked me/They say you're poppin' shit, yeah I'm paparazzi/'YG, how you like your bitches?' Hibachi/I like a bitch that let me talk shit to her/'Cause she know I'm her everything, nigga plus more/I'm ego trippin' and you a fuckboy/Fuck a plug, my face on Mount Rushmore" —YG

"Big Bank"

YG Featuring 2 Chainz, Big Sean and Nicki Minaj

"Everything proper, no propaganda/Tropicana Goyard bandana/Big sack, a lotta hoes like Santa/Threw a birthday party in a Phantom/Big shit like a dinosaur did it/And you know Tity shinin' like acrylic/Yeah I sold dope, I had cornrows/I can you see niggas hatin' with the door closed" —2 Chainz

"Big Bank"

YG Featuring 2 Chainz, Big Sean and Nicki Minaj

"Feed me to the wolves, now I lead the pack and shit/You boys all cap, I'm more Colin Kaepernick/I'm rare as affordable health care/Or going to wealth from welfare/I turn my W's to M's, yeah, I flip those/I might buy her red bottoms with the crypto/Three coins, that'll pay ya whole semester/But you gotta ride it better than a Tesla" —Big Sean

"Big Bank"

YG Featuring 2 Chainz, Big Sean and Nicki Minaj

"Uh oh, back again/Back to back Maybach, stack the M's/Told em' I met Slim Shady, bagged a Em'/Once he go black, he'll be back again/Tell them hoes that it's crunch time, abdomen/Yes, I cop mad Chanel and mad Given'/She did it again, imagine them/'Bout to make these bum bitches mad again" —Nicki Minaj

"Power"

YG Featuring Ty Dolla $ign

"I'll hit it in the shower/I'll hit it for some hours/Hold up, do it smell like flower?/That pussy limited edition, Eddie Bauer/Got me on some shit I ain't never been on/You got me comin' home and I don't never come home/You got my teeth grippin', take you out that dome/Got me drinkin' Patrón, and I don't drink Patrón" —YG

"666"

YG Featuring YoungBoy Never Broke Again

"Stars in the roof, sittin' in the Wraith/Got it all off these bars, man, this shit kinda crazy/I been out wildin' with these young niggas lately/Fuckin' all the pretty bitches, man, this shit kinda crazy/I'm blessed up with Christ, Lifestyle too much for life/I been on some player shit, hoops my nigga don't make/You is not the reason I'm pullin' up in the latest/Westside nigga, ho, I don't need no favors" —YG

"Too Brazy"

YG Featuring Mozzy

"Two bands for the drac', give me two of those/20 for a P, 'less you buying two or more/Stomped down, ease 'em over 20 toes/Two M's in the bank, fuck the 20 roll/Judge gave me two years for my nigga pole/Two outta town tucks, never be at home/Two grams in the wood, we be breathin' dope/Two niggas bangin' bloods and we keep the 4" —Mozzy

"Too Brazy"

YG Featuring Mozzy

"Ayy, we been waitin' two days, where the package at?/Middle fingers to the law when they paddy wag/200 for some hair for my scallywags/200k from another M, nigga, tally that/Tally that, 400k in a fanny pack/Spent 20 out of that and get your baby daddy whacked/Sneak diss at me, you should see your favorite rapper attacked/YG, what'd you do for fun? Hang out where the scandalers at" —Mozzy & YG

"Since a youngin' I been getting used to sex, money, and guns/Bitches wanna fuck who they want because I been number one/Use me for the dick because they love fuckin' a blood/Her ex was a Crip she fuckin' me just because/Tequila I drink, the deeper I think, 'bout people I meet/Slow down on the drink, bitch I'm from the street/You on the outside lookin' in, tell me what you see/You look on and rich as fuck to me" —YG

"You say you a street nigga, you gotta be on some street shit/'Cause soon as you stop, niggas gonna try to sneak this/But fuck that, that's why I keep the heat tucked by the seat, bitch/To my last day, I'm forever on some tree shit/Gang bang politics, turn me into a politician/The way I move my shit now, niggas think I'm actin' different/Come to me you better come correct/Don't come to me mixin' up stories like you DJ Skrillex" —YG

"I'm dangerous, I know I live by the gang code/I'm dangerous, I know I'm in love with stank hoes/When I say stank hoes, I don't mean stank/I mean the ones that fuck the first date, dick all in they face/Told my granny I don't know if I'm really Christian, I really did/Just don't know whose story to believe, the Muslims, yours, or his/They told me to talk to a therapist and I did/But that don't change the crazy shit I do, did and lived" —YG

"Now when I pull up, everything exotic/Can't complain, life's sweet, blue drank, hypnotic/The past year I've been makin' all profit/My team finally got it, then somebody shot me/Damn, that's just the devil, my nigga/But thank God it ain't end with a shovel, my nigga/Have it dusted off my shoulders like whatever, my nigga/And Frogg ain't gone he live forever, my nigga" —YG