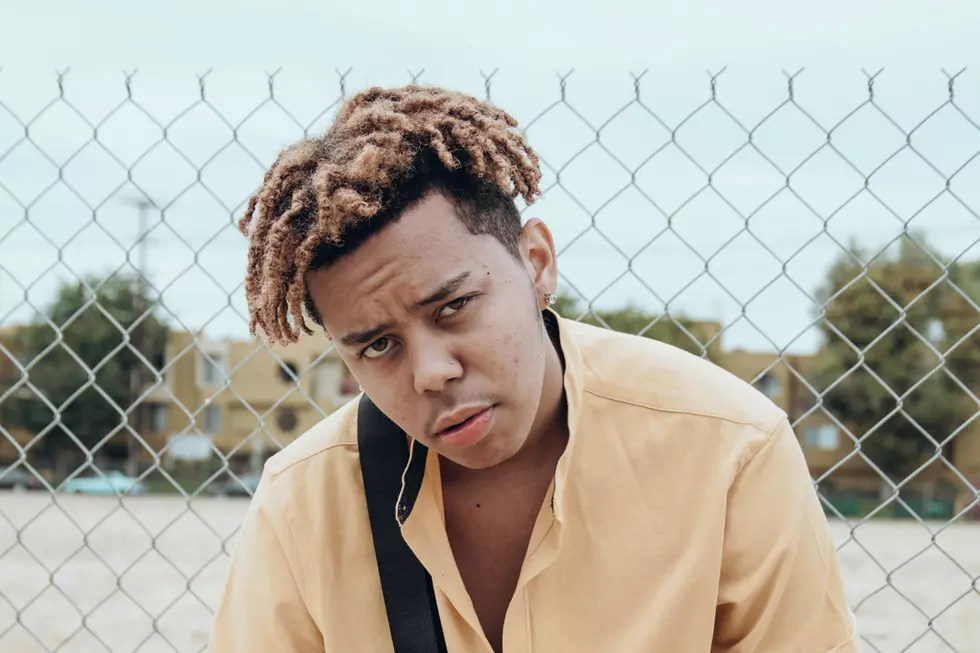 The Break Presents: YBN Cordae
@aceofla
In May, just a couple weeks after J. Cole's 1990's baby-lecturing KOD track "1985 (Intro to the Fall Off)" hit streaming services, a dexterous rhymer by the name of Cordae Dunston—formerly known as Entendre and now known as YBN Cordae—announced his presence as the YBN collective's secret weapon.
In an era where hyperbole and emotionally charged arguments reign supreme, the 20-year-old's razor-sharp but decidedly measured response to Cole's condescending tune left a major impression on hip-hop. Titled "Old Niggas," the YBN Nahmir affiliate's breakout track uses nimble rhymes and clever examples of old-head hypocrisy to deconstruct the generational gap between the old school and the new.
"Lately all my idols they been failing me/Catching sexual assaults and some felonies/Then you want me to listen what you telling me/And wanna hate when we sing our little melodies," he raps on the song, the video for which has been viewed nearly 7 million times on YouTube.
The song, which Cordae says was partially inspired by a conversation he had with an older person who helped him replace his car tire, is a fitting introduction for a rap classicist who aligns himself with a crew headlined by a couple of prototypical viral rappers like YBN Nahmir and YBN Almighty Jay.
While Cordae had began to build a buzz with previously released projects like Anxiety (2014) and I'm So Anonymous, "Old Niggas" and tracks like "Fighting Temptations" and his freestyle over Eminem's "My Name Is" pushed his fame to a new plateau. Now, he's looking to do it bigger than ever.
"My [next] project—every song is gon' be fire," the rapper tells XXL. "It's gon' be classic. It's gon' be like the best shit ever when it drops."
With loads of skill and a strong squad behind him, there's no telling what this dynamic rhymer can accomplish next. Get to know YBN Cordae in this week's edition of The Break.
Name: Cordae Dunston
Age: 20
Hometown: Suitland, Md.
I grew up listening to: "Nas was a huge influence. That's probably my favorite rapper of all time. Nas, Big L, Rakim, Jay-Z, of course, and then like, later on, Kid Cudi, Travis Scott, Kanye West, Kendrick Lamar, J. Cole. Chris Brown, too [laughs]. I used to listen to Chris Brown like shit."
My style's been compared to: "I don't know, I really try not to pay attention to comparisons, 'cause I'm my own artist. I try to build my own sound. People compare me to Kendrick. I've seen comparisons with Jay-Z, with Nas, with Chance The Rapper. I get a lot of Eminem comparisons. People just compare me with literally every lyrical nigga [laughs]. It's not like, one main person they always compare me to. One nigga will be like, 'Yeah, this nigga sound like a Young Eminem' or 'He's like a young Kendrick Lamar.' But it's like everybody for real. I think that's a good thing they [compare] me to so many different people. It's not just like, one nigga, so, it's dope."
Most people don't know: "I used to play basketball in high school and I was five feet, 90 pounds on the [junior varsity] basketball team."
My standout moment to date: "Probably when I performed at Rolling Loud, because that was like my first show ever. That was my first time ever performing live, and in front of 40,000 people. It was super dope."
I'm going to blow up because: "'Cause I put in that work. I study all the greats. I put in my 10,000 hours, I'm always grinding, I'm always trying to perfect my craft and like, just the passion behind it. Just being a genuine person who's really passionate about making music and just getting better as an artist. I really do this shit. I'm tryna be the best to ever do this shit. With that mentality, I can't just say shit like that and not put in the work behind it. So, I'm trying to put in my 10,000 hours and put in the work and drop classics."
My goal in hip-hop is: "To be the greatest artist of my generation."
Follow YBN Cordae on Twitter and Instagram
Standouts:
"Old Niggas"
"My Name Is (Remix)"
"Fighting Temptations"
See 60 Hip-Hop Albums Turning 20 in 2018