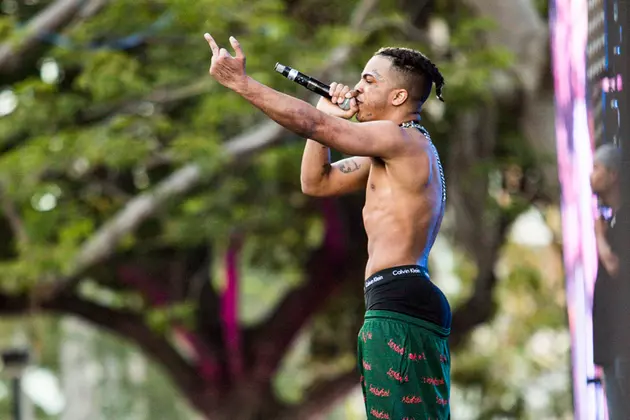 XXXTentacion Reveals '17' Album Tracklist
Michael Fequiere
The South Florida rapper will keep his freshman album short and to the point as the offering will contain eight songs and only one feature from buzzing rap crooner, Trippie Redd.
Also making its way to the Internet are snippets of the project. A YouTube video popped up last night (Aug. 5) titled '"NEW PREVIEW OF XXXTENTACION #17 ALBUM." The two-minute video previews a handful of songs on the album including the titles "Jocelyn Flores," "Save Me," "Fuck Love" featuring Trippie Redd," "Orlando" and "Ayala (Outro)." They all seem to have a very somber vibe.
XXX wrote about ambiance, "It's my first body of work, first official album release, and the first time I've put my all into a project, I mean it when I say this project is absolutely amazing. If you listen to me to get hype or to not think, don't buy this album, this one is for the depression, for the depressed ones, for the lost ones."
The "Look at Me" rapper has two more projects in the works including the mixtape, I Need Jesus and the LP, Bad Vibes.
Check out the 17 tracklist  and snippets below.
XXXTentacion's 17 Trackllist
1. "Jocelyn Flores"
2. "Depression & Obsession"
3. "Revenge"
4. "Save Me"
5. "Dead Inside (Interlude)"
6. "Fuck Love" Feat. Trippie Redd
7. "Orlando"
8. "Ayala (Outro)"
See Behind-the-Scenes Photos of XXXTentacion at the 2017 XXL Freshman Shoot