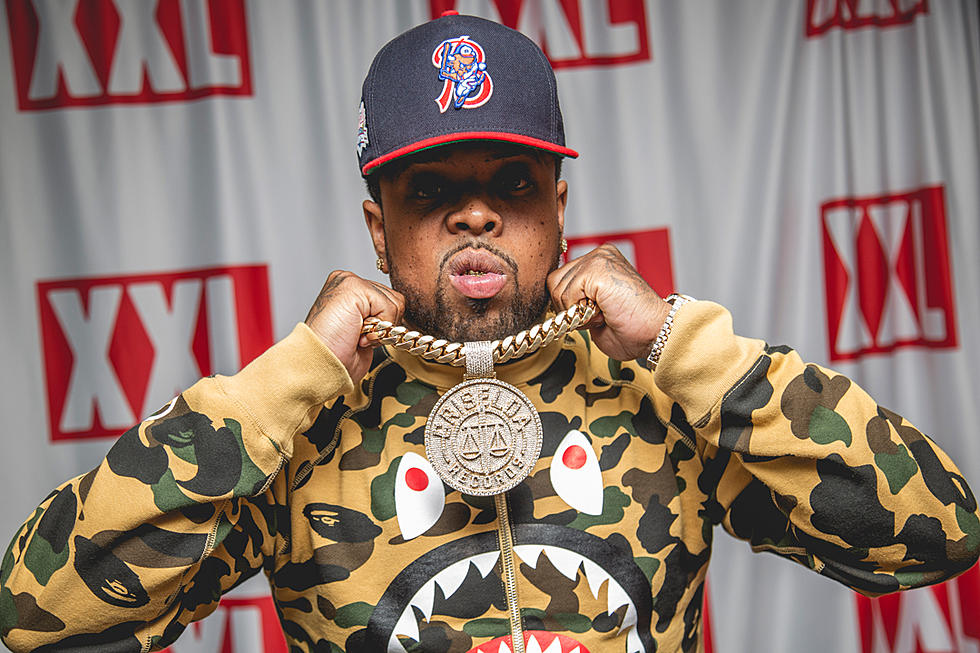 Westside Gunn Breaks Down His Three 'Supreme Blientele' Album Titles
@wheresdiggity
"I made it cool to sell out Vinyls in Minutes," he tweeted. "I gave u courage to think u can sell a shirt, but let's be honest ALL these niggas is Lil niggas to me idgaf if u 18-60yrs old I carved a LANE I got Murals all over the world."
Months later, Gunn hasn't changed his tune, and he's hoping his latest project, a follow-up to his 2016 effort, FlyGod, affords him the attention he feels he's always deserved.
"I always felt like I was slighted," Gunn says while seated in XXL's Manhattan office. "I probably made some of the illest music or [was] behind some of the illest music in the game. And I just felt like people wasn't paying attention. So I was just like, 'You know what? I didn't even switch the formula, it was just like I was going a little harder this time to let people know 'if you don't know about me before this you gon' know about me now' type approach."
Filled with the Buffalo rapper's signature thuggish, luxury raps over production from the likes of The Alchemist, 9th Wonder and Harry Fraud, Supreme Blientele is, indeed, a potent reminder of the East Coast rhymer's appeal to rap classicists and the like.
Stopping by to chop it up with XXL, Gunn breaks down the meanings of each of his three Supreme Blientele album titles, his relationship with Ghostface Killah, his contributions to the rap game and much more.
XXL: Your album title—your main one—is a nod to Ghostface Killah's Supreme Clientele album? Have you guys talked about it? 
Westside Gunn: He never said nothing. Of course he knows. I was just with him out at Soundset in Minnesota. As soon as we got off our set we just hung out in their trailer until they set. You know, that's family. Raekwon already gave us the torch. It's all love, so when Raekwon gave me that torch I just took that and ran with it. I got to keep this shit going. This music isn't for everybody. But if you enjoy this type of music, it's some of the best. Just take it back to the essence. They influenced [me] growing up, so I just wanted to pay homage. Those is the big homies.
Your project actually has three titles: Supreme Blientele, Chris Benoit and God Is the Greatest. What do each of the titles mean?
I was going through phases. So every time I thought of a new title that was gonna be the title, then I was just like, "You know what? I'm just gon' come with all three. I'ma do something that nobody never really did before." Because I try to stay ahead of the curb, too. I try to stay 10 steps ahead. It's a lot of shit that I done did before, but since I don't get the spotlight, as soon as somebody else do it, they get the credit for the shit.
And I be sitting there like, "They not the first person to do that." It was just like, "This is something else that I'm doing that nobody has done before." I'm pretty sure you gon' get doing the [three album titles] too.
But, Supreme Blientele, you know, this is my second album. [Supreme Clientele] was Ghost's second album. Supreme Clientele for Ghost was the album that took him to the next level. And I feel like [Supreme Blientele] is gon' take me to the next level. That's why I started off with Supreme Blientele. But then once I got a couple songs in, I'm like, "This shit killing everybody."
And then I thought of Chris Benoit. This shit killing everything. I heard everything that came out all year. And honestly, can't nothing fuck with [Supreme Blientele]. I might not get the praises like everybody else [and] I might not get the spotlight like everybody else, but if you wanna go song for song on an album, I'm killing everything that came out. And I always add wrestling to everything I do, so Chris Benoit fit.
But then, once I started doing more joints, I just started reflecting on my life and everything I done came from to the point where I'm at, I just felt so good. I'm good and my kids good, my family good, my closest friends [are] good. I go through that and make sure that everybody [I know] is in a good space. I think God is the greatest. I know where I came from, and I can still go any second, if I chose that route. But I'm just focusing on positivity right now. That's where God Is the Greatest came from. The album had all three of those feelings.
How'd that Anderson .Paak collab, "Wrestlemania 20," come together?
When Andy was on the [2016 XXL Freshman] cover, they asked him if there was anyone that should have been on the cover that wasn't, and he said me.
So from that, you guys ended up linking in the studio and kept up that relationship?
That's just the homie. Every since then, we been cool. Now when I'm in L.A., I hit him up. "What you doing? Come through, bruh." We just real cool.
In the past you've said rap has been watered down on the lyricist end of hip-hop. Who are some artists you feel have kept up that tradition? 

[Roc Marciano] still doing his thing. [Action] Bronson still do his thing. Meyhem Lauren. Smoke DZA still do his thing—that's family. It's a lot of heads still. It's just like what I said, the spotlight don't really be going there. It's tons of people, but as far as my family, it's Roc Marci, it's Action Bronson, it's Meyhem Lauren. These are the people I hangout with for real. Come to my house, I come to yours. We break bread together, do all of that. My family met theirs type shit. So that's really it. It's a lot more people, but we got our own lil' community.
You've spoken about being under-appreciated. What are some things you've brought to the rap game? 
A lot of people was doing the vinyls, but not like me, too. It's not even that I'm saying that I'm the creator [of the vinyl trend]—I was the creator of a few things and I'm gon' talk on that, too—but I'm just like, what pushed it to the forefront to make it popular to do. People have vinyls all the time. I used to see vinyls even at Urban Outfitters and shit. That's cool, but if you look up my [vinyls] them shits worth like a thousand dollars, $700, $800.
When I came into the game, my influence was so heavy in the States and overseas people was painting murals of me, people tattooing me on them. I can't name anybody and be like, "Yo, he's tattooed on 10 different people," or "He has murals painted of him all across the world." That was the type of music I was making. I was touching people.
It was a sound really like nobody really heard in a while. It was just a influence on the game. With the vinyl, even when I first did it it was like, "Let me try this out because I never did it." And then I did it and the shit sold out so fast I'm like, "Okay." Then the next vinyl, you know like, the first one took like a day [to sell out]. Then the second vinyl I did, it was like, a half a day.
Then the third vinyl I did, it was a couple hours. I'm like, "Okay, this shit getting bigger." But nobody still was doing vinyls. And then I'm like, "Okay, I got something with this." And not only that, the quantity was going up and the presses. And then I'm like, "The more I'm pressing, the quicker them shits selling." Then I'm like, hold up, "I'ma push this to the max."
Then the shit sold out in less than two minutes. So, when people start seeing that, especially in my lane as far as on the underground scene, it kinda open up the door where everybody was like, "I wanna do a vinyl, I wanna do a vinyl, I wanna do a vinyl." And it just made it cool again. Now everybody you think of is doing a vinyl. I can't say they're selling like me, 'cause it's like I created something. So it's like, of course, as soon as this vinyl drop, it's gonna sell out.
You say you've actually created some trends as well. What are some of those trends?
I was the first person, even with the half-and-half merch. With the clothes fashion. I was definitely first. Taking it on the road, selling shirts $200 a pop, custom-made. See the thing about mine, mines was cut and sewed. So I was taking different shirts and mixing them with different shirts. Everything was custom. So [I was] definitely first. And I'm not even gon' say because the rest—we have a community with the rest.
It's already like me, DZA, Desiigner's in it, Flatbush Zombies is in it. But pushing that shit to the forefront, like now I'm seeing people doing heavy with the Scott Hall shit, or heavy with the Ric Flair shit. And it's all good. I seen Blac Youngsta cop the wrestling ring for the house, shit like that.
It's cool, like, the culture is the culture. I actually like it. I respect it. Even when I used to make the comments about—I put something up and people thought I was coming at Drake. That was like a big shit for a while. "Ohh, he coming at Drake for the wrestling shit when he wore the Scott Hall shirt and the Scorpion." It's not that I was coming at him, I fuck with Drake.
I fuck with [Drake's] music. Like I always tell people, Buffalo is closer to Toronto than New York City. We an hour and a half away—that's the next major city to us is Toronto. Buffalo's connected to Canada. I can look at Canada [laughs]. It wasn't none of that. I just wanted more homage paid to the heads that's really doing this shit for real. It's a not a fad, it's not, "This shit is popular right now, let me wear a shirt."
It could be a stylist putting it on you, but it's a lifestyle for us. Like I said, I just feel like we getting slighted. A lot of people try to, you know, keep they mouth shut and really don't speak. And I try to—as much as I can—I really do. But sometimes, I smoke the best weed... I drink one of them $200 bottles and I see some shit and just be like, "How can y'all not pay more attention to what Westside Gunn, Conway and [Benny the Butcher] is doing to the game."
When it comes to lyricism, you can't really name too many people that's iller than a Conway, or sound hungrier than a Benny. Or bringing art to the game and culture to the game like a Westside Gunn. I was the dude at the time where I could've went to this label or that label. I could've linked up with this big homie, this big homie—and I still end up doing a deal with the biggest hip-hop artist of all time, from a place that no one ever made it from.
So I had to work 10 times harder. I never had a budget, I never had a manager, I never had a PR. I never had nothing. I was getting everything straight out the mud. I was already hanging with the A-list. My production was already Alchemist before the deal. Green Lantern is Nas' DJ, but he's my DJ too. I had him before the deal.
The Anderson .Paak record was before the deal. I threw that on just because I had it still tucked, but the album was already done. Like all my connections was already made before the deal. And like I said, selling out the vinyls, selling out all the clothes. Having all the murals around the world and all of that. And it's like, y'all still not gon' give me no credit for nothing?
See 60 Hip-Hop Albums Turning 20 in 2018