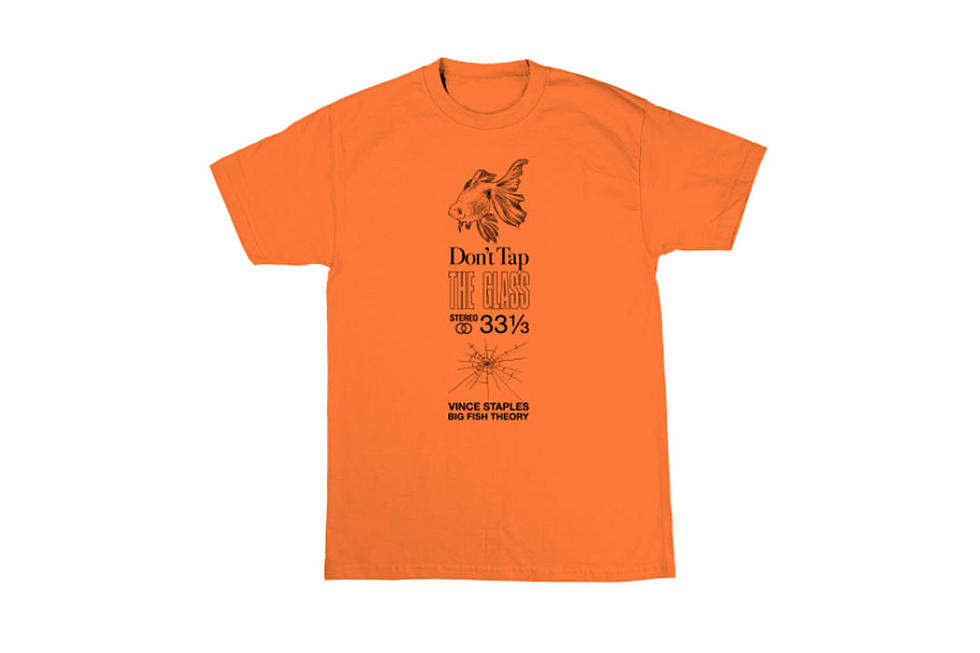 Vince Staples Releases 'Big Fish Theory' Merch
Big Fish Theory
It's been a few weeks since Vince Staples released his critically acclaimed album Big Fish Theory, and to help push the release furthermore, the Long Beach rapper has released a batch of brand new merch apparel themed after his latest LP.
Compromised of four tees—orange, blue, white and black—Vince's new collection takes cues from the albums's cover art and title. With a gold fish featured on the front chest of each shirt, every colorway features different song titles on the back of each tee along with the Def Jam logo, album length time and Vince's logo. As an ode to the digital album release, the shirts are now being sold on Vince's website for an affordable price of $14.98 each.
Besides the tees, Staples' web store will also carry special copies of the album in CD standard form, digital form and a special collector's edition with a picture disc vinyl and an autograph from the Long Beach MC. The Big Fish Theory merch is now available for purchase at vincestaples.com for a price of $14.98 while supply lasts.
The Top 5 Sneakers Coming Out This Weekend Including Air Jordan 5 Retro Flight Suit, Nike Air Max 2 Uptempo OG and More