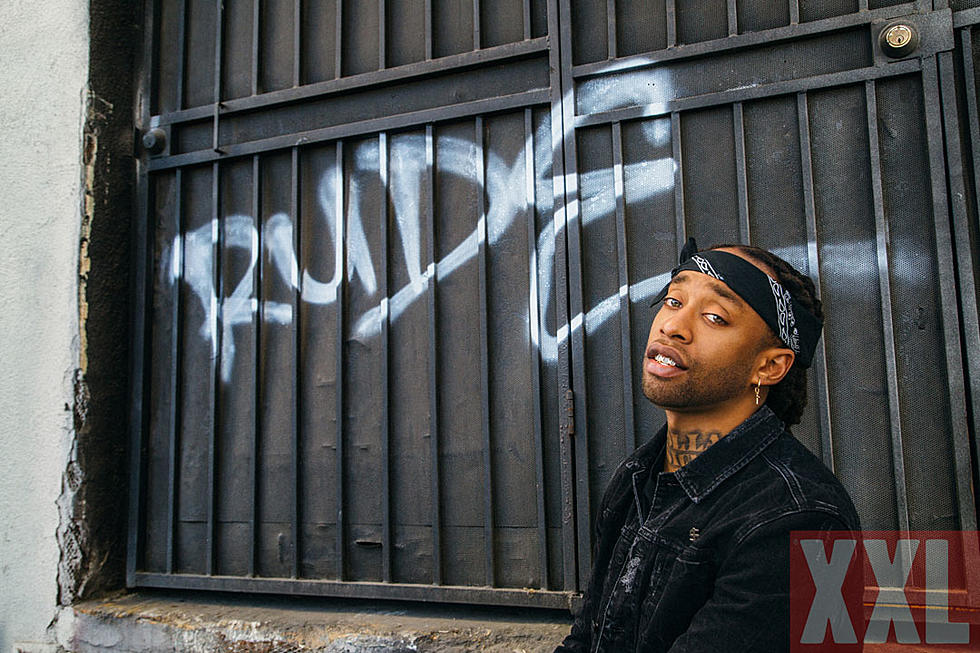 Ty Dolla Sign Explains How He and Kanye West Linked Up
Jory Lee Cordy for XXL
You Got Me
Two long years in the making and Ty Dolla $ign has finally dropped his much anticipated debut album. Is it all he hoped for?
Interview Miranda Johnson
Editor's Note: This story originally appeared in the Winter 2015 issue of of XXL Magazine, on stands now.
Ty Dolla $ign has been grinding for a while. First it was to break into the game and now it's to push his debut album, Free TC (named in honor of his brother, Gabriel "TC" Griffi n. who's currently locked up in Calipatria State Prison), to new heights. Ty's been focused on this project for the past two years, recording and rerecording it to perfection. Since breaking into the game in 2010, Tyrone Griffi n Jr., has built a name for himself off of his raunchy radio dwelling records indeed carving out a niche for himself in the current rather empty R&B landscape. Credited with helping to revive the West Coast rap music scene alongside DJ Mustard, YG and of course, Top Dawg Entertainment, Ty, although content with his primary success, has been eager to showcase the full range of his musicality with his debut eff ort. The album's debut single "Blasé" featuring Future and Rae Sremmurd instantly hit the Billboard Hot 100 chart, peaking at No. 66 by press time.
With additional guest appearances from Kanye West, Diddy and Babyface, to name a few, Ty, 30, pulled out all the stops for this project. After playing in the background for several it's now the Los Angeles' native crooner's time to shine. On a warm fall day in October, Ty chilled at the XXL offices and broke down his progress.
XXL: What do you think your album will do for the current landscape of R&B?
Ty Dolla $ign: I'm happy to be the one that changed R&B and made it so you can actually say what you want instead of having to be like, "Baby, don't go." It's more real. I think I get recognition musically because there are some people that try to put out albums and do all this crazy music, but it went too far. I know how to mesh the two and make it all right. I wanted [this album] to be perfect. I wanted it to be something you could listen to from start to finish. I got string players.
Not sure if everyone knows, but you are a very musical guy. What do you actually play?
I play basically anything with keys on it and anything with strings on it. And, I play these bitches. I'm like Snoop Dogg. I've been playing instruments forever. I get better as I go though. Anything to make a beat, I'm down to learn how to do it. Except for horns because a nigga's lips be looking fucked up. Then, I won't be able to play these bitches.
What's your goal with this album?
I want to gain more fans and I want to show people that I'm a little bit more advanced than you thought I was when it comes to this music shit. Yeah, I can make those me and Mustard songs all day and write other people's songs, but there's another side. I'm just going to keep on changing and trying new sounds.
You brought an old school R&B great out for this project, Babyface, how did that come together?
Working with Babyface was legendary. First off , I couldn't believe that he said yes. When we got in [the studio], I started smoking weed and he was acting like it was nothing wrong with it. Then telepathically he calls his homeboy. I say this because he didn't look up. He was just over there strumming the guitar. I started singing the hook to "Solid." Then his boy walks in and says, "'Face doesn't want y'all to smoke in here." I didn't mean to off end 'Face. They eventually got a place outside for us to smoke. You know me, I gotta be smokin' while I'm working. It worked out.
That was something I always dreamed of and I knew when I was going to do my first album that was someone that had to be on it. That's something that took time with the album because all the right things had to be on there. I got 'Face. I got Kanye. I got Battlecat, Jagged Edge. I got all the people that I really wanted on there. I wasn't tripping off who's hot or who's not.
You've been working more with Kanye lately. How did that relationship start?
I've been knowing 'Ye for awhile. He just called me in recently to start working with him. I'm very thankful he's on the album. That's like having Michael Jackson on your album in 2015. He's been one of my favorites since he came out. I've always been a hip-hop head. I fuck with J Dilla beats, Pete Rock beats, DJ Premier and Madlib. That's what he's on, that crate digging and vinyl.
Besides Kanye, who are your biggest musical inspirations?
J Dilla is the top producer of all time, in my book, alongside Timbaland and Pharrell. Then DJ Mustard. I like everything, I weird people out all the time with the shit that I listen to. I just learn from [different] people, every day.
You started a label, Pushaz Ink, with YG and DJ Mustard. Is that still happening?
Yeah, it's Pushaz Ink for life. Me, YG and Mustard started a movement and we brought back the West. The crazy part is Mustard blew up on his own, YG blew up and I ended up blowing up. So it's hard to get back in the same room because we all got shit going on. That's why "Only Right" is one of my favorite songs on my album. YG is on there and it's produced by Mustard. We did that on my tour bus in North Carolina in the middle of sound check. That's the only time we had together.
Has there ever been a point in your career where you felt like it wasn't going to happen?
I never gave up but a lot of the homies did and I don't feel sorry for them. Y'all niggas was trippin'. I make bangers all the time and I knew it was going to come. My mom probably used to think it wasn't going to happen. My daughter's mom thought it wasn't going to happen and a couple of girlfriends. You just gotta keep on doing it. I'm living proof.
What are some things you want to do outside of music?
I want to buy up a gang of properties in my neighborhood and give people the chance to live in new buildings. We should make our areas nice. It's all possible if somebody just believed in it. I think what a lot of Black people do is when we get money, we leave and never come back. It would be cool to just make our shit tight. I want to teach them to do the same thing and make that the new rap [thing]. If you're getting money, let's put it back into our shit. Then muthafuckas can come fuck with us. We don't got to go fuck with them.
See Photos From Kendrick Lamar's XXL Winter 2015 Cover Shoot