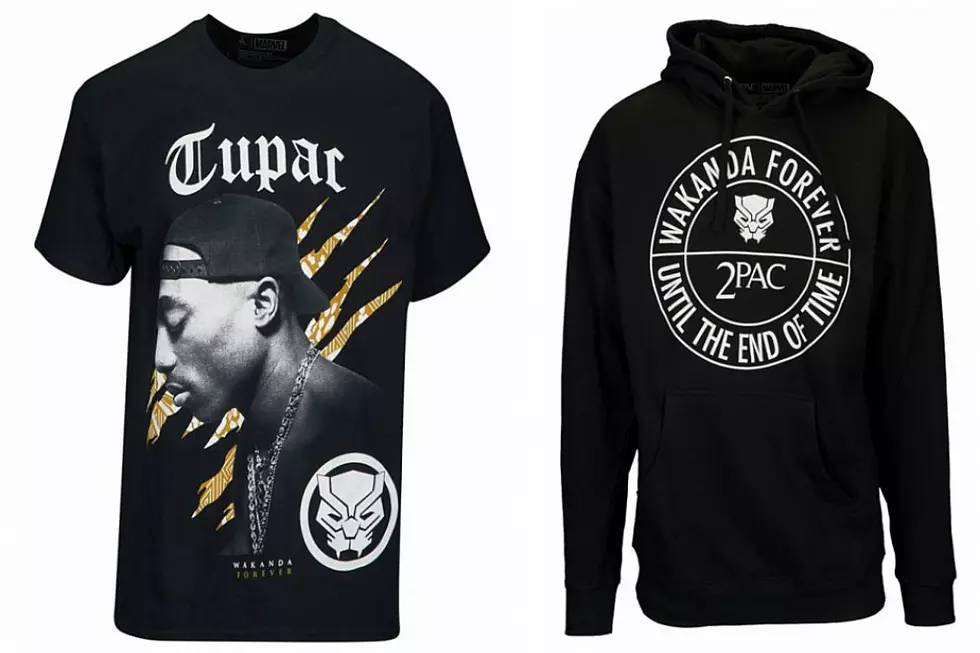 Tupac Shakur Meets 'Black Panther' in Foot Locker's New Clothing Collection
Foot Locker
Marvel Comics has already proven that they're down with hip-hop culture, but now we know just how strong their love for iconic rap is. Last Friday (Nov. 9), the estate of Tupac Shakur and Marvel Comics announced a new collaboration that will merge elements of the late MC with those of Marvel's Black Panther for a new clothing collection available exclusively at POP by Foot Locker.
The new collection is comprised of graphic t-shirts, long-sleeve tees, snapbacks and hoodies that perfectly blend Tupac and Black Panther together. While some tees simply say Tupac and Black Panther, others infuse images of the late Death Row rapper with Black Panther iconography. One T-Shirt in particular features the Black Panther in a battle-ready pose while surrounded by 'Pac's posthumous album title, Until The End of Time. The prices range from $25-$50.
News of Marvel's collaboration with the Tupac Shakur estate arrives shortly after the estate was awarded the rights to a slew of unreleased music from the slain rapper. Two months ago (Oct. 3), TMZ reported that the estate won a lawsuit the late Afeni Shakur filed against Entertainment One. Back in October the estate had been given the rights to 'Pac's unreleased music and a six-figure pay out. There's still no update on the status of the unreleased music.
It would be great to get brand new music from the legendary "All Eyez On Me" rapper but until that time comes, check out the new Tupac x Black Panther collection from POP by Foot Locker below.
See Marvel's New Black Panther x Tupac Shakur Collection