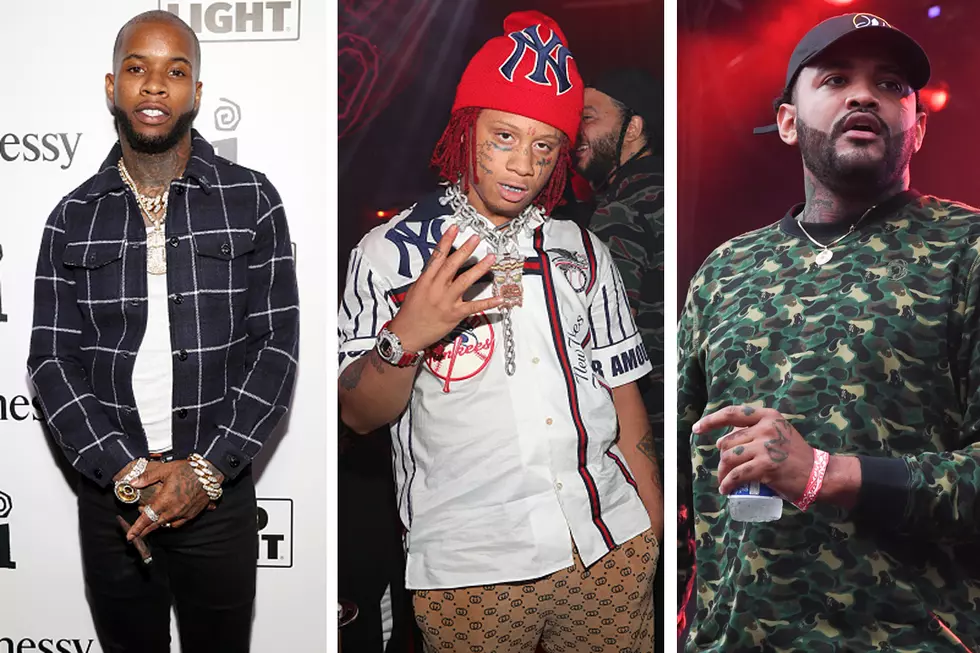 Trippie Redd Believes Tory Lanez Would Beat Joyner Lucas in a Rap Battle
Cassidy Sparrow / Jeritt Clark / Paras Griffin, Getty Images (3)
Yesterday (Nov. 19), Joyner Lucas challenged Tory Lanez to a rap battle after Lanez claimed the New England MC wasn't on his level during an Instagram live session. Now Trippie Redd has offered his take on a potential rap battle between the two, and it looks like he's Team Tory.
Trippie's seeming endorsement of Tory Lanez came during an Instagram Live session last night. During the session Tory asks his fans to reach out to Lucas in hopes that he would join his live session. Instead, he's joined by Trippie, who makes it clear who he thinks would win a theoretical rap battle.
"When you know gon' outrap a nigga, there's no point in asking a nigga to join the live," Trippie says while explaining that it was pointless for Tory to invite the rapper onto his IG Live.
After Trippie and Lanez have a good laugh, Trippie says he'd actually be interested in seeing Tory body one of Joyner's instrumentals. "That's what I wanna see, that's the real rap beef I wanna see," Trippie says. "Kill that nigga beat, make them forget that nigga even rapped on that beat."
Earlier today (Nov. 20), Tory gave Trippie just what he asked for when he clapped back at Joyner with his "Lucky You" freestyle, which is a track that sees Tory take Eminem's Joyner Lucas-assisted Kamikaze song for a test drive.
After catching wind of what Trippie and Lanez had said, Lucas reposted video from the Lanez's IG live session and left a message for the rappers. "Love waking up to smoke.... don't go to sleep @torylanez. And @trippieredd I got suttin for yo ass too. Give me a few," Joyner wrote in the caption for the post.
Joyner has yet to offer up an official clapback record to Tory Lanez, but knowing him, it could be dropping at any moment.
Check out Joyner Lucas' warning to both rappers, which obviously includes a clip from their IG Live session, for yourself below.
See Behind-the-Scenes Photos of Trippie Redd at the 2018 XXL Freshman Cover Shoot