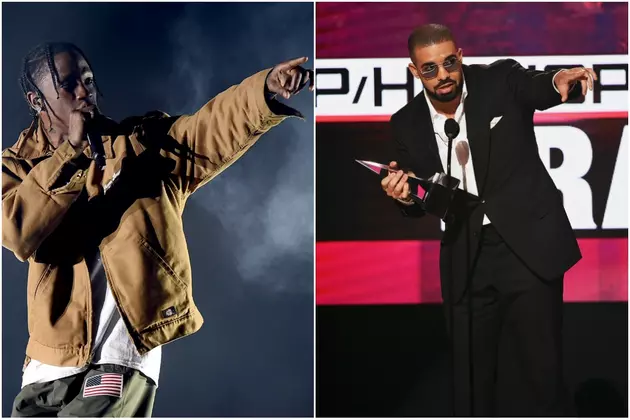 Travis Scott Brings Drake Out to Perform "Portland," "Gyalchester" and More
Kevin Winter, Getty Images (2)
Last night (April 19), Travis Scott took the stage in Portland, Ore., so it's only right he performed "Portland," his Drake collaboration from the Toronto rapper's More Life playlist. And you know he had to bring out Drizzy for the occasion, too. Watch clips of the performance below.
In the footage, you can see and hear fans going absolutely crazy when Drizzy storms the stage to perform "Portland" alongside Scott, who brings his constant energy as he jumps around every inch of the platform. At some point during the show, Drizzy also turned in performances of "Gyalchester" and "Know Yourself."
It's always great to see Drake take the stage, but what's maybe even better is seeing him jump into the crowd to sing along with the fans. He did just that during another part of Scott's performance last night, and there's video to prove it.
All in all, this might seem like a big deal, but this has been what's probably an ordinary week for both Scott and Drizzy. Both artists took the stage at Coachella this past weekend. Scott performed "Goosebumps" onstage during Kendrick Lamar's set at the music festival. Drizzy took the stage with Future to perform "Fake Love" and "Gyalchester."
Both of their surprise appearances at the festival were electric, as were their performances last night, some of which you can see in the video clips below.
See Photos of Drake's Different Looks Over the Years