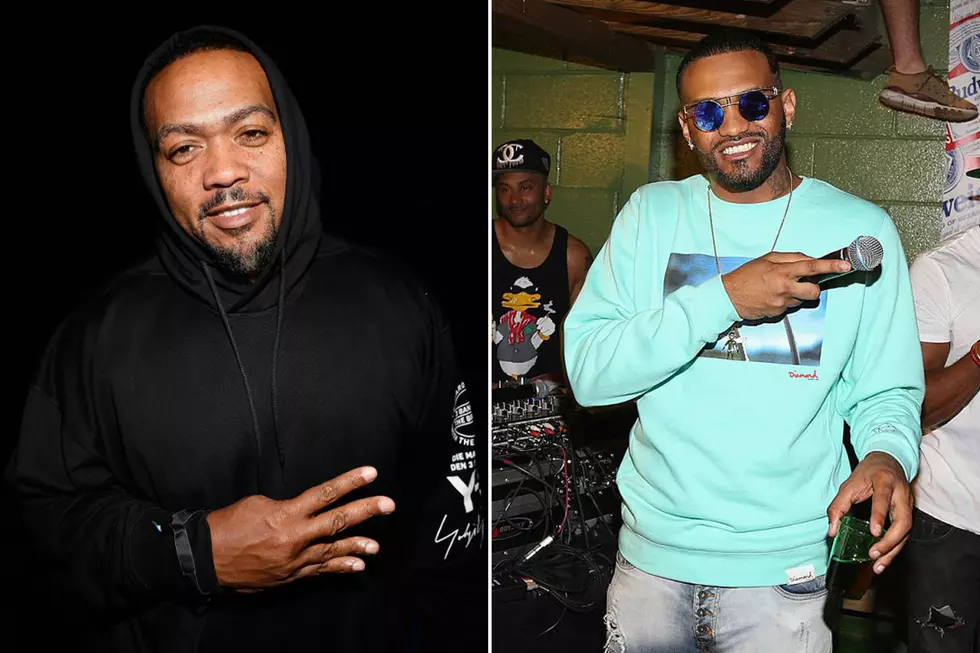 Timbaland and Joyner Lucas Hit the Studio
Frazer Harrison / Jerritt Clark, Getty Images (2)
Joyner Lucas' "I'm Not Racist" video put the rapper on the radar of many people and now the increase in popularity appears to have caught the attention of legendary hip-hop producer Timbaland.
Over the weekend, Timbo uploaded a video of him and Joyner in the studio while they vibe out to an unreleased track. "My bitch look like Halle/Your bitch don't look happy/None of ya hoes can have me/Can't touch me, can't touch this/MC Hammer with the swagger/Can't cuff me, can't function," Joyner can be heard rapping over a trap-inspired beat with Timbo's signature drums.
Lucas uploaded the same video to his Instagram account, giving praise to the producer. "@timbaland the 👑🙏🏽," he wrote in the caption.
While fans wait to hear the Timbaland and Joyner Lucas collaboration, the producer recently reunited with Danja and Justin Timberlake for the singer's "Filthy." The three have a storied past, as Timbo and Danja both worked extensively on JT's 2006 album FutureSex/Love Sounds.
As for Joyner, Timbaland isn't the only artist he's been working with. Earlier this month, the rapper revealed he recorded a few songs with Chris Brown. "You ever heard Michael Jackson rap? Lol well Me and @chrisbrown got a lot of heat in the oven," he tweeted. "No bullshit tho,, breezy mite be my new favorite rapper. you'll see."
Check out Lucas' video with Timbaland below.
See New Music Releases for January 2018