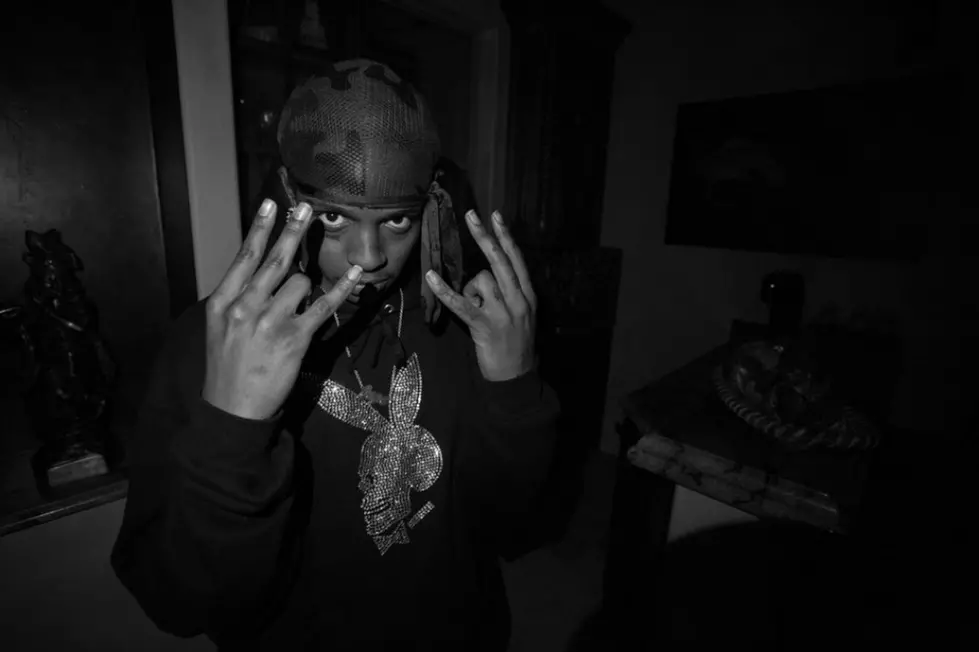 The Break Presents: Ski Mask The Slump God
Krishan Bansal
Born near the Swap Shop in Deepside, a rough area that's a part of Broward County, Ski met X when the two were in a juvenile detention center (Ski got caught for what he says was around $10 worth of weed, but X, who was 16 at the time, was in there for "crazy shit, hitting licks, gun charges"). Ski spit a freestyle for X while they were inside just for fun, but X encouraged him to write more, and they soon became close friends. Ski turned 16 when they were locked up, and X even gave Ski his lunch as a birthday gift. When they both got out, Ski started a group called Very Rare and brought X into the fold. Soon after that, X started Members Only, and it was on from there.
After Ski dropped his first song "Catch Me," which he later deleted off the internet because he ended up hating it, he and X released Members Only Vol. 1 as they tried to secure shows around Miami. When they followed that up with Members Only Vol. 2, Denzel Curry reached out to show love. Soon after that, X did his No Jumper interview, and from there they both saw their profiles explode.
In May of last year, Ski dropped his first mixtape, Drown-in-Designer, spawning gigantic SoundCloud hits like "Where's the Blow!" with fellow burgeoning South Florida phenom Lil Pump and "Take a Step Back," his biggest song to date. The tape showcased his breathless, breakneck flow, a sound he says he mastered because he didn't want to sound like anybody else.
Now that he's averaging almost a million plays per week on his SoundCloud, he's planning to drop two mixtapes alongside each other in the near future—YOUWILLREGRET featuring his signature, sample-heavy music, and Book Named Eli, comprised of freestyles over old beats. About a month after that, he's set to drop his debut album with distribution from Universal Music Group.
We spoke to Ski back in February about who he listened to growing up, what he hopes to achieve in hip-hop, and his standout records to date. Below are excerpts from that conversation.
Hometown: Broward County, Fla.
I grew up listening to: "Old Busta Rhymes, Wu-Tang Clan, Missy Elliott, Nelly, Ludacris. Old Lil Wayne. Old Lil Wayne is the GOAT. That nigga's metaphors was on point as fuck. I used to really like Method Man and Redman for some reason. And Fabolous. A lot of New York rappers too. Cam'ron. Jim Jones. Hurricane Chris."
My style's been compared to: "If anybody, I would say old Busta Rhymes, but it doesn't even sound like that. And some people say I rap as fast as Twista, but I'm like nah, that's impossible. Because he hibba dibba shits, and it's raw but nah, I don't do that [laughs]. I actually try to say something while I'm rapping fast, I'm not just trying to say a basic ass rhyme just to make it sound fast. I'm trying to do both."
Most people don't know: "People think I just want to be an asshole. I'm one of the most humble people you'll probably ever meet. I'm never an asshole at the shows. It has to be a day that I really didn't get no sleep at all and I really just want to go home because I just performed type shit. But I'm really humble. I hate that people have that perspective of rappers, like oh yeah, these niggas really not gonna fuck with us. Obviously I'm gonna let you take a picture, they be like, 'Really? Thanks.' I be like yeah nigga, what the hell? It's a picture. Not finna charge you for no fucking picture. I'm not gonna charge you for no meet and greet either. You already paid for the show."
My standout records to date: "Everything I sample in. I have a song called 'Young Voorhees,' because I like to call myself the new Jason Voorhees, and it samples Courage the Cowardly Dog. Whenever he gets in trouble, it's running music. I sampled that shit. 'The Human Centipede,' a lot of people like that shit. 'Where's the Blow?' People love that shit. I literally, out of my tape, that song took me the quickest to write and the quickest to come up with the sample. I wrote that fast as hell, like 10 minutes in the car going home, coming from the plug. Sent it to Lil Pump."
My goal in hip-hop is: "At first, before I started blowing up, [my goal was] to shit on niggas who was talking shit, saying I couldn't do it. Now my goal in hip-hop is to have fun. Not everybody has to be a lyricist, not everybody has to be the best, like J. Cole or some shit. The fact that people can have fun… even back then, Kid 'n Play wasn't a lyricist, saying good shit about people's health and shit, they were talking about fucking hoes and all that shit. So I want to make people have fun again, and show people that people can just rap and snap."
I'm going to be the next: "Problem. These niggas gonna know me. People are gonna see, and then they're gonna have no choice but to give in and be like, 'Damn, I have to fuck with this nigga.' Like if you can't beat 'em, join 'em. Me and X is together, that's my brother 'til the end. Me and X are about to break the world this year."
Standouts: "Take a Step Back" Feat. XXXTENTACION
"Where's the Blow!" Feat. Lil Pump
Lil Uzi Vert Names Some of the New Rappers He Respects