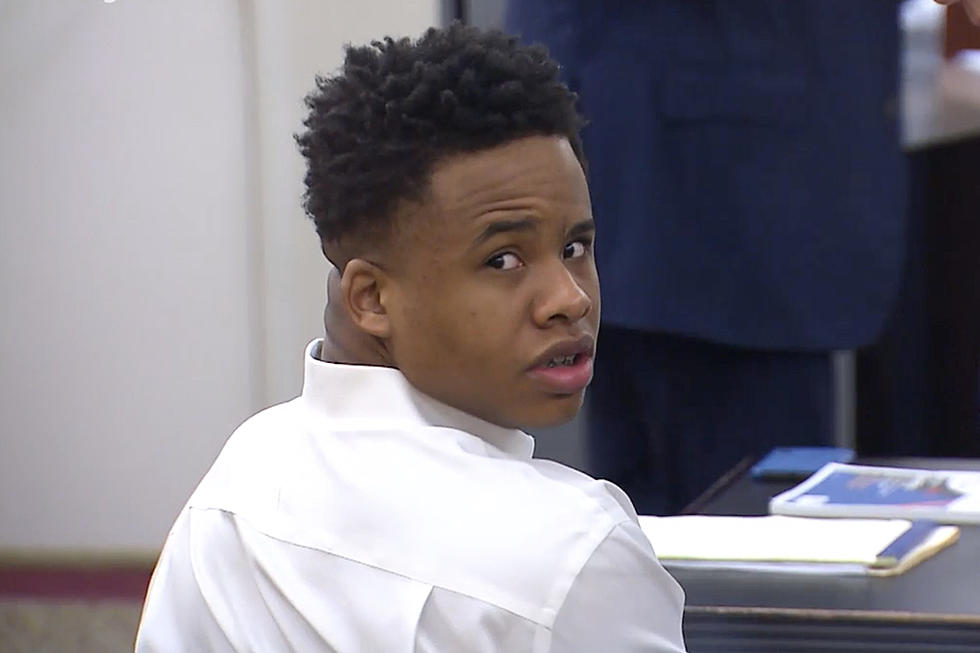 Tay-K Accomplice Accepts 10 Years Probation in Robbery Case, Says She Was Victim of Sex Trafficking
Fort Worth Star-Telegram
According to a report from The Fort Worth Star-Telegram, the woman, who was 16 at the time of the home invasion and initially charged with two counts of aggravated robbery, accepted a plea agreement on Friday (Sept. 27). She will receive 10 years probation for her involvement in the fatal 2016 home invasion. Her defense team also says she was a sex trafficking victim recruited by Arianna Bharrat, a defendant in the case of Ethan Walker's death, and a pimp.
Along with Tay-K and herself, five other defendants, Ariana Bharrat, Megan Holt, Latharian Merritt, Sean Robinson and Jalen Bell, also took part in the home invasion and robbery that led to Ethan Walker's death.
Following the incident, six of them were found guilty or reached plea deals with prosecutors. Tay-K received 55 years in prison, Merritt went to trial and received a life sentence, Holt was sentenced to 20 years and Bharrat to 25. Robinson pled guilty to a murder charge and received 40 years while Bell pled guilty to two counts of aggravated robbery, and was sentenced to 30 years in prison.
As for the woman who received 10 years probation, she is not being named because she was a minor at the time of the crime and now claims to be a victim of sex trafficking. Her juvenile conviction of capital murder and her original sentence of 20 years in prison was overturned in August by the Texas 2nd Court of Appeals. The court ruled she was convicted under an improper theory of capital murder and that the trial court erred by saying the girl had a legal duty to prevent the robbery, which she was accused of helping to plan.
The woman's defense attorney, Scott Brown, argued in the appeal that the girl, who was 16 years old during the incident, couldn't prevent what happened because she didn't have any kinship to the victims. In addition, evidence was presented at the girl's trial that she was a sex trafficking victim and that her involvement in the home robbery was under coercion by Bharrat, and her pimp.
Thirteen days before the home invasion occurred, the girl's family reported to police that she was being sexually trafficked. According to court testimony by a family advocate, the girl, while with the recruiter, was choked, beaten, burned with cigarettes and tattooed to mark that she was owned by her pimp.
The Fort Worth Star-Telegram is not identifying the woman because she was the reported victim of a sex crime.
Ethan Walker's parents, Roberta Walker and her husband, Richard, said the plea deal was a miscarriage of justice. "This is not justice," she told the newspaper. "This is not right and it's not fair."
Roberta said the plea agreement was not fair to the six other defendants who are spending between 20 years and life in prison for their role in the crime.
"It's not justice for people who are trafficked and don't go on to intentionally invade someone's home and leave a dead body," she said.
The judge ruled that if the girl violates the terms of her 10-year probation, she could face prison time.
See Rappers Who Were Arrested in 2019