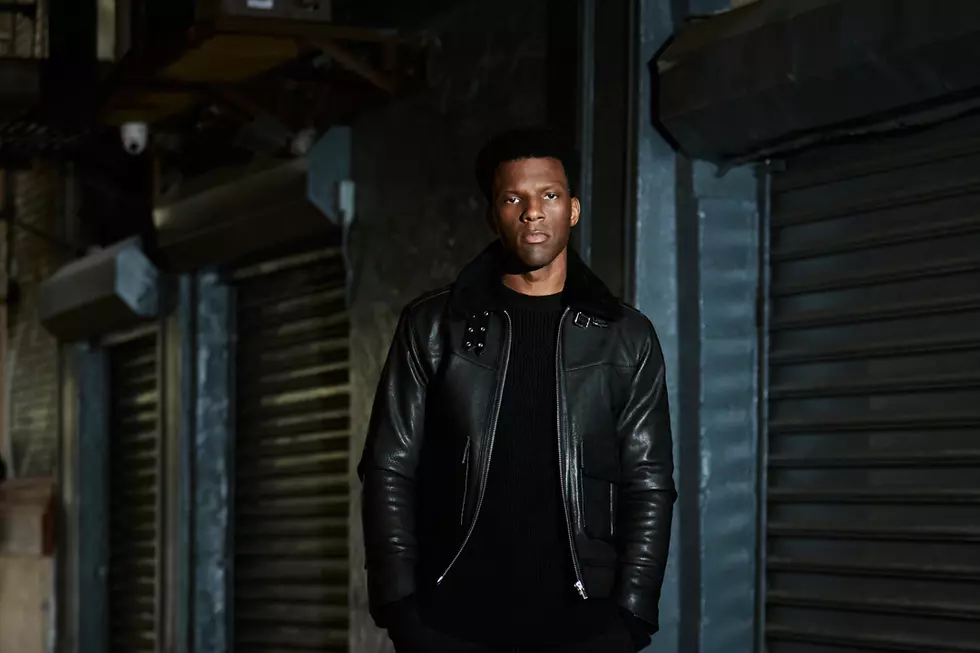 The Break Presents: Stam Goody
Max Papendieck
Stam Goody knew he was primed for the spotlight before he even hit second grade.
"I performed at my first talent show when I was like 6," the Camden, N.J. rapper tells XXL, recalling lyrics that his cousin wrote for him. "I don't remember a time when I didn't make music."
Once a young Stam learned how to write, that was all he spent his time doing. "I started entering online competitions just before people knew I was really writing songs—I was winning some of em," he says.
With all of this passion for the craft, he didn't start really recording until his college years. All of that groundwork lead to the July release of his debut EP Defining Moments, a thoughtful seven-track project on which Stam explains the steps he'll need to take to get to the next level.
Considering Stam's career is still so new, things are going well and he has more in store. A forthcoming video for his song "Patience" is on the way, as is a new project. His desire to keep working is no different from when he was a child and it's looking like it'll pay off.
Learn more about Stam Goody in the latest edition of XXL's The Break.
Age: "Nobody actually knows. In my family we don't talk about or think about age. I celebrated 18—'cause most people don't make it to 18 in Camden, N.J.—and after that, I never really celebrated another birthday."
I grew up listening to: "One of my favorite artists is Stevie Wonder. One of my favorite albums is Anita Baker's Rapture. I'm a big R&B guy, but at the same time, I grew up listening to Jay-Z, Nas. Kanye [West] and LL [Cool J] were a major influence on me. Pharrell. I always was drawn to the guys that were able to have the foundation to deal with where we come from, but wasn't afraid to be a little vulnerable and understand that men are allowed to have emotions, too."
My style's been compared to: "I feel like I get the normal stereotypical rapper comparisons when you actually make good music—Drake, J. Cole, Kendrick [Lamar]. Childish Gambino, because I act as well. I write the treatments you see in the videos. Mainly as of late, it's been pretty much Gambino."
Most people don't know: "I have an impeccable memory. It's abnormal. I remember very specific things. My mother calls me and she'll ask things about Camden [from] when I was like 7 years old. She knows I'll remember."
I'm going to blow up because: "I bring a certain authenticity to the stories that I tell. I come from a very street family, a very street background. I was just a kid that was able to see things in a different way. So because I actually come from that, it's a bit different when I tell those stories. I'm trying to change the narrative for kids like me, because I don't feel like that's represented in our culture right now. You can be somebody like myself who's never drank, never smoked, but can still be the cool kid, still get chicks [and] make your own decisions in life. But I also know that I make commercially viable music and I know that's the reason why I'll probably blow up."
My standout records to date have been: "'Clutch' is the biggest record—the sound is on par with a lot of what people are listening to as far as rap right now. The message behind it has resonated, now that people got a chance to deep dive into it a little bit. The video itself has gotten an amazing response. It's really resonating with people the way that we hoped."
My standout moments to date have been: "I just recently got out of the studio with Rodney Jerkins and that was crazy. We got some shit. I'm a keep-my-head-down-and-work type of dude. If you asked me right now what the numbers were on anything that I have out, I wouldn't know. I focus on making music, but I've been tryna be more present about what's happening. It wasn't really until i was sitting at this man's house—in his home studio—and I realized where I was at. 'This is my fuckin' life, this is crazy!'"
I'm going to be the next: "Inspiration to a young, inner-city kid, to change the narrative of their city."
See 20 of Your Favorite Rappers Naming Their Favorite Rappers