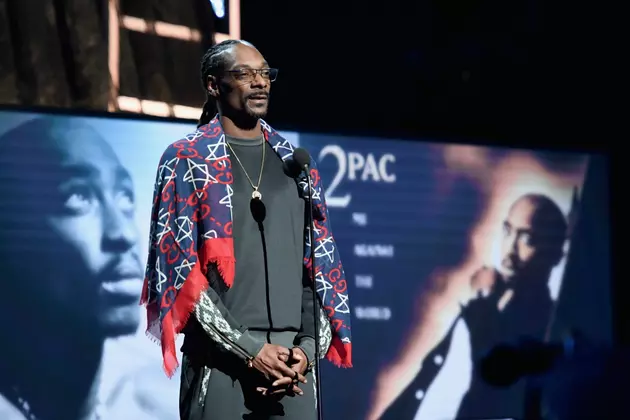 Read the Full Transcript of Snoop Dogg's 2Pac Speech at 2017 Rock and Roll Hall of Fame Induction Ceremony
Dimitrios Kambouris, Getty Images
During an event that saw Snoop, T.I., Alicia Keys, YG and Treach perform one-of-a-kind live renditions of classic 2Pac tracks, Snoop's touching induction speech managed to be the highlight of the night. Over the course of about nine minutes, Uncle Snoop went into the things he believed made Tupac extraordinary; everything from his style of dress to his irrepressible compassion for those he loved most.
While most folks tend to focus on 'Pac's legendary work ethic and his larger-than-life persona as a rap superstar, Snoop chose to focus on the more intimate moments they shared; from a hilarious recounting of the time they went parasailing in South America, to their deathly tragic final encounter and the striking empathy one special woman showed to him in his final moments with the rap icon, Snoop laid bare the underlying humanity that helped make 'Pac the transcendent historical figure he continues to be some 21 years after his untimely death.
You can check out what Snoop had to say about his late friend by reading the entire transcript of his speech below:
I really can't believe that it's been 21 years since we actually got to hear from Tupac. No, not the one clip on YouTube, not the movie or the hologram, Tupac Amaru Shakur, the human being. Twenty-one years ago in Las Vegas, Tupac Shakur was taken from all of us. He was only 25 years old too—damn near the same age as my oldest son. When I sat down to gather my thoughts about my label mate, my homie and my brother, it's one thought that kept coming back to me; Tupac the actual human being. And while many remember him now as some kind of thugged-out superhero, Tupac knew he was only human, and he represented through his music like no one before. It's a fact that he never shied away from, he wore it like a badge of honor. With an unapologetic rawness, 'Pac embraced those contradictions that proved we ain't just a character out of someone else's storybook. To be human is to be many things at once; strong and vulnerable; hard-headed and intellectual; courageous and afraid; loving, and vengeful; revolutionary and—oh yeah, don't get it fucked up—gangsta.

So, while we may be here today to celebrate one of music's most prolific and outspoken artists as he's rightfully enshrined amongst the greatest musicians to ever do it, I'm here to make sure that 'Pac is remembered the way he would've wanted to be; a strong Black man that stood for his. Not simply an actor or rapper, but as a human. That's what made Tupac an amazing actor in movies like Above the Rim and Juice. That's what made him refuse to lower his head when railing against injustice towards his people. That's what made us so engaged with everything he ever did—both before and after his death. That's what made Tupac the greatest rapper of all time.

But to me, Tupac was first and foremost the homeboy. We shared a whole lot in common. In a way our journeys started together. We were both born in the same year, 1971. He released his first single, "Trapped," from his scorching first album, 2Pacalypse Now in late 1991. Not even a year later, I would make my debut alongside Dr. Dre on the song 'Deep Cover.' I finally got a chance to meet 'Pac in 1993, at a wrap party for Poetic Justice in L.A. And on that night, 'Pac passed me my first blunt. Yo forreal. That's right: Tupac is the one that got Snoop Dogg smoking blunts. See, I was a zig-zag man before that shit. And we became very good friends quickly thereafter. And then in 1995, I told Suge Knight, I said, 'Suge, get 'Pac out of prison, have him come join our team at Death Row Records,' you know, the most unfuckwitable record label of all time? And our friendship there was like player-to-player. He never had a team before, it was always just him. Now with us, it was like he joined the Showtime Lakers. Dre was the coach, Suge was the owner, and me and 'Pac? We were the stars on the court making history with every new song.

We were young, rich and rock stars, but we were also young Black men with targets on our back. We were catching cases simultaneously. That's why when we got together, we really were two of America's most wanted. He had just gotten out of jail, I had just beat my case; I get a white Rolls Royce with that creamy peanut butter interior, and 'Pac, he go and buy a black one with the same thing. He'd have his tailor come over and lace us up with those Hugo Boss suits, you know mafia style. He put me up on a lot of boss player shit like, Gucci, Versace and shit I can't even pronounce. I got me a penthouse suite on Wilson, and two weeks later, 'Pac got the one right across the hall from me. Neighbors, you dig? We had no peers beside one another. Just two Black boys struggling to become men.

I never shared this story before but, it really speaks to our journey. I had just beaten my case and Suge had taken us to South America to get away from all of the drama, and me and 'Pac was parasailing. You heard right: Snoop Dogg and Tupac. Parasailing. Together. With Suge Knight driving the boat. Now, you got to remember, I had just beat my case and 'Pac had just got out on bail, so we would try anything at this point. Does anybody know what parasailing is? Because we damn sure didn't. Me and 'Pac were sitting on the edge of the boat, with all this gear and shit on, and all of a sudden, the boat pulls away and we start floating up in the air—we scared as a motherfucker, damn near holding hands. And Suge's ass kept dropping the lever and slamming us into the water like, 'boom.' I don't know what was in there, there could sharks, or octopuses or whatever, and I'm like, "Man, quit playing!" It was crazy because not only did we think we were on top of the world at that time...we actually were on top of the world. Floating around in the sky. then all the sudden 'Pac would start telling me about some movie idea he had, about me being the main star, he was saying some shit—I wasn't paying attention because I was like, "We too high in the sky..."

I mean the shit he was saying to me in that moment was different though. He seen me as an actor. He saw more potential in me than I saw in myself. And it's funny because after he passed away, I started getting a lot of movie roles, and I always felt that 'Pac was looking out for his nigga—even after he was gone. See, that's the thing with 'Pac: when he loves, he loves hard. Whether that was him loving Black people, him loving his homies, him loving his record label, and of course, him loving his beautiful and incredibly strong mother, the late Afeni Shakur.

Memories of Ms. Shakur are embedded in my mind. Right after I heard Tupac got shot, I immediately flew to Vegas, and I walked in the room and I seen him laid out in the bed with all kinds of tools and shit, I was so weak I damn near fell over. And his mom came over to me and she grabbed me, and she held me up and she said, 'Baby, you got to be strong.' And I went [and] sat next to him and was whispering to him, telling him I loved him and to hold on and that he was going to be okay. And even in that moment, his mom was thinking more about me than herself and showing me how to love strong. I mean it was amazing that his mama was so strong and loved so hard. I realized that 'Pac was taught how to love at a very early age, and through his music, he shared the love with all of us, and that's ultimately why we're here tonight.

'Pac's a part of history, for a reason: because he made history, he's hip-hop history; he's American history. And just like in school, the more research that you do on history, the more information that you have. So do your research and see the movie 'All Eyez on Me.' And understand all of 'Pac's sides. He was much more than you probably think. I'm not talking about 'Pac the rapper, I'm not talking about Tupac the actor. I'm talking about Tupac the human being. So with that said, we'd like to officially welcome Tupac Shakur into the Rock and Roll Hall of Fame.

Legends always do. They can't take this away from you homie. And since my brother is not here in the physical form, I'll accept this honor on his behalf. I love you Tupac, welcome to the Rock and Roll Hall of Fame. Thug Life!"
See Photos From the 2017 Rock and Roll Hall of Fame Induction Ceremony