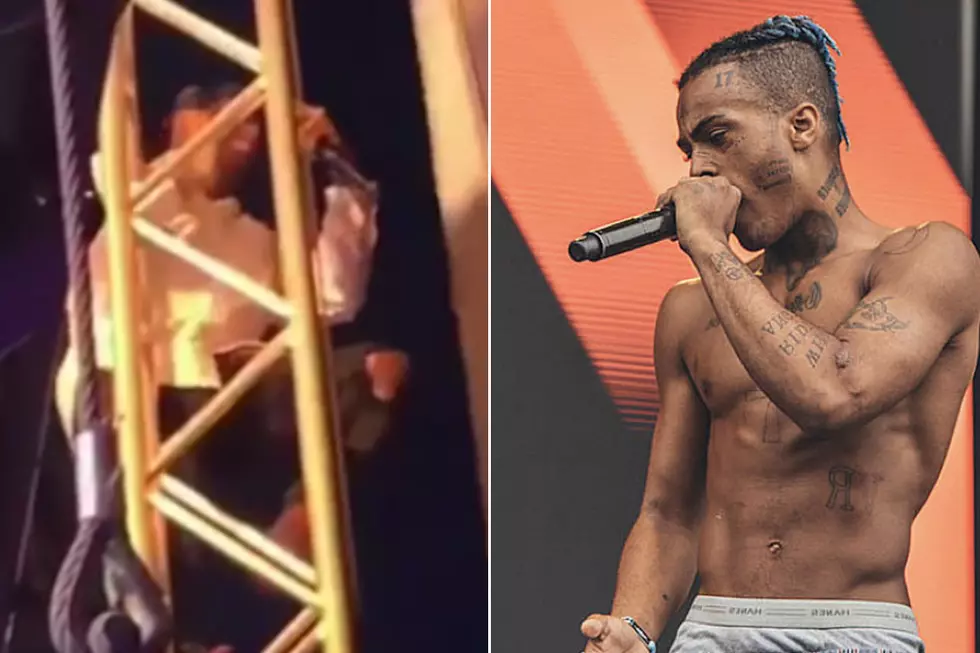 Ski Mask The Slump God Climbs Stage for XXXTentacion Concert Tribute: Watch
ski_mask_the_rap_god via Instagram / @theinfamousj
On Saturday (Aug. 17), footage from the Florida rapper's performance at the 2019 Blockfest in Tampere, Finland surfaced on social media. In the clip, we can see the 2018 XXL Freshman scaling the left side of the Park Stage's truss in an effort to pay homage to his late friend XXX. Ski Mask doesn't reach all the way to the top, but once he reached a comfortable spot, the "Costa Rica" rapper screamed at the crowd to sing along.
"Let me hear it!" Ski Mask bellowed as XXXTentacion's "Jocelyn Flores" blared from the speakers.
Ski was at Finland's Blockfest to perform alongside other artists like Pouya, Ghostemane, G-Eazy, Tyga and A$AP Rocky. Fortunately, Ski Mask The Slump God made it back down without a scratch on him. While the crowd couldn't get enough of Ski's antics, people on stage were concerned that the rapper was climbing up too high for comfort. In another video, we see Ski climbing up as Pouya shouts at the rapper to come back down.
"Chill! That's Crazy. He's gotta chill that's not safe," Pouya says in the background.
Watch what happens when Ski Mask The Slump God scales the stage for his latest performance. Push play below.
See Photos of Every XXL Freshman Ever Inducted Into the Freshman Class Over the Years