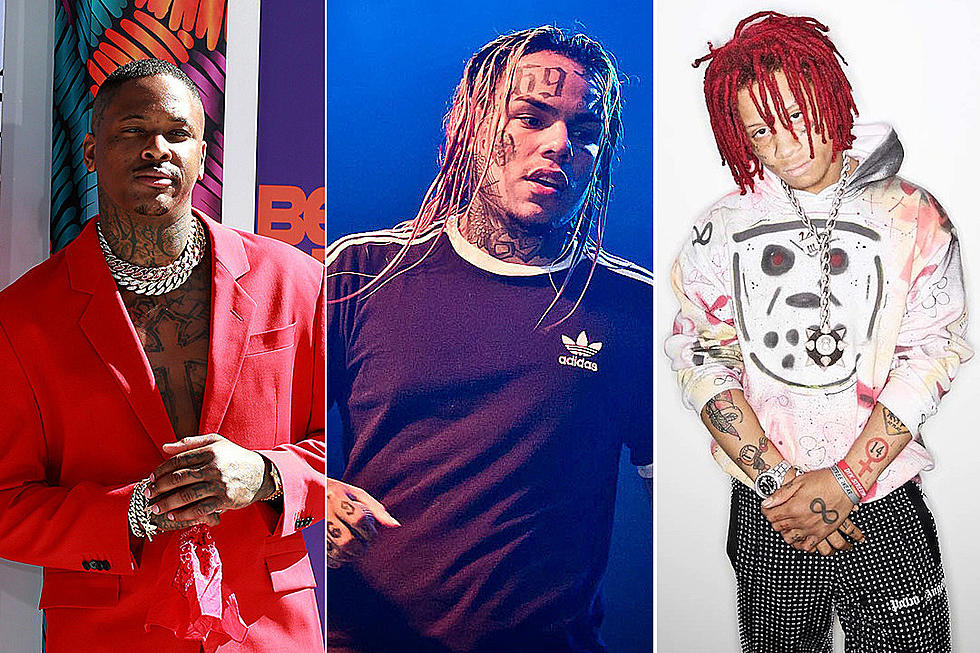 Here's a Rundown of Every Public Beef Involving 6ix9ine
Leon Bennett / Frank Hoensch, Getty Images (2) / Akira Ruiz for XXL
In a rap landscape where controversy has become par for the course, 6ix9ine reigns supreme. A native of Bushwick, Brooklyn, 6ix9ine (born Daniel Hernandez) began gaining a significant following when he appeared alongside Trippie Redd on the XXL Freshman's song, "POLES1469," in Spring 2017. He truly turned heads with the November 2017 release of his own Pi'erre Bourne-produced hit single "Gummo," which peaked at No. 12 on the Billboard 100, earned 6ix9ine his first platinum plaque and established the rapper as one of hip-hop's hottest newcomers.
Despite following "Gummo" with other charting singles like "Kooda" and "Keke," and unleashing his debut mixtape Day69 earlier this year, 6ix9ine has been shrouded in controversy for off-wax issues. Thanks to his sexual misconduct with a minor case, colorful appearance, outlandish antics on social media and string of clashes with a who's who of the entertainment industry, 6ix9ine has quickly become the most polarizing rapper in rap. He's gone beyond ruffling feathers—he's uprooted the entire chicken coop. And as a result, he's found himself embroiled in a number of touchy, public beefs with everyone from Bhad Bhabie to Vic Mensa to YG.
Like a number of artists before him, 6ix9ine has invited all of the controversy and vitriol, rarely shying away from an opportunity to get under the skin of your favorite rapper and create more headlines around his name.
As 6ix9ine wars with everyone from rappers to athletes, XXL compiles a list of the rivalries that have made him hip-hop's public enemy number one.
On April 16, 2018, 6ix9ine took what many perceived as at shot at boxer Adrien Broner when the rapper left a comment under a photo of Broner with radio personality Charlamagne The God, calling him a "clown." In response, Broner took the Brooklyn spitter to task in an Instagram video, threatening to do 6ix9ine bodily harm during his visit to New York. The whole exchange proved to be a publicity stunt though, as Broner walked out to Tekashi's hit "Gummo" during his bout against Jessie Vargas and even shouted him out during his post-fight interview.

Bhad Bhabie became entangled in 6ix9ine's web of beef after the rainbow-maned rapper credited her rise to fame to her infamous assault on her own mother. He also alleged that the former viral sensation was bitter due to his refusal to collaborate.

In response, Bhad Bhabie clapped back via Instagram Live, attributing 6ix9ine's success to his collaborations with Trippie Redd and offering to "pull up" on the rapper and turn their verbal altercation into a physical one.

6ix9ine later alleged that Bhad Bhabie had sexual relations with Trippie Redd, a charge that both denied, although Bhad Bhabie admitted that they did kiss when they were both minors.

Despite their differences, the XXXTentacion's murder inspired Bhad Bhabie to urge 6ix9ine, Trippie Redd and others to curtail their beef during an interview with TMZ in June.

When Brooklyn rapper Casanova released his 2017 single "Set Trippin'," a number of listeners speculated that the song was a sneak diss directed at fellow BK rep, 6ix9ine. He clapped back at Casanova during a live performance of "Gummo" by alluding to having sex with his rival's girlfriend while the "Don't Run" rapper was in the attendance, which lead to a verbal confrontation between Casanova and 6ix9ine's crew.

The beef took new life when 6ix9ine taunted Casanova on social media after footage surfaced of him and his entourage being shot at during a music video shoot in Brooklyn surfaced. "You keep my name in your mouth. How you getting shot in ya own hood. Can't even shoot a video in Brooklyn," he wrote.

An investigation into the shooting resulted in a member of 6ix9ine's camp being listed as a suspect, news that followed another confrontation between the two rappers and their crews, this time outside of the Barclays Center on April 21, 2018. Shots were fired during the altercation, making it the second time that gunplay erupted within close proximity of their respective entourages. However, in the aftermath of the shooting, 6ix9ine and Casanova buried the hatchet, sharing the moment for social media in a show of solidarity and peace between the two.

Most recently, the two appeared on Uncle Murda's track "Get the Strap" with 50 Cent. While shooting the video in Greenpoint, Brooklyn on August 14, an unidentified gunman approached the scene and rang off several shots—fortunately, no one was injured. An NYPD spokesperson told XXL they believe the shooting is related to their outdated beef.

In May 2018, 6ix9ine sparked yet another beef when the rapper posted footage of a FaceTime conversation he had with Cuban Doll on social media, drawing the ire of Cuban Doll's boyfriend, Chief Keef and GBE affiliate Tadoe. In response, Tadoe phoned 6ix9ine and proceeded to argue with the rapper, warning, "I kill people" in a menacing manner, an exchange that was recorded and leaked onto social media.

Although the beef seemingly became dormant, nearly a month later Tadoe collaborated with Chief Keef and fellow 6ix9ine adversary Trippie Redd on the song "I Kill People," which led 6ix9ine to respond with a clip on social media dissing Chief Keef and Lil Reese while mocking the "I Kill People" song.

On June 2, 2018, Chief Keef was shot at while standing outside of a New York City hotel with Tadoe, an incident that many chalked up to Keef's and 6ix9ine's beef, although the rapper was not in New York City at the time of the shooting. Keef remained mum on the shooting, while 6ix9ine made a series of jokes in reference to the shooting, including requesting a feature verse from the rapper.

The disrespect continued on June 12, 2018, when 6ix9ine visited Keef and Tadoe's Chicago hometown, posting videos of him giving food to the homeless while claiming that "Chicago rappers don't give back," leading Chief Keef and Lil Reese to sweep the Chi-Town streets in hopes of running into their rival.

The following day, 6ix9ine furthered taunted Chief Keef by flying out Aaron "Slim Danger" Clark, the mother of one of the Glo Gang rapper's children, to NYC and taking her on a shopping spree, which he also documented for social media. On June 18, 2018, the NYPD began an investigation into whether 6ix9ine had any connection to the men who shot at Chief Keef weeks prior, a move that has caused all parties to put their beef on hold.

Amid 6ix9ine's beef with Chief Keef and Tadoe, the abrasive rapper fired a few shots at Chicago rapper G Herbo in a pair of Instagram comments.

In a comment under a post of a meme of lyrics from Chief Keef, Trippie Redd and Tadoe's diss song "I Kill People," 6ix9ine attributed one of the lyrics to "G Herbo's man," while also dissing the rapper in a comment under DJ Akademiks' repost of a TMZ live video of Chief Keef discussing the shooting. G Herbo did not respond to the comments, making this beef an uneventful and one-sided affair.

Tekashi 6ix9ine's refusal to check in with local OGs and hood ambassadors when he's visiting their city has angered several people, including J. Prince Jr., who had the Brooklyn rapper escorted away from his block party in Houston.

J. Prince Jr. later hopped on Instagram to shed light on the situation and warn 6ix9ine and others that a lack of respect for him and his city won't be tolerated, a statement he backed up after his presence at a SXSW show resulted in 6ix9ine skipping the show. Not one to be silenced, 6ix9ine accused J. Prince Jr. of clout chasing, but has since backed down from engaging with the prince of H-Town.

Things got hairy between 6ix9ine and Jay Critch in early March 2018, when the Rich Forever artist accused Tekashi of throwing dirt on his name and being threatened by his popularity and success.

"I never hated on @6ix9ine_ never said a word about him," Critch wrote on Instagram before adding, "but he clearly feels a way about me."

6ix9ine responded by accusing Jay Critch of sneak-dissing him on Instagram and offered to meet up with his fellow Brooklynite in their own town to settle the matter.

"We both from Brooklyn,"6ix9ine wrote. "It ain't nothing to meet up you down the street." The two have yet to cross paths.

In June, rising Chicago artist Juice Wrld led a crowd of London concertgoers in a "Fuck 6ix9ine" chant, which was inspired by recent comments that the Brooklyn rapper made about Chicago artists. 6ix9ine appeared to take the high-road in his response to Juice Wrld's actions, insisting that he's not concerned with "any of the bullshit that's going on," before adding, "I don't even wanna beef with nobody." But those words proved to be hollow, as he proceeded to accuse Juice Wrld of "clout-chasing" and poked fun at his emo brand of music.

Surprisingly enough, Atlanta rap vet Ludacris was the aim of a 6ix9ine rant in August 2018. A couple days prior to Luda's first guest appearance on Nick Cannon's Wild 'N Out series, the show released a trailer where he jokingly slighted the Brooklyn rapper. During said skit, one of the participating comedians acted as if he were 6ix9ine and questioned who Ludacris would sign first between Tekashi or Nick Cannon. "That's a easy one for me, I'd sign Nicki Cannon," Luda replied. "'Cause Tekashi, I don't know how much longer he gon be around."

6ix9ine caught wind of his comments shortly after and responded via Instagram. "Luda, Luda, Luda. You bum ass, pussy ass, Fast and the Furious geek playin', role playin' ass," he shouts into the camera. "Yo, suck my fuckin' dick, Ludacris." He then adds that the MC is an "irrelevant muthafucka" before cutting to Justin Bieber's breakout music video "Baby," which Luda spits a verse on. In the video's next scene, 6ix9ine dresses like Luda circa-early 2000s while "Move Bitch" plays in the background as he attempts to downplay Luda's prime.

All in all, Luda doesn't appear to be too concerned. While promoting the artists who are slated to appear at his annual LudaDay Weekend in Atlanta, the esteemed rapper-actor posted a photo of 6ix9ine and wrote the "Keke" rhymer is "not confirmed," captioning the photo with a laughing emoji.

Having a hit record thriving on the Billboard charts would be a cause for celebration for most producers, but rising boardsman Pi'erre Bourne was not happy when the beat for 6ix9ine's "Gummo," which Bourne produced himself, wound up in the Brooklyn rep's hands. After acquiring the beat from Bourne collaborator Trippie Redd, Tekashi 6ix9ine used the track to record "Gummo" without Bourne's permission, a move that lead the producer to distance himself from the song, as well as 6ix9ine and Trippie Redd.

"Fuck that gummo shit. All y'all niggas doing weird shit some opps I swear," Bourne wrote in a tweet in October 2017, before sharing a similar sentiment in a post on Instagram alluding to him ending his working relationship with Trippie Redd. For his part, 6ix9ine claims that he attempted to go through the proper channels to get the record cleared, even going as far as hitting the producer up personally to broker a deal.

"Before I hopped on it, I sent it out to Pi'erre, I DM'ed him and all that. I was like 'Yo, I'm releasing a song to this, [I] hope we can get it cleared,' he never got back to me, so I left it up to the executives." While "Gummo" was eventually cleared by Bourne, 6ix9ine says he has yet to speak with the producer about the matter.

In March 2018, Rico Recklezz gave his opinion on 6ix9ine during an interview, calling the rapper out for his rainbow hair and his sexual misconduct case while questioning the authenticity of his gang ties. Recklezz's comments got back to 6ix9ine and although 6ix9ine didn't immediately respond, he and 6ix9ine hopped on Instagram Live to discuss his issues with Chief Keef and Chicago rappers as a whole. During the conversation, 6ix9ine slyly referenced the shooting incident involving Chief Keef in New York City and announced that he would be arriving in Chicago shortly as a show of his authenticity. The exchange between the two signaled the end of their short-lived and mainly one-sided beef.

On March 16, 2018, West Coast rapper The Game sent a few shots at Tekashi 6ix9ine during a performance in Europe, accusing the Brooklyn rep of being a "fake-ass Blood" and urging the crowd to chant "Fuck 6ix9ine!"

6ix9ine wasted no time issuing a response, accusing The Game of "clout-chasing" and attempting to get a buzz off of his name. A worthy adversary, The Game didn't back down, posting wholesome images of 6ix9ine from his younger years while challenging his pedigree as a gang-banger. In addition, The Game also took umbrage at 6ix9ine crowning himself the king of New York. Meanwhile, Tekashi questioned The Game's own credibility, posting compromising images of the Documentary rapper from years past.

Collaborating on the songs "POLES1469" and "Owee," Tekashi 6ix9ine and Trippie Redd appeared to be on the way to developing a longterm working relationship with one another, but things changed on August 7, 2017, when Trippie Redd disassociated himself from 6ix9ine amid reports that the rapper had engaged in sexual misconduct with a minor. "I'm sorry brozay, 1400 don't promote pedophiles... If we give niggas clout, we give niggas clout. It was an accident," the Ohio native wrote on Twitter after catching wind of the allegations levied against 6ix9ine. Months later, on November 11, 2017, Trippie Redd was the victim of an ambush in a New York hotel, which the rapper blamed on a member of 6ix9ine's crew, a claim the "Gummo" rapper didn't deny. "I don't know what's going on, but your chin is bruised up," 6ix9ine said in a video on Instagram. "You can't just be out here calling people gay, bro. Can't be supporting false accusations, you can't be ranting on Live talking about New York."

In February 2018, the two became engaged in a war of words once again after Trippie Redd questioned the Brooklyn rapper's street cred and the authenticity of his gang affiliations while on social media. 6ix9ine clapped back at his former collaborator, accusing Trippie of calling the Crips for protection following an altercation in New York City, a charge the "Love Scars" rapper denied, claiming 6ix9ine sought out protection.

In recent months, the bad blood between the two artists has continued to boil, with 6ix9ine alleging that Trippie Redd had a fling with rapper Bhad Bhabie, a claim they both deny. Trippie Redd vowed to beat up Tekashi 6ix9ine "if it's the last thing" he does. He also appeared alongside Chief Keef and Tadoe on their 6ix9ine diss track "I Kill People," adding more logs to the fire fueling their bitter feud.

In July 2018, Tekashi 6ix9ine became embroiled in a war of words with Chicago rapper Vic Mensa after the Roc Nation artist did a radio interview in which he accused the "Gummo" rapper of getting his style from Chicago rappers and urged him to show the city more respect. A fake 6ix9ine account successfully trolled Vic, responding with a comment on DJ Akademiks Instagram page that disrespected Mensa and the rapper's mother. This led Vic—who seemingly believed the comment came from 6ix9ine—to challenge the Brooklyn rapper to a fist fight.

Shortly afterwards, Mensa dismissed the beef, writing that he was all about "positivity, peace and the music over everything" in a Instagram post. However, when asked about their exchange during a sit down with Angie Martinez, Tekashi continued to throw salt on Mensa's name, joking, "I don't even know who that kid is. I put this on everything I love. May God strike me dead, on my daughter's life, I can not name one song if someone had a gun to my head right now." Mensa didn't respond to 6ix9ine's jab and the war of words between the two has seemingly died down.

Blood-on-blood beef broke out when 6ix9ine stopped by The Breakfast Club for an interview in March 2018, during which he sent a few shots at his growing list of adversaries, including Compton rapper YG. Referring to YG as "the dude that was hot mad long ago," 6ix9ine dismissed the Stay Dangerous rapper, prompting YG to respond via an Instagram video. "On Bompton Piru, fuck 6ix9ine, nigga. On Bloods. 400 said it, bitch."

6ix9ine continued to troll and mock YG, responding, "Y'all grown-ass men. A little fucking kid got you in your feelings, Blood," in a video of his own. While the two continued to trade shots, in August 2018, YG's song "Suu Whoop" caused a stir after lyrics like "Fuck all the fake Bloods," were thought to be directed at 6ix9ine, a suspicion that YG confirmed during a visit to The Breakfast Club.

In response, 6ix9ine went on a tirade against YG on Instagram Live, barking, "YG, suck my fucking dick, stupid. Your last single before your album came out had four major artists on there. You had 2 Chainz, you had Nicki Minaj and you had Big Sean. How's my record doing better than your shit? You a whole bum out here. Stop going on radio stations tryna promote your album mentioning my name."

YG reposted 6ix9ine's video to his own Instagram page, with the caption: "CANT WAIT TILL WE MEET @6ix9ine," indicating that this back-and-forth is far from over.

In August 2017, New York rapper ZillaKami posted a video to Instagram of Tekashi 6ix9ine grabbing the breasts of a young woman who ZillaKami claims was 13 at the time, an allegation that has since been confirmed. Originally a friend and alleged ghostwriter for Tekashi 6ix9ine, according to ZillaKami, he and 6ix9ine fell out after the two had a physical altercation in 2017 over a monetary disagreement.

Although a truce was brokered between Zillakami, 6ix9ine and mutual friend Righteous P, negative comments made by 6ix9ine directed toward ZillaKami and Righteous P on social media ended their friendship and working relationship for good.

6ix9ine sarcastically confirmed that he was a rapist in a Snapchat video in response to ZillaKami's allegations, while bragging about his newfound success. He's since failed to mention ZillaKami or Righteous P's names.