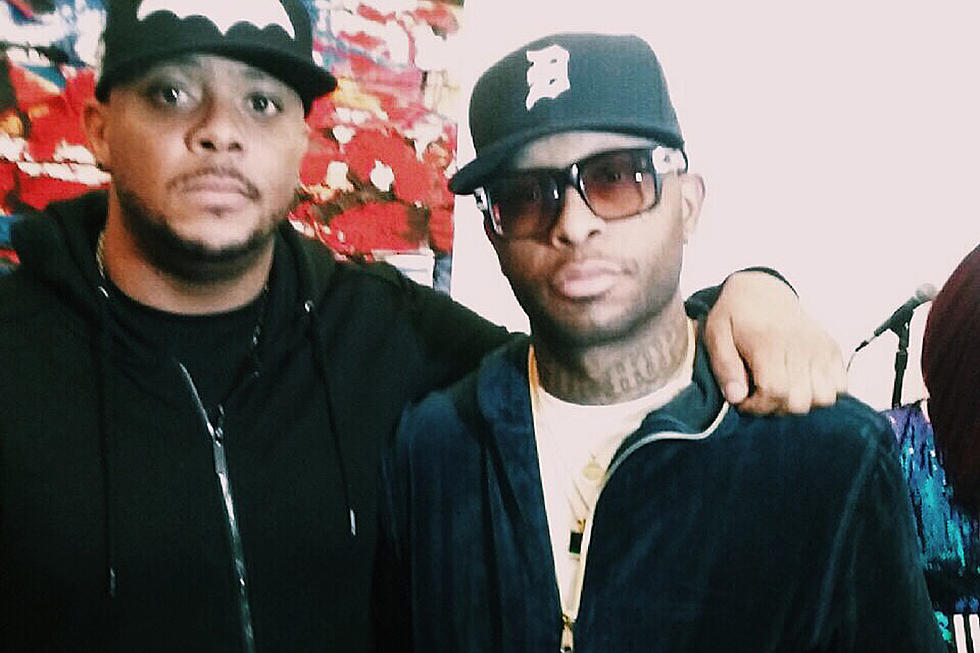 Royce da 5'9″ Merges 'Layers' Listening Session With Views of New York-Inspired Art
XXL
In case you're not convinced or familiar with Royce da 5'9"'s skills on the mic, the Detroit native earned his stripes by going bar for bar with top-notch flamethrower Eminem and other 8 Mile cohorts in the D, even garnering writing credits for legends like Diddy and Dr. Dre along the way.
After shining on efforts with his Slaughterhouse comrades, and the stellar 2014 DJ Premier-assisted PRhyme album, the slimmer, tatted-up, recovering alcoholic is stepping into the spotlight dolo with Layers, his first solo effort since 2011's Success Is Certain.
Thursday night (March 24) at One Art Space in New York City, artist Andrew Thiele, the man responsible for creating Royce's Layers artwork, welcomed the rapper into his solo exhibition, which featured hip-hop inspired art pieces dubbed Used and Abused. As the artwork decorated the spacious gallery,  Royce da 5'9" and DJ Mix Man rolled out tracks from the Layers album.
With the Slaughterhouse member running late, thanks to a missed flight, freshly dressed men and women alike were kept busy by the sounds of the DJ and the sights of Thiele's eye-catching paintings. The handful of alluring eye candy patrolling the room, decked in leering skintight skirts, passing out cups of alcohol was also more than enough to excuse Royce's tardiness.
Conversations about hip-hop lingered around Thiele's paintings such as the red and black painted "Downtown & Brooklyn, 2, 3 Train," the Nas-inspired "Queensbridge 21 Street Station F," and the bodega piece with painted gyros (a popular food on any New York block) splattered onto the canvas.
Finally, about two minutes before the clock struck 9 p.m., Royce da 5'9,'' rocking a navy blue velour sweat suit with a white t-shirt underneath, a thin gold chain hugging his neck, shades hiding his eyes and a navy blue Detroit Tigers fitted atop his dome, strolled through the crowd to handshakes, head-nods and pictures.
"I'm sorry, I'm late, I missed a flight. But I know y'all are okay with all this expensive food," Royce said jestingly. "This is my first album in five years. But y'all have stuck with me while I got my life together with the alcohol and sh*t. So here it is, I hope y'all like it, and thank everyone for coming out."
Keeping his intro brief, Royce turned things back over to Mix Man. As Royce moved into the crowd for more daps, pictures and usies, Mix Man commenced the listening session with "Pray," produced by D-12's Mr. Porter, who was also in attendance.
With alcohol being gulped down and conversations growing louder by minute, it was hard to make out the instruments on the production and catch every single word that spilled from the blaring speakers. However, enough was heard to make out that "Pray" is Royce reflecting on the ups and downs of his rap career.
Also, Mix Man played Royce's vocals over other rappers backdrops like Ghostface Killah and the late Notorious B.I.G., among others. So, it was hard to fully take in Royce's vibe of the album. "If you want to hear all the beats, you have to purchase the album," Mix Man announced.
While many attendees stayed near the entrance, away from the DJ set and speakers, rappers Joell Ortiz, Torae and producer !llmind, who were all in attendance, played the back venue near the DJ and the speaker trying to take in Royce's clever wordplay.
One of the standout tracks, "Misses," produced by DJ Khalil, is a truth-telling song about a groupie exposing a cheating husband's dirty secrets, resulting in an ugly breakup with his wife.
As the evening wore on, the session became more of a social gathering than an actual listening session. The ebullient and now tipsy crowd grew much louder, and turned their attention to getting pictures with actor Malik Youba or rappers Ortiz, Torae and Pharoahe Monch.
However, the Pain 1-produced "American" could be heard over the conversation. The somber track finds Royce spewing forth the ills of the world like police brutality, violence and shooting sprees.
Keeping things moving, the title track is blessed with verses by Pusha T and Rick Ross and is nothing more than an exercise in bravado and lyricism.
A little before 10:30 p.m., Mix Man concluded the night with "Tabernacle," a seven-minute autobiographical track and lead single, where Royce exposes his troubled yet blessed life to his fans.
While only a few tracks were played, it sounds like Layers keeps up the lyrical momentum that held down PRhyme, yet adding Royce's firsthand stories such as family issues and his opinions on violence in America, making for a more personal and satisfying project.
See 40 Hip-Hop Albums Turning 20 in 2016