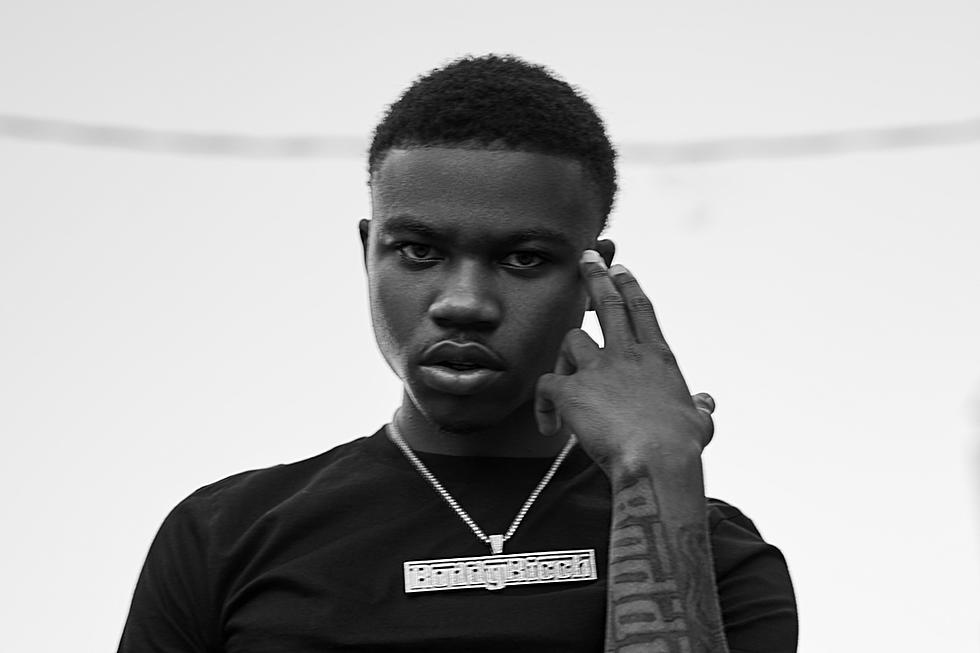 The Break Presents: Roddy Ricch
Calloway
Everyone has to start somewhere. Some of the most well-known artists kicked their careers off with modest beginnings, then took that same ethic to the very top. Roddy Ricch started making music on a whim, out of pure interest.
"I bought some equipment and then I started recording real heavy, in my room, when I was like 16," the Compton artist tells XXL. "I was just playin' with it." Roddy's new hobby quickly turned into much more when his July 2018 single, "Die Young," dropped and subsequently took off. The track itself has been streamed more than 12 million times, with its accompanying video inching closer to the same mark.
Before "Die Young" put Roddy on the map, he already had a project out under the title Feed Tha Streets. The late 2017 mixtape was buoyed by the catchy-yet-dark song "Fucc It Up," on which he walks the line between rapping and singing. He let the four-track EP Be 4 Tha Fame fly in March of this year. But "Die Young" came around the midway point of 2018 and completely changed things for Roddy, who never foresaw its runaway success. "I made it the night that X passed away," he says. "Then we just recorded like everything else."
While the California rap landscape is quite varied, Roddy Ricch doesn't particularly sound like anyone from his area. Roddy attributes it to his summer travels as a kid. "My first time out of state—when I was like 12 or 13—[was] Chicago," he says. "So that was like when Chief Keef first came out, Lil Durk was doing his thing, all the Chicago rappers was on somethin'. I kinda attached myself to that in middle school."
The company Roddy Ricch keeps now includes some big-time rappers. Nipsey Hussle bought him out as a guest at an L.A. Powerhouse show then Meek Mill did the same in Philly, donning him with a Dreamchasers chain. Last week, Roddy Ricch dropped Feed Tha Streets II, which illustrates his growth since his career has picked up. The video for his first single, "Every Season," is at 2.6 million views already. And there are more visuals on the way.
"If you watch 'Every Season' closely, it says, 'To be continued' at the end," he notes. "You gotta watch the storyline—you gotta peep that I met a girl at the end? Why did I meet that girl? We'll find out on the next episode of Feed Tha Streets II!"
I grew up listening to: "Future, Speaker Knockerz and Meek [Mill]."
My style's been compared to: "A lot of people say I got my own sound. I ain't never really got no comparisons. When people hear my music, they be like, "He got his own lil sound."
My standout records to date: "'Die Young' just reached 10 million on YouTube. 'Fucc It Up' had like 5 [million] on YouTube. 'Every Season,' I feel like it's gonna be big. People was actually mad I didn't leave it a cappella. You gotta make it a song!"
My standout moments to date: "My biggest moments have been in Philly—I met Jay-Z and Beyonce in Philly, I did the Powerhouse in Philly. That was the biggest crowd that sang my shit back like that."
My most slept-on song: "'Free Game.' It got plays but it didn't go up-up, because it's just the mood of the song. I made 'Free Game' based on personal experiences, what I been through, my life, exposing people to the fact that I'm in the streets. That song, it pulls on me. I get chills every time I hear that shit."
Most people don't know: "I used to be like Michael Jordan in high school, no cap. [I was a] point guard. I was more like an Allen Iverson type of nigga, I ain't gon lie. Jordan was a dunking type of nigga. I was more like that cross-a-nigga-up, breaking-his-ankles type situation."
I'm going to blow up because: "My best friend died in a high-speed chase. Before he went to jail, he told me, 'Roddy, chase the bag, do what you gotta do, put this before anything.' I looked up to him, 'cause he was getting money before me. It's more about chasing it, for me. I don't really be putting no limitations or projections on myself. I just go do it. I don't really be thinking about that shit. Just put the music out. If I'm speaking to the streets and for the streets, they gon' respond. I don't even be thinking about blowing up."
I'm going to be the next: "I'ma be the next richest man in the world."
See 20 of Your Favorite Rappers Naming Their Favorite Rappers