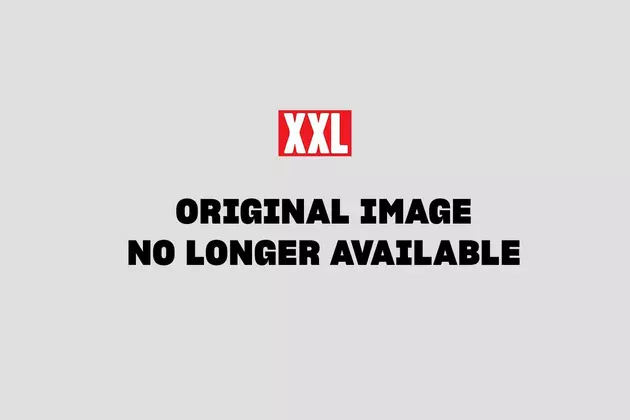 Instagram
When Future broke onto the mainstream scene in 2012, he did it with "Turn On The Lights," a heartwarming ballad about trying to find his dream girl under club lights. It was vulnerable but gangster and beautifully produced by Mike Will Made It, propelling the Atlanta rapper to the top of the charts and the core of female hearts.
Though he had started as a street rapper - and still held on to that sound to this day - he began experimenting with softer sounds on his second album, Honest. His relationship with fellow Epic Records artist Ciara blossomed and led to a child, so his content naturally became a bit more lovey dovey with songs like "I Won" with Kanye West and "I Be U," one of Future's most experimental songs to date.
But then things went sour. He broke up with Ciara amongst reports of cheating on his behalf, and months later he re-emerged with a new attitude on Monster, the first mixtape from 2014 that sparked the hot streak he's still on to this day.
Monster showcased a much more hardened Future who gave no consideration to a lady's feelings. Quite simply, he'd turned into a monster, and the music reflected it. Later, DS2 would expand on his sexual forays with songs like "Freak Hoes" and "Groupies."
So to celebrate his newfound lasciviousness, we've decided to put collect 20 of Future's raunchiest lyrics. From thumbs in the butt to fucking real sisters, these are some of the most downright naughty lyrics Future's spit in his career so far.
"I ain't got no manners for no sluts/I'ma put my thumb in her butt."

"He want her, she on that sea water, fuck around pull out my dick and I pee on her."

"Got my dick sucked I was thinking about you/I was fucking on a slut and I was thinking about you."

"Fuck that laughing nigga, I got you girl and made a movie/Had her gagging nigga, she eat pussy like its sushi."

"These bitches kissin', tryna give my dick a hickey."

"I know my dope raw - I seen it come out her ass."

"Bangin' her throat in the back of a Phantom."

"Made a ho eat a ho cuz she a broke ho."

"Fuckin' in the air on the jet, bitch."

"Oh, that's your best friend? I'm tryna fuck her with you."

"Got a combo in the condo doing some real life porno."

"I fucked her so good, had her nose runnin'."

"We'll fuck you bitches, let my brother hit 'em."

"I need a flashlight cause I'm deep up in that pussy."

"Shawty she go both ways, anytime she go smash models."

"Thought It Was a Drought"

"I just fucked your bitch in some Gucci flip-flops."

"I had to spank lil' shawty with my jeans on."

"Karate Chop" (Remix)

Future Featuring Lil Wayne

"Got the girl dripping wet like a Jheri curl."

"Pussy Overrated"

Mike Will Made It Featuring Wiz Khalifa & Future

"I knew you weren't gone take it, after you stripped naked/You're supposed to fuck me like a star, girl you know you're fakin."

"Hey There"

Dej Loaf Featuring Future

"Put my nose in that pussy, give you head now/She know I get that moola, man trappin' is a habit."