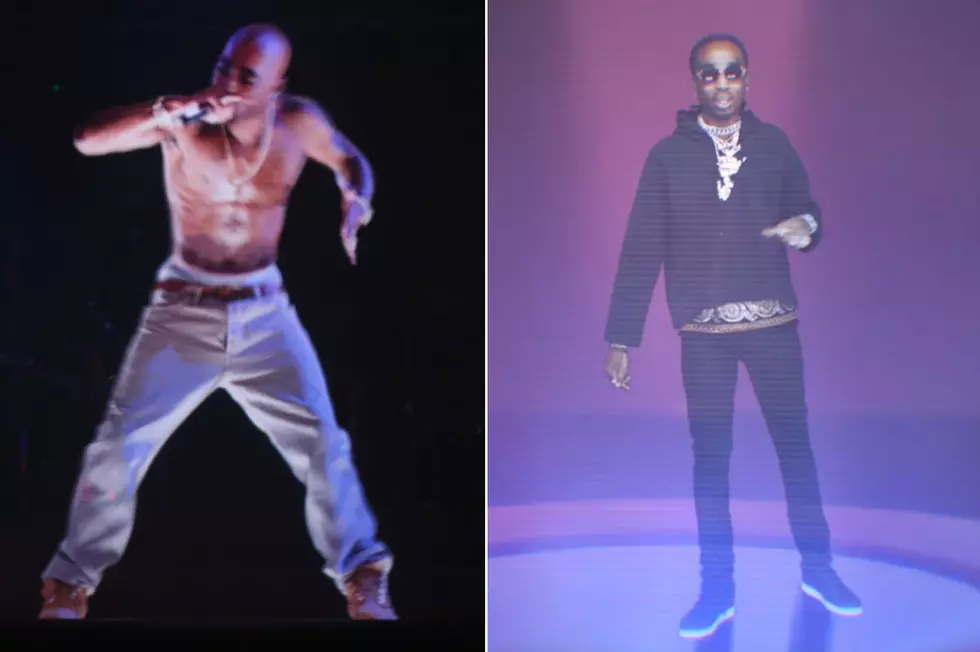 8 Times Rappers Became Holograms
westfesttv, KekePalmerVEVO via YouTube (2)
Holograms. What used to be exclusive to a Windows screensaver or a deck of Pokemon cards has greatly expanded, to say the least. These days, holography has evolved like none other, and is now being used to bring rappers to the main stage when they literally can't be there at all. Imagine you're at a music festival and out of nowhere, the late Tupac Shakur arises out of thin air, performing all of your 1990's favorites. Yes, that happened, and it's all thanks to some expensive laser lights and the outstanding work of digital effects artists.
Holography has projected some of the greatest rappers of all time onto a platform they couldn't have been on without it, and is undoubtedly transforming the future of concerts for years to come. For the legendary rappers who have passed on, it gives their fans, old and new, a chance to experience (or relive) a profound moment. Current hip-hop artists have chosen to use the special effect in music videos, like Quavo, while others such as will.i.am utilized the platform to share their thoughts on presidential elections. What a time to be alive, indeed.
Even The Notorious B.I.G.'s mother, Voletta Wallace, announced a HumaGram of the deceased Brooklyn lyricist is in the works. Faith Evans, who recently dropped the duet album, The King & I, with her late ex-husband, briefly spoke about it last year, telling the Dame Dash Radio Show she wants to "debut it in the first video for the album, and maybe use it a little bit performing live. But that depends on a lot of things… It's expensive, as you can imagine."
Eight rappers have used holographic effects in their work over the years, and each time delivered a memorable virtual performance. Take a look at how each one of them were able to make it their own below.