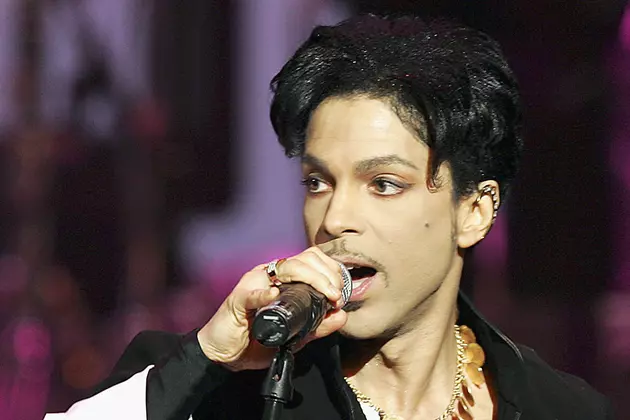 20 Rap Songs That Sample Prince
Kevin Winter, Getty Images
The music world is reeling from the loss of one of its greatest superstars. Prince's death was reported today (April 21) by TMZ before later being confirmed by his publicist via the Associated Press.
It's a shock not only to music lovers, but hip-hop heads too, many of whom were surely hipped to his music by way of rappers and producers sampling him in rap songs. Ever since hip-hop took off in the '80s, Prince has been heavily sampled by everyone from Nice N Smooth to LL Cool J to 2pac, Hov, Wayne and others.
His music made him a star and his style made him an icon. He was unabashedly brave about showing off his body, even wearing pants with the butt cut out to show the world his ass at the 1991 MTV Video Music Awards. He showed the world that men could show off a feminine side while still being sex symbols, and to this day that influence resonates not just through hip-hop, but all of music.
And let's admit it - Prince's attitude was all the way hip-hop. He gave no fucks what you thought about his approach. He was unapologetic, unafraid, unrelenting in his innovation. Hip-hop will miss him dearly.
But in the immediate aftermath of his death, we can only hope to take solace in the work he left us. His catalog will live on forever and his imprint on the music world will never fade. While we all mourn Prince's death, here's a look at 20 rap songs that sampled his work.
DJ Toomp interpolated "It's Gonna Be Lonely" for this Yeezy classic.

"Blow Ya Mind"

Nicki Minaj

A full-on sample of the Purple Rain classic "Darling Nikki."

"To Live and Die in L.A."

Tupac Shakur

His 1981 "Do Me, Baby" got lifted for this classic 'Pac track.

"'03 Bonnie & Clyde"

Jay Z Feat. Beyonce

You know this sampled 'Pac's "Me and My Girlfriend," but it also takes parts of Prince's 1987 cut "If I Was Your Girlfriend."

There's no forgetting "When Doves Cry."

"Brothers Gonna Work It Out"

Public Enemy

Stuffed with over 10 samples, Bomb Squad threw in Prince's "Let's Go Crazy" as well.

"Tennessee"

Arrested Development

Arrested Development's biggest hit cribbed from Prince's 1988 cut "Alphabet St."

One of the best uses of a Prince sample ("17 Days") on this list.

"Wanna Be a Baller"

Lil Troy , Fat Pat and Yungstar Feat. Big T, Lil Will & Big Hawk

One classic sampling another ("Little Red Corvette").

"Would You Die For Me"

Notorious B.I.G. Feat. Lil Kim & Puff Daddy

Complete with that unforgettable intro from "Kiss."

"Sex Packets"

Digital Underground

"She's Always In My Hair" is such a timeless Prince track.

"Diamonds and Girls"

Lil Wayne

Even today, rappers are still being inspired by songs like "Diamonds and Pearls."

Remember Kwame? He sampled Prince's "Bob George" at the start of this track.

"Black Is Black"

Jungle Brothers

This list wouldn't be right without this classic use of "Controversy."

Quik flips "I Wanna Be Your Lover" for this instant classic.

The Bay Area legend showed love for "She's Always In My Hair" too.

"Freedom Got an A.K."

Da Lench Mob

In the most incongruous sample in this list, Cube's Lench Mob patnas swiped "Gett Off."

"No Delayin"

Nice & Smooth

Can't forget how this timeless duo flipped "Starfish and Coffee."

One of the dopest Prince samples ("Irresistible Bitch") was also one of the earliest thanks to Rick Rubin.

"God Made Me Funke"

Kool Moe Dee

Never forget how the Rap God flipped "Do U Lie" back in '89.