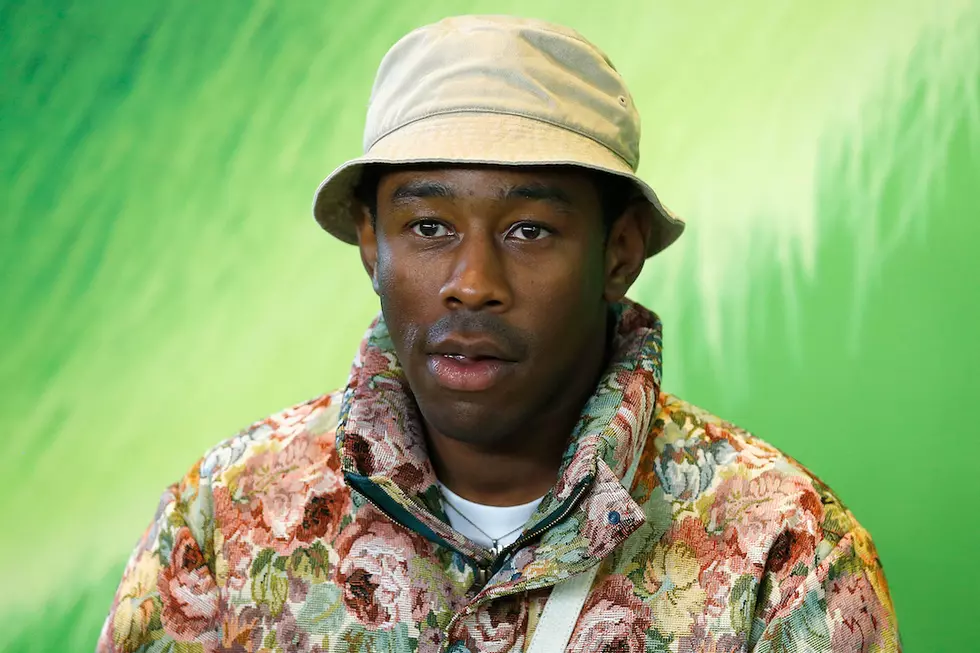 25 of Tyler, The Creator's Best Songs
John Lamparski, Getty Images
When it comes to musical evolution, Tyler, The Creator belongs to an esteemed class of hip-hop artists who've shed their skins multiple times over to reveal wholly different styles: names like Queen Latifah, Mac Miller, Q-Tip, Kanye West and Pharrell. On Friday (May 17), the 28-year-old artist presented Igor—a stellar album about love and loss—as the latest iteration of his development.
Tyler first erupted onto the scene with 2011's "Yonkers," best remembered for it's mind-blowing, macabre black-and-white video, which depicted the young rapper eating and hurling an insect before hanging himself. The standout from his debut album, Goblin, was a fitting intro to the shock rap sound of Odd Future via the collective's de facto leader—a hip-hop hellion prone to rape jokes and chants like "kill people, burn shit, fuck school."
From there, the Cali artist has grown and matured in both music and song content. He's always channelled intense emotion in his tracks, whether aiming at his absentee father or rebuking an industry that was slow to accept him and his outsider crew. Yet his musicality has grown with albums like Wolf and Cherry Bomb, the latter of which was recorded at Hans Zimmer's studio with a full orchestra and included contributions from legends like Roy Ayers, Charlie Wilson and Wanya Morris of Boyz II Men. On those albums, Tyler touches on concepts like romantic love and finding life purpose—a far cry from "AssMilk."
In 2017, Tyler earned a Best Rap Album Grammy nomination for Flower Boy, a project on which he loses sonic distortion of previous works in favor of cleaner beats and sung melodies, while maintaining his top-notch bars. The next year, he dropped a Christmas-themed project, Music Inspired by Illumination & Dr. Seuss' The Grinch.
As fans unpack and appreciate Tyler's latest offering, Igor, XXL sums up his career via a selection of his 25 best songs over the years.
"2Seater"

Tyler, The Creator Featuring Aaron Shaw, Austin Feinstein and Samantha Nelson

"911 / Mr. Lonely"

Tyler, The Creator Featuring Frank Ocean and Steve Lacy

"A Boy Is A Gun"

Tyler, The Creator

"Answer"

Tyler, The Creator

"AssMilk"

Tyler, The Creator Featuring Earl Sweatshirt

"Bastard"

Tyler, The Creator

"Boredom"

Tyler, The Creator Featuring Rex Orange County and Anna Of The North

"Domo23"

Tyler, The Creator

"Earfquake"

Tyler, The Creator Featuring Playboi Carti

"Find Your Wings"

Tyler, The Creator Featuring Kali Uchis, Roy Ayers Ubiquity and Syd

"Fucking Young / Perfect"

Tyler, The Creator Featuring Charlie Wilson, Kali Uchis, Syd and Toro y Moi

"I Ain't Got Time!"

Tyler, The Creator

"I Think"

Tyler, The Creator

"Pothole"

Tyler, The Creator Featuring Jaden Smith

"Sandwitches"

Tyler, The Creator Featuring Hodgy

"She"

Tyler, The Creator Featuring Frank Ocean

"She Won't A Young Nigga"

Tyler, The Creator (As Young Nigga)

"See You Again"

Tyler, The Creator Featuring Kali Uchis

"Smuckers"

Tyler, The Creator Featuring Kanye West and Lil Wayne

"The Brown Stains of Darkeese Latifah Part 6–12 (Remix)"

Tyler, The Creator Featuring ScHoolboy Q

"Who Dat Boy"

Tyler, The Creator Featuring A$AP Rocky

"Yonkers"

Tyler, The Creator