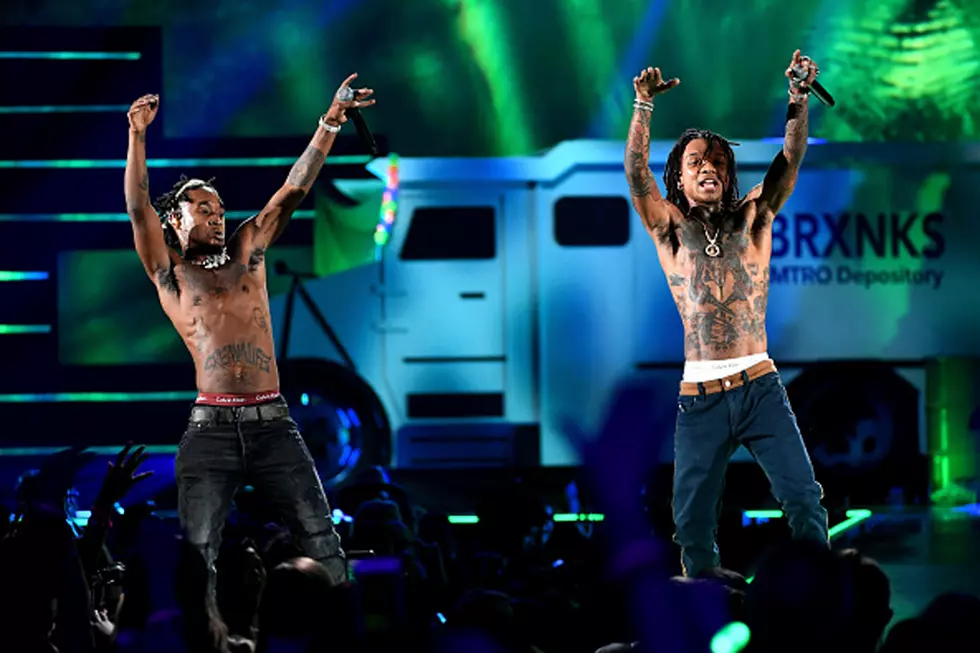 Rae Sremmurd Land Luc Belaire Global Partnership
Kevin Winter, Getty Images
Rae Sremmurd have gone global with their latest partnership. On Wednesday (Oct. 24), the rap duo announced their global partnership with Luc Belaire.
The duo will be teaming up with the bubbly brand for ongoing collaborations and special projects for Belaire Gold, a classic brut made in Burgundy from a blend of hand-picked Chardonnay and Pinot Noir grapes.
Swae Lee and Slim Jxmmi met with Belaire CEO Brett Berish in Miami to sign the partnership deal and film a Belaire-produced video series, Belaire It Out, which features the rap duo debating a series of pop culture topics and answering questions from fans.
CEO Brett Berish expressed his excitement over joining forces with the "Black Beatles" artists. "We're inspired by Rae Sremmurd's sense of humor and creativity," he said. "So 'Belaire it Out' made perfect sense with Swae and Jxmmi. Belaire is a place where artists like Rae Sremmurd and our other partners like DJ Khaled, Rick Ross, G Herbo and Save East can tell their stories and express themselves."
The Mississippi brothers are looking forward to their latest partnership. "It had to be Belaire and it had to be Belaire Gold," said Jxmmi. "Belaire's everywhere we go and his business venture goes with everything we're doing from music to fashion. We are the Golden Boys! ScremmLife!"
Swae Lee explained that this partnership is one for the culture. "Life is luxurious," he said. "From private planes to clubs to yachts, we live lavishly so we always keep bottles of Belaire around. We were already poppin it, so we wanted to partner with Belaire, who understands us and the culture."
See Every Hip-Hop Song That Topped the Billboard Hot 100 in 2018