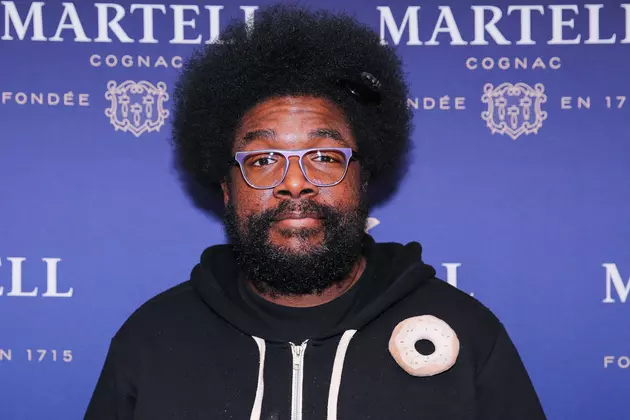 Questlove Is Releasing a New Book
Scott Legato, Getty Images
After releasing something to food about: Exploring Creativity with Innovative Chefs in 2016, Questlove is gearing up to release his latest book next year.
According to a report from Buzzfeed, Questlove and publisher Ecco will release The Roots' drummer's fourth book, Creative Quest, on April 24, 2018. Ecco states the new book is a "guide to living your best creative life" and is filled with wisdom on inspiration and originality from Questo.
"Whether discussing his own life or channeling the lessons he's learned from forefathers such as George Clinton, collaborators like D'Angelo, or like-minded artists including Ava DuVernay, David Byrne, Björk, and others, Questlove speaks with the candor and enthusiasm that fans have come to expect," reads a statement from the publisher. "Creative Quest is many things — above all, a wise and wide-ranging con­versation around the eternal mystery of creativity."
The cover for the upcoming book features Questlove's signature pick, as he is turned into a Rube Goldberg machine. "When it came time to do the cover for this book, what sprung to mind was making a machine about how things spring to mind, and a Rube Goldberg machine was the perfect match," he said. "What else is creativity? It's a brain passing through a million small steps to be able to take one big step."
Besides a new book, Questlove and the rest of the legendary Roots crew are working on their 12th studio album, End Game. The last we heard, the group is collaborating with producers 9th Wonder and Salaam Remi for the project. Speaking with XXL, Black Thought said, "Last October we had a writers' retreat at Electric Lady Studios in New York City for about a week or so and within that time we got about a good deal of the groundwork of what's to come for the record, End Game."
Check out the cover of Questlove's upcoming book below.
See 10 Critically-Acclaimed Books Rappers Live By