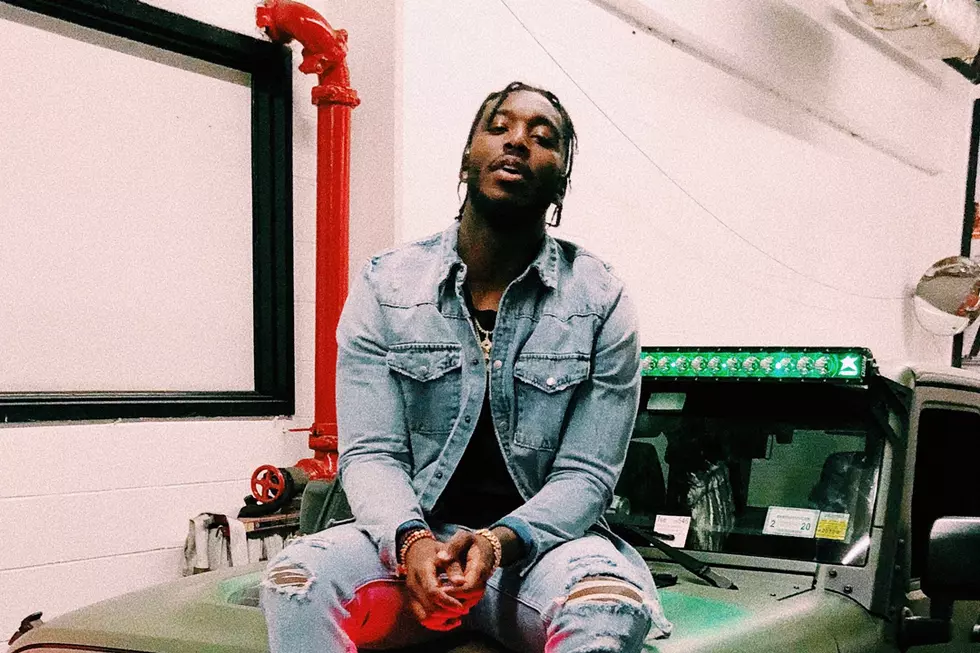 The Break Presents: Pardison Fontaine
Pardison Fontaine
"I was always 100 percent basketball—I did everything you could do to be good at basketball," the rapper-songwriter says while sitting in XXL's Manhattan office. "Then one day I was like, 'Nah. I got a real drive and hunger for music.' It literally took over my whole purpose."
He had this realization during the winter break of his first semester at Wilmington's Goldey-Beacom College, where he had earned a full scholarship to play basketball. He made an abrupt decision to commit to his newfound passion.
"We had a game on Tuesday and a game on Thursday and I'm like, 'If I don't leave school now, I'm not gon' do this rap shit,'" remembers Pardi, who's been friends with Cardi B for a few years.
From that point on, Pardi dedicated his life to music, returning to his mother's house in Newburgh and getting to work. Over the last several years, he's drummed up a buzz for himself, dropping off projects like 2015's Not Supposed to be Here and 2016's Who Is Pardison Fontaine? generating thousands of SoundCloud streams in the process.
With endlessly clever bars, the right industry relationships and a hunger for musical greatness, Pardi is now looking to leave his mark.
"I want the next generation to use me as a reference point," Pardi says. "I want [to] go on YouTube [and see] producers say, 'Pardison Fontaine type beat.'"
Learn more about Pardi in this week's edition of XXL's The Break.
I grew up listening to: "I listened to just about everything. I listened to a wide range of music. The ones that had the most impact on me, I would say [were] DMX and Kanye [West], for sure."
"That whole first College Dropout was like, 'Ohh.' I feel like 'Ye was like a bridge between what was going on and what we got now. Before [Kanye], you was either Common or you was Beanie Sigel. So Kanye came and he was like, 'Nah, I'm this. I'm with them, but I'm doing this whole other wave.'"
"I used to go to church like five times a week. Coming up, I was in church all day, everyday. We wasn't able to listen to rap. Thinking about it, [Kanye and DMX] both had a lot of biblical references in a lot of their music. [DMX] had whole prayers, so it was easy for me to gravitate to it. 'It's easier to sin but it hurts my heart.' I'm like, 'Yo, this is me. He's talking to me.'"
My style's been compared to: "I hear [DMX] a lot. Whenever I do hear a comparison it's usually him. Like, 'Oh, this nigga sound like the new DMX.'"
Most people don't know: "I'm like a world-renowned chef. Thanksgiving dinner falls on me."
My most slept-on song: "'Jumpin Jumpin' is an elite song. Look up 'Jumpin Jumpin,' and if it's not elite, comment on my page and tell me I'm trash."
My standout moments to date have been: "Diddy followed me on Instagram the other day. I was kinda hyped about that. I was like, 'Oh shit.'
"The Kanye call was lit. He called me because he heard, 'I gotta stay out of Gucci, I'm finna run out of hangers' [on Cardi B's "Drip"]. I was hitting up Pusha-T. I was about to try to get him on a song, and Push hits back like, 'Damn, Kanye was just talking about you. He wanted to meet you. He's gon' call you.' I get a text like, 'Yo, this is 'Ye, can I call you?' I text him back like, 'Nigga I've been waiting on this text my whole life, hurry up before I fucking call you' [laughs]. We talked for like an hour."
I'm going to blow up because: "I've always wondered, like, 'Yo, how am I not taking off? Why am I doing all of this?' And I bet it's a bunch of factors but every time someone really comes into the game and has that wave, it's when everybody's doing 'this.' And then there's one nigga that comes and then is doing 'that' and it just shifts everything like, 'Oh shit.' And I feel like that's what I got."
I'm going to be the next: "Barack Obama."
"Rap Charlamagne (Say What I Want)"
Here's the Ultimate Guide to Rappers With Acronyms in Their Name