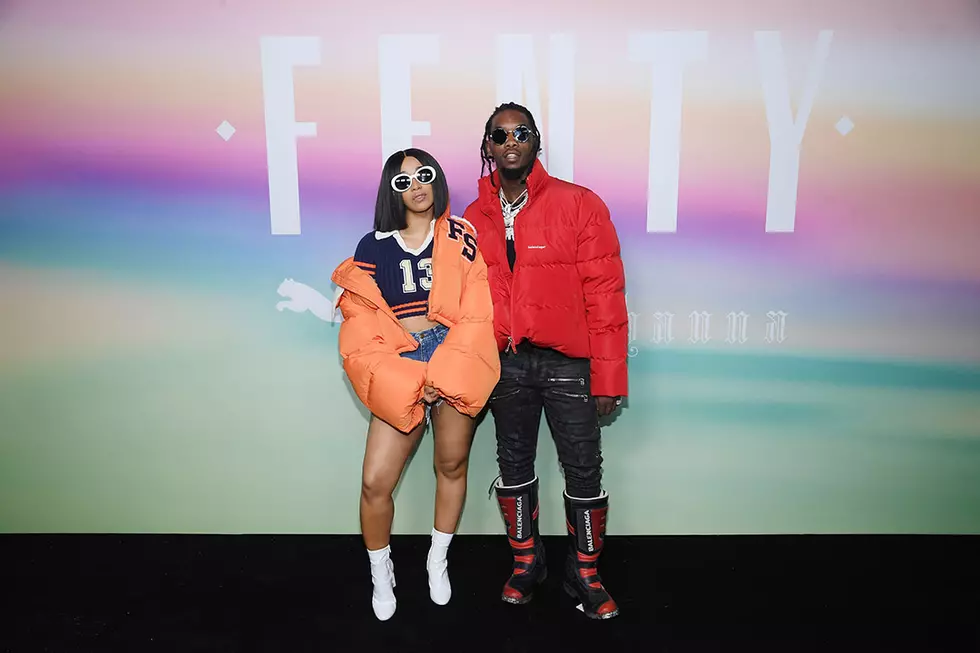 Offset Looks Forward to His Next Chapter With Cardi B Following Her Pregnancy Reveal
Dimitrios Kambouris, Getty Images
Cardi B finally let the cat out of the bag revealing her pregnancy to the world last night (April 7) on Saturday Night Live. Though he clearly already knew, Offset is finally able to express himself publicly.
Following the reveal, the Migos rapper hopped on social media to give his thoughts on the news. Posting a photo of himself and Bardi holding hands and looking into each other's eyes, he captioned the pic, "Cardi and I look forward to our next chapter together."
Bardi has been keeping her pregnancy under wraps, with both her and Offset refusing to come clean. "I can't address all the rumors and everything," Cardi said in a recent interview. "I have been so open to people about myself, people cannot expect me to open up about everything. Certain things have to be private. You cannot invade my damn privacy. I'm not a damn animal at the zoo, that you just could see everything. No. People will find out more. If it arrive, or if it don't arrive, then you're gonna know what the fuck's going on."
In case you missed it, Cardi was musical guest on SNL last night. Speculation has been swirling that she might reveal her baby bump on the show. Her first performance left people guessing as she rocked a big outfit that covered up her midsection. But on the second go round, she let it all hang out, literally, showing off her pregnant belly in a form fitting white dress while performing her latest single "Be Careful."
Check out Offset's heartfelt post below.
Check Out the 2018 Hip-Hop Music Festivals You Need to See