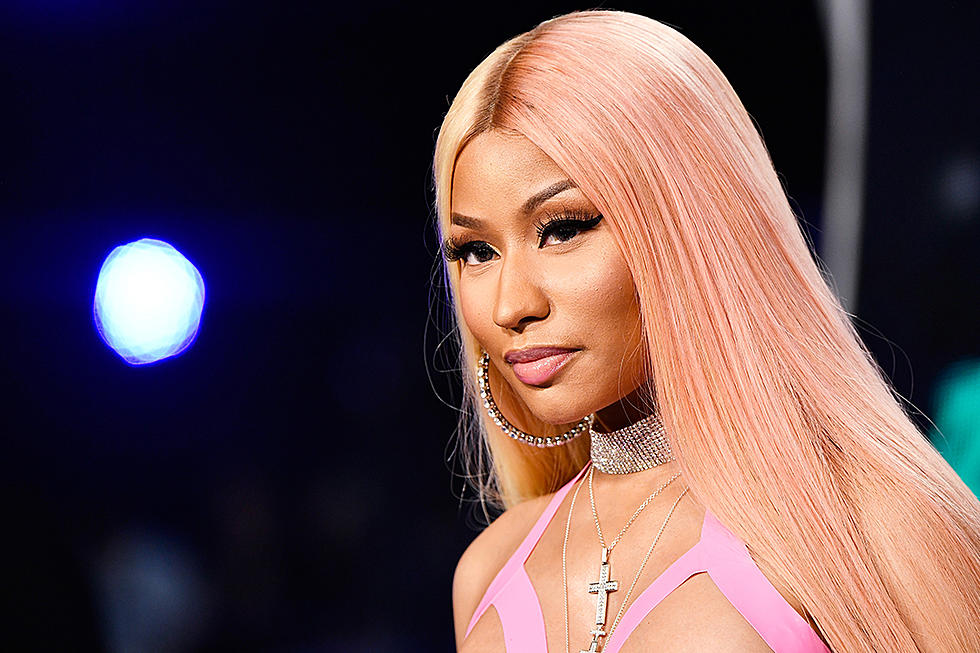 Here's Everything We Know About Nicki Minaj's New Album So Far
Frazer Harrison, Getty Images
Is Nicki Minaj season upon us? Three years and counting have elapsed since the multiplatinum-selling rapper blessed her fans with a full project of new material. This past May saw the rerelease of her 2009 breakthrough mixtape, Beam Me Up Scotty, which featured three new tracks, most notably "Seeing Green" by the YMCMB holy trinity of herself, Drake and their OG Lil Wayne. Yes, it served its purpose of holding fans over and shedding light on her legacy, but fans need more than a sample-sized portion of new Nicki, right?
After releasing her Queen album in 2018, Nicki teased her fifth album on the mic and in print in 2019. Using a freestyle as her message board on a record called "Barbie Goin' Bad," a flip of Meek Mill's "Going Bad" featuring Drake, she suggested that her forthcoming project was done, though she was hesitant to drop a single from it. Later that year, she confirmed to Elle that there was indeed a new project in the cannon, describing it as "fierce, fun and unapologetic." A release date was never announced, though the Queen teased speculative titles like "PF2" on social media, which many people believe is the sequel to her 2010 debut LP, Pink Friday.
Though she's been rather active on social media lately—defending her decision to do more research before being vaccinated against the coronavirus—and present in headlines—due to the ongoing rape case involving her husband Kenneth Petty—the mother of one has yet to reveal any other details about her upcoming offering. As we wait for more, XXL dug up a few details on what can be expected from what she's revealed so far. Here's everything you need to know about Nicki Minaj's as-yet-untitled fifth album.
Nicki Minaj Has Been Cheffing Up This Album for About Two Years

Nicki first introduced her fifth album at the top of 2019, in a freestyle over the instrumental of Drake and Meek Mill's platinum-selling slap "Going Bad." On a song titled "Barbie Goin Bad" she rapped, "I had to, uh, get back in my bag/I might drop a freestyle every, um, week 'til the thing-thing come/The label hit me said they want the fifth thing-thing, I got in the studio, I did the fifth thing-thing/And then they say 'You know, it's time to drop your single,' I said "Nooo," seemingly hinting that the project was also done.

She put those words in print later that fall in an interview with Elle, before pump faking her retirement and backtracking soon after. "It's probably the most excited I've been about an album release in a really long time," she told the publication. Referring to the four-year gap between The Pinkprint in 2014, and Queen in 2018, she continued, "I'm happy that we're not making my fans wait for another album like I've done in the past."

In the fall of 2021, freshly embedded into a Twitter debate about her choice to do more research before being vaccinated, she tweeted, "I was about to give yall way more than scraps but ykw. I'll talk to y'all next year," suggesting her absence for the rest of the year. It's unclear if she was recording music for this upcoming album or if she was working on something else to hold people over.

Newest Alter Ego Queen Sleeze Will Be Introduced

Nicki Minaj's next album will introduce her next alter ego Queen Sleeze. Introduced during the press run for "Yikes" last year, this new moniker joins the lineage of Roman Zolanski and Chun-Li. Queen Sleeze is slated to be a "calm but deadlier" version of Minaj. Beware, it sounds like she's unapologetically about to get a lot of things off her chest.

A Tour to Promote New Album and 2018's Queen May Follow

On the 13th episode of Queen Radio, which aired in June of 2019, Nicki Minaj celebrated the release of "Megatron," announced her engagement to Kenneth Petty, talked to Trina and revealed some rollout plans for her next album. During the episode, she said that she wanted to do a joint tour for her Queen LP and whatever project came next—like pop megastar Ariana Grande did with Sweetener and Thank U, Next. Nicki did tour throughout Europe alongside Juice Wrld for The Nicki Wrld Tour earlier that year, but an American leg of the performance trek didn't happen. So this could very well still be a possibility.

It Might Be a Sequel to Pink Friday

The lauded rhymer has used Queen Radio to share many details about her forthcoming fifth album. In 2019, Nicki hinted that the LP's title may have the word "pink" in it during the 14th episode of Queen Radio. Last June, she tweeted "PF2," causing more speculation from the masses that her newest effort will be a sequel of her triple platinum-selling 2010 debut album, Pink Friday. People thought that the project would drop on the 10-year anniversary of PF, however, that clearly didn't happen. No album titles have been confirmed thus far, so one can only hope that she's headstrong on providing an extension of the project that kick-started her legendary run in rap.

She'll Tap Into a Sound Bigger Than What Was Heard on Past Efforts

In an interview with Elle in 2019, when speaking about her fifth album, Nicki gave a preview of the sounds her supporters can expect. She described the project as being "fierce, fun and unapologetic." "This one incorporates all the things people love about Nicki, but it also just has a way bigger sound, so it goes perfectly with the collection," she continued shortly after. Seeing how Nicki has Milly Rocked through plenty of genres over the last decade plus, what's left to be tackled is up in the air. Guess we'll just have to see.

Unreleased Collaboration With Future Is Rumored to Make the Cut

After blessing her fans with the rerelease of her 2009 mixtape, Beam Me Up Scotty, this past May, Nicki celebrated by going live on Instagram and playing some music. Teasing her Queen follow-up, she assured fans that this next album will be her best yet. Nicki then went on to play an old LondonOnDaTrack-produced record called "Big Barbie" with Future. The track was supposed to be on Nicki's last album, but didn't make the cut for unknown reasons. She may have saved it for an even better occasion like this.

Some of R&B's Best Artists Could Be Possible Features

In early September of this year, Nicki Minaj asked her Barbz to call on revered R&B heads Brandy, Keke Wyatt and Tamar Braxton to redo a melody for her that was shared on Instagram, to which Keke responded "my beW" with kissy face emojis at the end.

A day later in a since-deleted tweet, she tapped into a handful of more recent names who have the genre in good hands, including Summer Walker, Jhené Aiko and Kehlani. Summer responded "I'd love that," Kehlani tweeted "what is happenING HEY" and Jhené chimed in with a straightforward "For sure. Lemme get a verse too."

Nicki then confirmed that once she had all of the vocals in, that she would put "Smthn special together with it." According to the Queen, she's going to do the same thing with female rappers at some point. The song is reportedly titled "Memories," and Nicki ended up getting Brandy, Keke and Tamar to sing on it. The head Barb-in-charge shared the magic they created so far in her Instagram story this month.