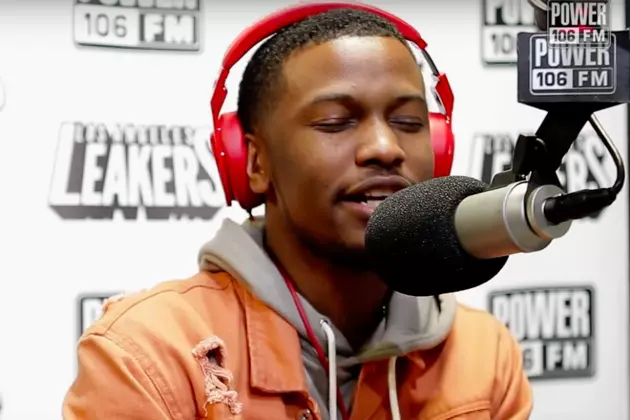 Nick Grant Bodies Freestyle Over The D.O.C. s "It's Funky Enough" Instrumental
Power 106 Los Angeles via YouTube
For many rappers, the prospect of launching into a random instrumental for a free-wheeling rap session is a terrifying one. Suffice it to say, Nick Grant never has and never will be one of those rappers. He once again proved as much during a recent stop by L.A.'s Power 106 for an impromptu L.A. Leakers freestyle session.
Floating effortlessly over The D.O.C.'s Dr. Dre-produced "It's Funky Enough" instrumental, the South Carolina-bred MC showcased just the sort of wit and nimble rhyming ability that's made him so successful to this point. If you listened to his album, Return of the Cool, there's no way you'll be surprised.
"I went from no pot to piss in to a pile of dishes/It feel like I'm 'Pac's apprentice with a pinch of Catholicism/The modern Jigga, the Nas mixed with the album Thriller/You dancing with the stars, the cosmos are out of rhythm/These niggas hating—my patience thinner than these model bitches," he spits, closing his eyes as he seemingly goes into a trance.
The rest of Grant's freestyle focuses on topics he's certainly no stranger to, including "trap pretenders" and more aspects of the rap game he feels are a bit hollow. If you feel the same way about modern hip-hop—or even if you don't—this is definitely just the sort of freestyle session to make you smile about the future.
You can peep Grant's vicious freestyle in the video below.
Fans Name Rappers They Think Will Blow Up This Year