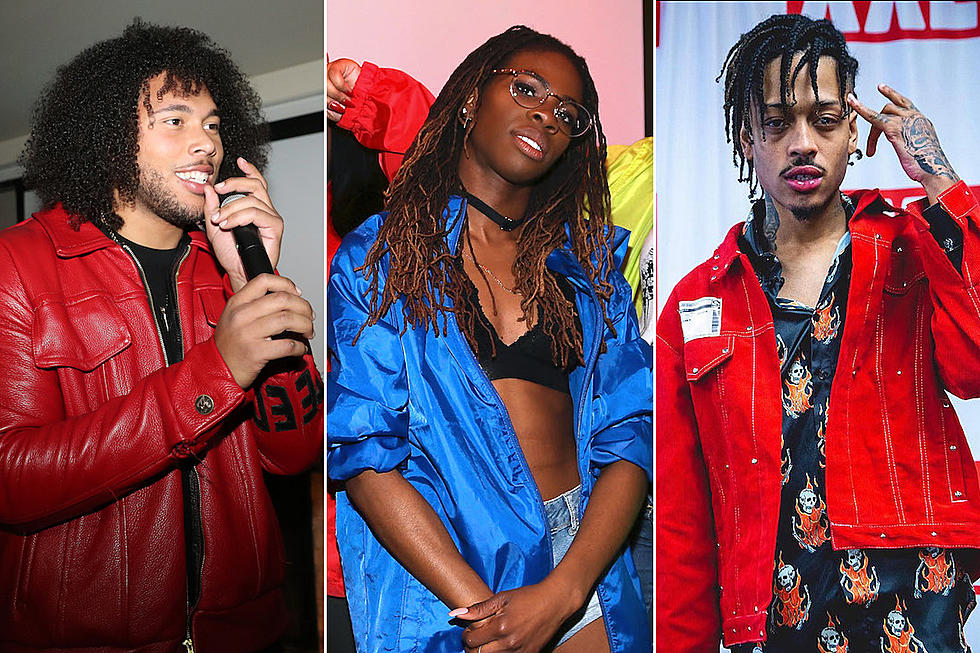 The New New: 15 Toronto Rappers You Should Know
Johnny Nunez / Isaiah Trickey, Getty Images (2) / XXL
There's no doubt that Drake and The Weeknd helped turn the world onto Toronto hip-hop, but the city has been exploding with raw musical talent for decades before the signature melodic sing-raps of OVO and XO. It all started in the late 1980s with pioneering MCs Michie Mee, Maestro Fresh-West and Ghetto Concept, who captivated international audiences with their catchy fusion of boom-bap, reggae and Jamaican funk. Hailing from the neighboring cities and suburbs, MCs like Choclair, k-os and Kardinal Offishall built on that momentum in the 1990s and mid-2000s, creating a hip-hop community that represented the diverse regions of the Greater Toronto Area (GTA).
Today, Toronto hip-hop encompasses music being made across the GTA, from Scarborough to Brampton and Mississauga. Of course, the city still has love for the emotional vocals and hazy, atmospheric production of OVO and XO. But its spread-out geography has also encouraged sonic diversity to become a hallmark of the Toronto sound.
There's been no shortage of talent coming out of The 6 in recent years, with artists like Tory Lanez, Killy, Pressa, Jazz Cartier and the late Smoke Dawg proving that it's possible to move past the long shadows cast by Drake and The Weeknd. And with all the amazing talent coming out of the city, there's still a batch of rising acts making noise in the GTA's many boroughs. Here are 15 Toronto rappers adding heat to the diverse sonic flavors of The 6. —Claudia McNeilly
Hometown: Mississauga, Ontario

Notable Songs: "Picasso," "Paisley," "Sky Blue"

Sounds Like: A lyrical student of Jay-Z and Ludacris

Why You Need to Know Him: When popular Toronto meme Instagram account @6ixbuzztv dropped a post asking followers to name the city's most underrated rapper, the comments were instantly flooded with mentions of AR Paisley.

Paisley raps with an airtight cadence reminiscent of the 1990s and mid-2000s. His flow ranges from sounding Jeezy-inspired (see: his single "Unity") to being soaked in Ludacris-flavor (the hook-driven "Lavish"). The Mississauga rapper has already become a mainstay on Spotify's Northern Bars playlist and it's only a matter of time until the rest of the world catches up.

Hometown: Weston, Toronto

Notable Songs: "The Ave in You," "Gheeze," "It's Okay, I Promise"

Sounds Like: A more relaxed Tyler, The Creator

Why You Need to Know Him: Known for writing, producing, mixing and mastering all of his music himself, 20-year-old Clairmont "The" Second has already honed more musical skills than most people learn in a lifetime. His jazzy, DIY style landed him a Juno nomination and a long list of nods from the prestigious Polaris Music Prize committee.

When he does choose to collaborate with other acts, Clairmont surrounds himself with some of Toronto's most underrated artists, including local producer Harrison and his close friend rising MC Hezi.

Hometown: Ca$tro, Clayton County, Georgia; Fiji, Downtown Toronto

Twitter: @cmdwncollective

Notable songs: "Die in Supreme," "ROXANNE," "Diamond Test""

Sounds like: Future's long lost Canadian brothers

Why You Need to Know Them: Made up of Toronto-bred Fiji and Atlanta-raised Ca$tro, CMDWN is bridging the gap between The 6 and the Dirty South, one trap banger at a time. Their album Atlanada 2, a sequel to 2016's EP Atlanada, connects established artists with rising new voices from both cities. The finished product, which features Chief Keef and Killy spitting alongside Pressa, Lil Berete, Lil Wop and Key!, lands on a unique sound while staying true to the rhythms of Toronto and Atlanta.

The pair got its name after a night of partying. Fiji bought a bottle of Fiji water to remedy a drug-induced comedown. "Then I took a photo and captioned it 'Fiji 4 the Comedown' and a couple days later changed my Instagram to "Fiji4thecmdwn," Fiji told High Snobiety.

Hometown: Downtown Toronto/Whitby, Ontario

Notable songs: "Bless," "Real Rudebwoy," "The Ends"

Sounds like: The musical offspring of Vybz Kartel and Drake

Why You Need to Know Him: Drake famously rapped about "running through the 6 with my woes" on his 2015 track, "Know Yourself," but the line wouldn't have been possible without Devontée. The young rapper invented the acronym to mean "working on excellence"—his motto and ultimate life goal.

Devontée's latest album, Head Gone, is yet another testament to his creativity and work ethic. Having produced a majority of the tracks himself, the album perfectly defines the city that raised him with patois rap embellishments, plus a roster of local slang and a feature from Toronto rap OG, Kardinal Offishall.

Hometown: Brampton, Ontario

Notable songs: "Vamonos," "Flower City," "Ignorant"

Sounds like: The flow of Missy Elliot mixed with the soul of Destiny's Child

Why You Need to Know Her: Haviah Mighty made international noise this September when her single "Vamonos" was featured on the third season of HBO's hit show, Insecure. Featuring an infectious Missy Elliott-like cadence with the occasional Jamaican patois twist, the track perfectly reflects Haviah's sky-high potential and Toronto roots. The Brampton rapper also won the prestigious Alain Straight Juno Master Class award in 2018. Haviah has a level of swag that stands up next to stars like Snoop Dogg and Sheck Wes, for both of which she's previously opened. There's no telling how far she'll go.

Hometown: Scarborough, Ontario

Twitter: @JustJohnForReal

Notable Songs: "Noise," "Soundboi," "Mirror (Fireworks)"

Sounds Like: The punk version of Meek Mill

Why You Need to Know Him: As the co-owner of the former Blank Canvas Gallery—a space that championed marginalized Toronto artists—Scarborough-born Just John has played a critical role in leading the city's underground art scene. His debut 2017 EP Black Beret is a political statement against police brutality in Toronto. "Still they wanna lock a nigga up and if it's too much they'll probably just shoot a nigga down," he raps on the opening track, "Gang." After signing to Warner Music, his latest EP Don II (named in tribute to his producer Dom Dias) features punk rock mosh raps about securing the bag, shows how he continues to evolve as an artist.

Hometown: Regent Park, Toronto

Notable Songs: "Southside," "No Make Up," "Migraines"

Sounds Like: If Akon made street rap

Why You Need to Know Him: Lil Berete burst onto the city's rap scene with his first mixtape, Icebreaker, in 2018 and he hasn't slowed down since. Inspired by Young Thug, Akon and T-Pain, the 17-year-old artist blends infectious hooks with street rap and dancehall to create trap anthems that are as catchy as they are hard.

Hailing from Regent Park—the site of the city's oldest housing project—Berete named his music collective Southside to Northside to diffuse tensions between Regent Park's Southside and Northside communities, which have endured neighborhood rivalries and gang-related gun violence for years.

Hometown: Brampton, Ontario

Notable Songs: "Confessions," "Left Hollywood," "Again"

Sounds Like: Being in your feelings at the club

Why You Need to Know Him: Brampton's NorthsideBenji has already built a loyal following through a small crop of singles and it's easy to see why. The slick rapper marries confessional lyrics about street life with luxurious, synth-heavy production to create a sound that equally recalls Drake's "Marvin's Room" and Future's Beastmode 2. He also made Canada proud when he killed his Fire in the Booth freestyle on BBC Radio 1 last year. Look out for his EP, Caviar Dreams, dropping early this year.

Hometown: Scarborough, Ontario

Notable Songs: "Nightfall," "Neverland," "in2deep"

Sounds Like: A kaleidoscopic, boozy summer night

Why You Need to Know Him: Nue makes drugged-out love songs exactly how you want them: filled with pain and a dedication to party through the fuck shit. Spitting over atmospheric, gauzy trap beats, his LP U Met Me at a Strange Time is filled with cunning freestyled lyrics that sound like they were written weeks in advance. "Why don't things ever end how I want/Is it cause I give you what you want?" he asks on the album's closing track, "Neverland."

His talent got him noticed by 300 Entertainment, the storied label of Migos, Young Thug, Shy Glizzy and Tee Grizzley in 2017, when he still only had a few thousand Soundcloud plays to his name. Today, he's the first and only Canadian artist to sign with the label.

Hometown: Jimmy Prime, North York, Toronto; Jay Whiss, Esplanade, Toronto; Donnie, Esplanade, Toronto

Notable Songs: "Tinted," "Hold Me Down," "Koba World"

Sounds Like: Your new favorite Toronto rap crew

Why You Need to Know Them: Made up of members Jay Whiss, Jimmy Prime and Donnie, Prime Boys are entrenched in Toronto's hip-hop culture in a way that few other artists working today can cop to. Jimmy Prime is responsible for coining Toronto's nickname "The 6" with the help of his friend (and Drake's business partner) Oliver El-Khatib aka Oliver North.

The trio named its first album after assistant manager and mutual friend Kosi Modekwe (aka Koba Prime), who was killed in the same shooting that took the life of local rapper Smoke Dawg. Produced mainly by Murda Beatz, another close friend of the trio, the pop rap LP is worthy of heavy replay with smart lyrics and Murda's signature earworm beats.

Hometown: Ajax/Parkdale, Toronto

Notable Songs: "Pretty Girls Put Boys in Cemeteries," "Matthew in the Middle," "DVP"

Sounds Like: An experimental mash-up of Frank Ocean and Kanye West

Why You Need to Know Him: Since founding the Toronto-based IXXI initiative in 2012, which includes members like the Grammy-nominated Daniel Caesar, Sean Leon has gone on to prove himself as one of the city's most versatile and respected underground MCs.

Leon flows on singles like "Hollywood Tarantino Flow" and "Vintage," while also putting his self-awareness on display through the more introspective "Pretty Girls Put Boys in Cemeteries" and "DVP." He dropped an evocative 10-track audio-film C.C.W.M.T.T. (an acronym for Can't Come With Me This Time) in 2017. His latest project, September's Sean Leon (The Death Of), builds on his legacy with finely detailed lyrics and a fusion of funk, house and trap sounds.

Hometown: Pelham Park, Toronto

Notable Songs: "Intro," "Body," "Free Baby"

Sounds Like: A Toronto trap star

Why You Need to Know Him: Smiley found himself in the middle of the Pusha-T/Drake beef last summer when Drake took to the Toronto rapper's Instagram page after Pusha released "The Story Of Adidon." The Boy broke his radio silence under a picture promoting Smiley's album, Buy. Or. Bye. "Nobody really know what I been through," he wrote, quoting Smiley's song "Free Baby."

But while Drake's OVO co-sign has helped catapult Smiley into the limelight, the Pelham Park rapper has been popping long before he had Drake in his comments. He reps the city heavily with lyrics about Brampton and Pelham Park Gardens, while also delivering witty catchphrases in emotional tones that evoke the realities of life on the street. "Last week I was bummy," he says on "Intro," the opening track to his newest project, A Tape to Remember. It's spawned a series of Instagram posts quoting the now signature line—just a hint of Smiley's viral potential.