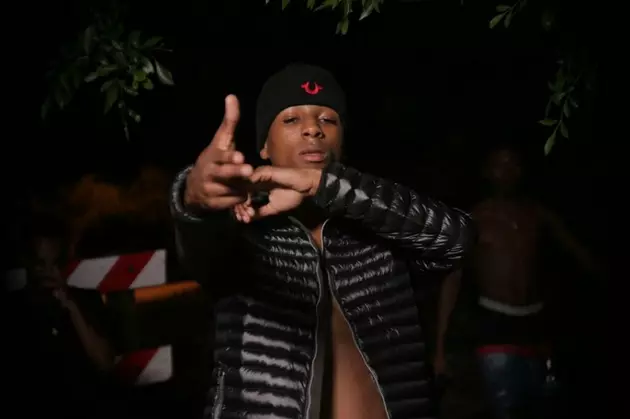 The Break Presents: YoungBoy NeverBrokeAgain
Good Money Global
North Baton Rouge rapper YoungBoy NeverBrokeAgain —formerly known as NBA YoungBoy — just turned 17 but he raps like a man twice his age. His music is raw and spiritual, but not in a religious sense; this guy evokes emotion. The lyrics to his songs jump out of the speaker and into your mind. He's brutally honest, which is a result of what he's seen and experienced at a young age.
Born Kentrell DeSean Gaulden, the rapper broke his neck when he was 4 years old while wrestling. He had to wear a halo brace during recovery and the three signature scars on his forehead are a result of using the mechanism.
YoungBoy, who was raised by his grandmother, dropped out of school when he was in ninth grade. Shortly after, he was arrested for robbery and stayed in a juvenile detention center in Tallulah, La. While locked up, he wrote songs and planned his next moves. In 2015, he released his first mixtape, Life Before Fame, followed by Mind of a Menace. Then Mind of a Menace 2 and 3 plus 38 Baby arrived.
"I did like two mixtapes and after that year was closing off, I got out of jail in December, some juvenile shit," he tells XXL. "I had told myself... because Young Scooter, I used to listen to a lot of Scooter. He dropped like four mixtapes a year. So I told myself every year I'm going to drop at least three mixtapes."
Besides a strong work ethic, loyalty is everything to Youngboy and his crew, NBA a.k.a. Never Broke Again. They are always by his side no matter what. That's why he feels like he can't fail. "NBA is me, YoungBoy, Never Broke Again. I built it from the ground to the top. NBA fall, I all fall," he says.
While YoungBoy NeverBrokeAgain was in New York, he stop by XXL to break down who he really is.
Name: YoungBoy NeverBrokeAgain
Hometown: Baton Rouge, La.

I grew up listening to: "Lil Phat, because he was young. I like all his mixtapes. He's from my city. I don't know how I started rapping. The first I did was at school. I tried writing one. I liked it. People started to like it. It was what I wanted to do. I made my first mixtape two years ago. I had released five songs and they all had a 1,000 views, each song, on YouTube. So I dropped a mixtape. I was expected it to blow up fast, but it took tine. But I started to get noticed in my city.
"[As I progressed] I wanted to try new things. I wanted to try a different way of making music. That's what made me try different things with my voice. I always got someone around me to tell me if it's good or not.
"NBA is Never Broke Again, that's us, my gang. We grew up together. [What makes me different] is my age and I ain't dumb. I always try to make my next song better than the last. I want that XXL Freshman cover, I want to be on MTV, I want $10 million and an elephant."
Most people don't know: "I know when people are with me or not. It's an instinct."
My style's been compared to: "Louisiana, motivation."
My standout records or moments to date have been: "My favorite song is 'Gravity.' I don't know why."
I'm gonna be the next: "I'm going to be the next new thing that you see in rap. I'm YoungBoy."
See 134 Rapper-Launched Record Labels From the Past and Present