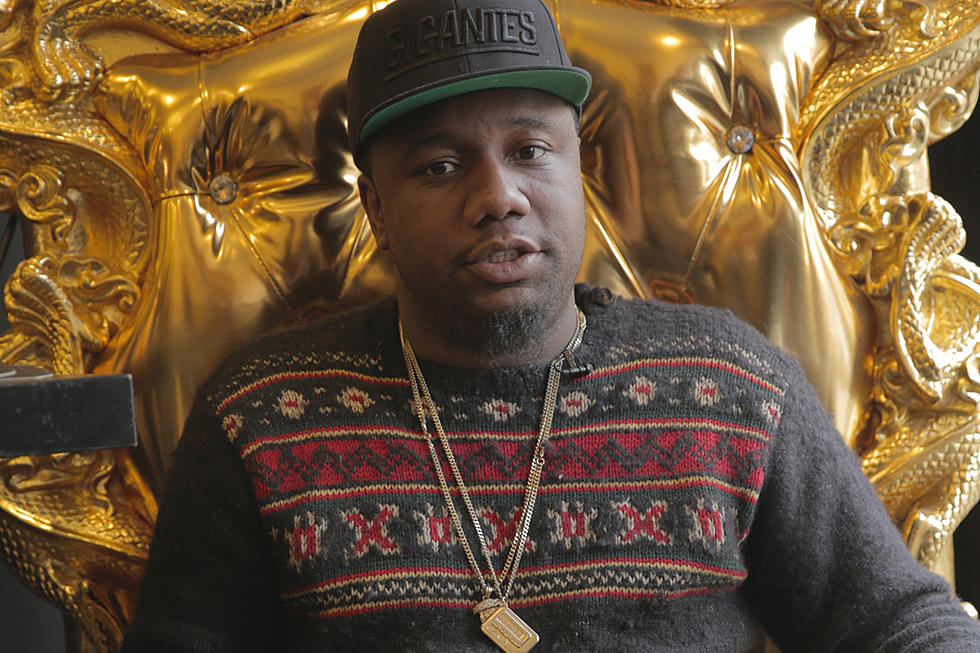 Murda Mook Thanks Q-Tip for Encouraging Him to Stay in His Battle Rap Lane – Exclusive
Berman Fenelus for XXL
Murda Mook
A standout star and a true OG in the modern day battle rap scene.
Words: Emmanuel C.M.
Editor's Note: This story originally appeared in the Spring 2016 issue of of XXL Magazine, on stands now.
Murda Mook is one of the pillars of modern day battle rap. The Harlem native, born John Acrum, first got into the scene in 2003, when he went up against Jae Millz in a battle that's still talked about today. Since then, the MC and former Ruff Ryders Entertainment artist has been featured in some of rap's most famed battles including the eight-round bout with Loaded Lux in 2007, the 2010 battle with Serius Jones and going head-to-head with Iron Solomon at the 2012 Smack/URL Summer Madness 2 event.
The former Fordham Prep guard was a high school basketball star in New York City who had dreams of playing in the NBA. Rapping was only a hobby until Mook's AAU couch Paul Suber heard him spit and suggested he take hip-hop seriously. Now 15 years later, Mook is one of the most prominent battle rappers in hip-hop.
Mook breaks down why rap battles have always been important to the culture and his role in the game.
XXL: How did you get into battle rapping?
Murda Mook: That was just something you did in that era in that time, the 1990s. I would always see battle rap. I actually saw Big L and Jay Z battle Uptown. This was before niggas knew who Jay Z was. Where I'm from we all knew Big L because he was the biggest thing in Harlem. People would rap, go on the corner, get into cyphers and that was just something you had to do. Now it's like, "Do you battle rap?" Before it was just, "You rap?" If you didn't battle, you wasn't a rapper.
So back in the early days of your career, in order to be a rapper, you had to know how to battle someone?
I say this a lot but I feel that ironically I'm sort of responsible for that, in some ways, because we all knew battle rap. It was a real underground thing. It was something you did and it got around with word of mouth. But then, when Smack DVD started to come out, and it exposed a lot more people into the art form, it kind of took on a life of its own. People started to make barriers like, you battle rap and you rap. That kind of was the death of it along with the time, the music kind of changing at that time. This was about 2003-ish.
What do you think is the difference between today's traditional MC and a battle rapper?
We have to really analyze what it is. Battle rap was the first thing ever done in hip-hop, as far as the part of knowing how to rap. I didn't just start this, battle rap was long before me -- 1970s, 1980s, they would crack jokes but it would be in rapping form. The word "traditional MC" is really a battle rapper. I think the proper tone now would be, I guess, reformed or new age MC because it's nothing traditional about what's going on now, as far as making hit radio records or things of that nature.
You signed a major deal in your career, so crossing over to mainstream was something you thought of?
I signed with Ruff Ryders [in 2008]. The reason I signed with them, they had a track record with breaking artists that were battle rappers. All of the artists that they signed came from battle rap and I got to see them where they from on 125th Street [in Harlem]. You would always see DMX and Drag-On hanging out. They would battle.
As far as still thinking about [crossing over], of course, music is my first love. It wasn't just that I chose to be a battle rapper. It was something you had to do to get signed and make your music.
What has been your lowest point of your career?
I wouldn't call it a low moment. I think the moment when I actually signed a deal. I used to think that you needed to please everybody. But then when I started to get older, I thought I got my own lane. Me and Q-Tip had a great discussion about this and I thank him for this a bunch. He was like, "You the man in the lane that you in, why would you try and go in another lane and start at the bottom of the totem pole while the lane that you in, you're king"? That kind of stuck with me. I said, "[Let me] just push battle rap forward and make that work for me." So I stopped worrying about the naysayers. Now battle rap is one of the most popular things. All the mainstream artists, they tell me they fans of me and what I do. And I'm good with that.
But how does a battle rapper make enough money to survive?
Over the years I've built a sufficient enough brand to be able to branch and do other things outside of battle rap that has enabled me to make a living. I get shows, I get appearances, I get people wanting me to do verses and I still do music that I sell. As far as battle rap, when I do a battle, I make sure all of the business is correct where after the battle, I be able to make some income off of what it is that I participated in. It ain't really been as hard for me, thanking God for everything.
Check out more from XXL's Spring 2016 issue including Big Sean's cover story, the Letter from the Editor, Macklemore's thoughts on White privilege, Kodak Black's Show & Prove interview, Doin' Lines with Boosie BadAzz, Flatbush Zombies' serious comic addiction, the producer behind Desiigner's hit "Panda," Plies' career boost thanks to Instagram, Anderson .Paak's Show & Prove, Lira Galore's Eye Candy interview, What's Happenin' with Fetty Wap, go inside Quality Control Music, Lil Uzi Vert's Show & Prove, Jay Pharoah's rapper impersonations, the history of battle rap and more.
See Exclusive Photos From Big Sean's XXL Cover Story