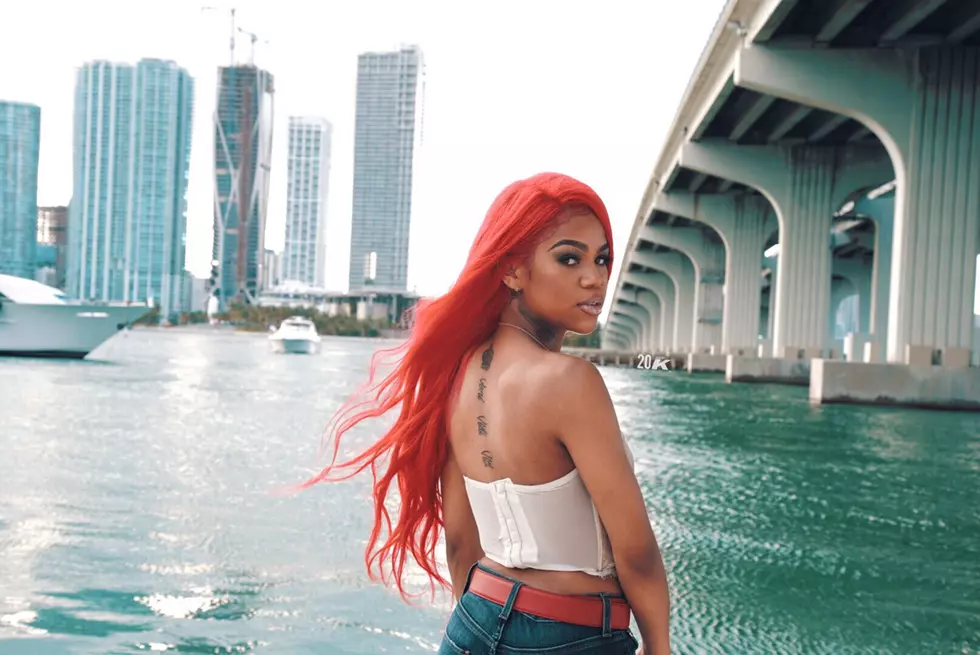 The Break Presents: Molly Brazy
20K
Molly Brazy started 2017 with a bang—for better or worse.
The Detroit rapper began gaining traction with the release of her solid Molly World mixtape in January. But she hit a setback in March when a video surfaced that showed her scolding and pointing a gun at a toddler. According to Brazy's manager, the gun was fake and the clip had been filmed months prior.
Still, the 18-year-old newbie bounced back with a consistent string of street hits like "Lately," "Yosemite Sam" and "Statement." She struck gold when she guested on Cuban Doll's breakout hit single "Let It Blow," which racked up more than 6 million views on YouTube. Today (Dec. 8), Molly closes out 2017 strong by blessing fans with her nine-track LP Big Brazy. And she's enjoying the glow up.
"I'm jumping levels," Molly told XXL via phone. "I'm only 18 years old and own a lot of shit. I'm working and I'm proud." Get familiar with a name you're sure to hear more of in 2018 with Molly Brazy's feature on The Break.
I grew up listening to: "I didn't grow up listening to my own music, to whatever my big brother was listening to, like Doughboy Cashout. I'm from Detroit so, it was whoever was blowing up in the hood. I used to look up to Nicki Minaj. I used to like Lil Mama because I used to dance but I don't dance anymore [Laughs]. Biggie Smalls, 2Pac—my aunties used to listen to them.
"When I first started making music, my brother had a little rap group and they would do some little freestyles and stuff. One day I freestyled with them and started liking it. I started making my own raps. I was young, like 10, 11 years old. When I got kicked out of high school, it happened in the morning time. I'm at home so bored that I pulled up an old rap that I wrote a week before and I rapped it into the camera. Then I did a freestyle. I put up the freestyle—a week after that I had 12,000 Instagram [likes]. The freestyle went viral. After that happen, I started writing raps and people just start hitting me to book me but I didn't have any music out. But I had nothing recorded. So I had to go and record a couple of songs.
"I never knew I was going to blow up like I did. It was fast. I was prepared to put in so much work. I don't know how to explain it, it just happened so fast."
My style's been compared to: "I got different type of sounds but at the same time, being from Detroit, we got something about us. It's just this sound, you know somebody is from Detroit because they have it. I describe myself as a female Chief Keef mixed with a little bit of Payroll mixed with a little bit of Future."
Most people don't know: "I'm nicer than people think I am. People think I'm so mean. I'm mean sometimes when I'm irritated but I'm very nice. When my fans first meet me, they expect me to be on some killing shit. I'm goofy as hell for real."
My standout moment to date: "I don't have any favorite song but my favorite moment is meeting celebrities and they know who I am. You would expect me to be shocked but they're shocked! [Laughs] Chris Brown always shows love and comments on Instagram. It's mind-blowing. Kash Doll grew up in Detroit, she was nice."
My goal in hip-hop is: "My goal is to make the most money this year. I want to break the record of making the most money. That's my number-one goal. My number-two goal is I want to influence young up-and-coming rappers who are struggling. If you feel like you want to be a rapper and have what it takes, do it, record yourself. You don't need anyone to come and help you. You won't know until you try it. You don't need any handouts."
I'm going to be the next: "Billionaire. That's all I ever wanted to be."
Cuban Doll's "Let It Blow" featuring Molly Brazy
See New Music Releases for December 2017