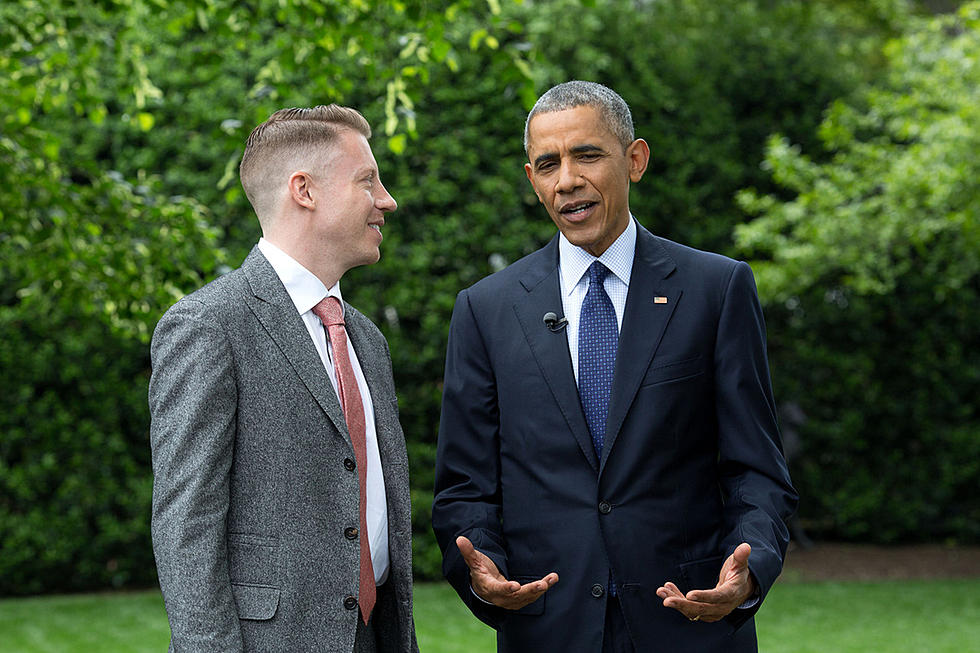 Macklemore Discusses His Opioid Addiction on President Obama's Weekly Address
The White House
President Barack Obama got a little help for his weekly address from one of hip-hop's most polarizing rappers. The President teamed up with Macklemore for this week's speech to discuss the topics of opioid abuse and addiction. Macklemore's appearance is historic as he's the first non-administration official to join a weekly presidential address.
"Overdoses now take more lives every year than traffic accidents," President Obama said in the address. "Overdose deaths have doubled in the last decade. A lot of the time, they're from legal drugs prescribed by a doctor. So addiction doesn't always start in some dark alley – it often starts in a medicine cabinet. In fact, a new study released this month found that 44 percent of Americans know someone who has been addicted to prescription painkillers."
Macklemore added to the President's point with his own personal experience on the subject.
"I didn't just know someone -- I lost someone," the MC said. "My friend Kevin overdosed on painkillers when he was just 21 years old. Addiction is like any other disease -- it doesn't discriminate. It doesn't care what color you are, whether you're a guy or a girl, rich or poor, whether you live in the inner-city, a suburb, or rural America. This doesn't just happen to other people's kids or in some other neighborhood. It can happen to any of us."
The "Can't Hold Us" rapper stressed that awareness can give people the strength to seek help. Macklemore said the stigma prevents too many individuals from getting the assistance they need. President Obama did emphasize that simply talking about the problem wasn't enough. He explained that his administration is working on tangible ways to address the epidemic. The President said that he has asked Congress to expand access to recovery services and give first responders the tools needed to treat overdoes.
Macklemore also sat down with President Obama for a one-on-one conversation that will be featured in a documentary scheduled to air on MTV this summer. The film will tell the story of several young people struggling with opioid addiction in an effort to bring awareness to the epidemic. Macklemore, who had his own public struggle with addiction, serves as the documentary's host.
See 40 Hip-Hop Albums Turning 20 in 2016