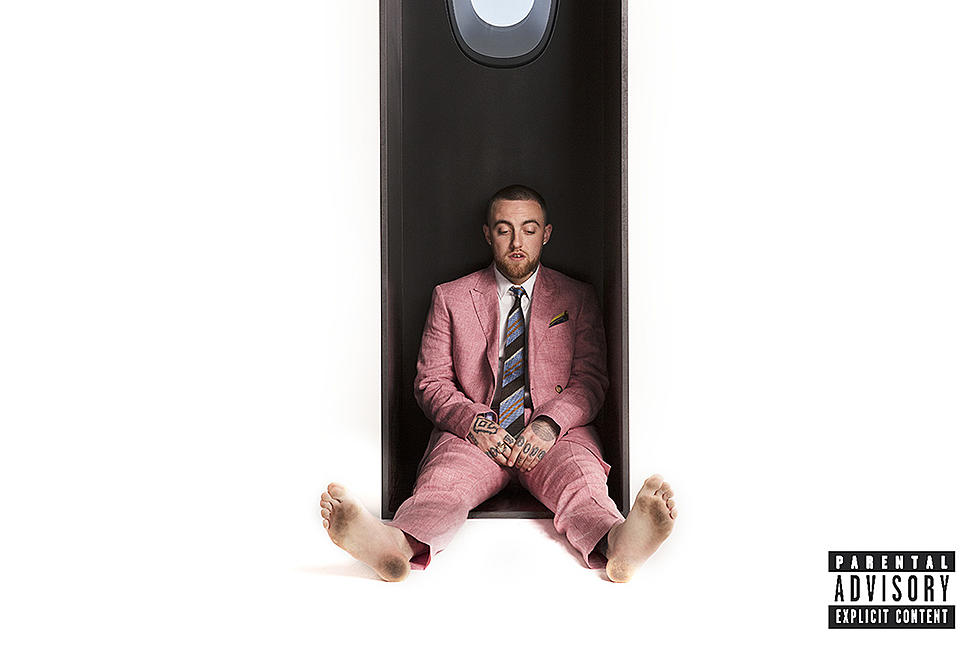 Mac Miller 'Swimming' Album: 20 of the Best Lyrics
Warner Bros. Records
Over the course of 13 tracks—laced with gorgeous production from Thundercat, Jon Brion, Mac's alter-ego Larry Fisherman and more—the dexterous Pittsburgh rhymer explores the perils of alcoholism, the gilded nature of fame and seemingly his split from Grande. To reach this end, he uses an endless stream of cleverly phrased stanzas as he makes some unique commentary about life. In other words, he definitely gets these bars off.
Mac's best lyrical qualities are showcased on "Small Worlds," a track that finds the 26-year-old spitting about fame. It's a little bit like "Success," Jay-Z's American Gangster collaboration with Nas, but in fitting with the tone of Swimming, it's much more melancholy.
"I know I probably need to do better, fuck whoever/Keep my shit together/You never told me being rich was so lonely/Nobody know me, oh well/Hard to complain from this five-star hotel," Mac spits, calmly riding the smooth Carter Lang and Tae Beast-produced beat. Mac definitely brought some heat.
Today, XXL takes a deep-dive into the best lyrics from Mac Miller's Swimming album.
"Come Back to Earth"

Mac Miller

"My regrets look just like text I shouldn't send/And I got neighbors, they're more like strangers/We could be friends/I just need a way out of my head/I'll do anything for a way out/Of my head" —Mac Miller

"Come Back to Earth"

Mac Miller

"And don't you know that sunshine don't feel right/When you inside all day/I wish it was nice out, but it looked like rain/Gray skies and I'm drifting, not living forever/They told me it only gets better" —Mac Miller

"I pay the cost to see apostrophes/That means it's mine, keep to myself, taking my time/Always into some bullshit, and out of line/Driving with my eyes close, missing all the signs/Turn the ignition, I'm driven and sitting pretty/Listening to Whitney and whipping it through the city yeah" —Mac Miller

"What's the Use"

Mac Miller

"Well I'ma give you what you came for, yeah/Shit, I've worked too hard to have a clue who you are/Set the bar so far above par we can parlay all day/Crib long range with the yard" —Mac Miller

"It feel like the weekend on the Tuesday/I can move days/Its 'I got something else to do' days/Always do hate, If I do say/The D'usse with the homies like it's Kool Aid/Me, I'm just tryna play it cool J" —Mac Miller

"Let's go back to my crib and play some 45s/It's safer there, I know there's still a war outside/We spend our nights all liquored up, our mornings high" —Mac Miller

"I got a bone to pick like roses (roses)/I ain't feeling broken no more/Bought a fist that got spent, I notice/Talking shit, I wander through the motives/Wonder who the fuck I'm supposed to be/I ain't worried now 'til I leave/I'm just tryna ride, feel the breeze/With something bad beside next to me" —Mac Miller

"This the level I'm on/Needing it all right now when forever is gone/Baby, the weather is strong/Whether it's hot or cold/I'm coming, knocking on your door/Well, I'ma, I'ma maintain, I'm staying so high/Put the lighter all the way up 'til we touching the sky" —Mac Miller

"I know I probably need to do better, fuck whoever/Keep my shit together/You never told me being rich was so lonely/Nobody know me, oh well/Hard to complain from this five-star hotel" —Mac Miller

"Yeah, I got a bad attitude, playing 'til I'm out of moves/No need for shame, I get more peace at slow speeds/Go beat the game, young control freak/It's cold in my veins, I'm below freezing, snow season (made me)" —Mac Miller

"Conversation Pt. 1"

Mac Miller

"Swear your life is basic/All you do is sit around the house you getting faded/That ain't entertainment, yeah/You missing every single shot that you ain't taking/Hey kid, you can use a little bit of your imagination/It can do you right and prove a life you busy wasting/Said it's your money if you make it" —Mac Miller

"You was coughing when you hit my weed/But I've never seen you feel that free/So cute, you wanna be like me" —Mac Miller

"Baby we don't need a trip, we could be right here/When the shit get weird, we could switch up gears/I wanna see them lips, kiss 'em ear to ear/I wanna hear your song/Ooh, I wanna feel just how you feel" —Mac Miller

"Yeah, okay you gotta jump in to swim/Well, the light was dim in this life of sin/Now every day I wake up and breathe" —Mac Miller

"The whole team 'bout to figure it out/We ice cold, that's what winter's about/And sometimes, sometimes I wish I took a simpler route/Instead of havin' demons that's as big as my house, mhmm" —Mac Miller

"Yeah they ask me what I'm smiling for/Well, because I've never been this high before/It's like I never felt alive before" —Mac Miller

"Take my time to finish, mind my business/A life ain't a life 'til you live it/I was digging me a hole big enough to bury my soul/Weight of the world, I gotta carry my own/My own, with these songs I can carry you home/I'm right here when you're scared and alone" —Mac Miller

"There was nothing in my wallet, just a lot o' dreaming/I built a crib on top o' the Promised Land, we'll call it even/Hm, I bring more flavor than all the seasons/Winter, spring, summer, fall, the grass is always greener 'til I cut it all" —Mac Miller

"Well, this is a special delivery, comin' to you live with the/Endless artillery, always down to ride/My eyes on the enterprise/Nine lives, never die, fuck a heaven, I'm still getting high/Nevermind, did I mention I'm fine/'Cause her pussy getting/Redder when the weather dry/Clementine, peelin' off/And everyone get left behind/I'm only 5'7'', 'xcept I'm feeling like I'm 7'5''" —Mac Miller

"Damn it, cross planets, interstellar/Never land, not a Jackson, packed with action/So what's happening, my man/No relaxing, kicking back, this ain't exactly in the plan/I can't get no satisfaction, goddamn" —Mac Miller