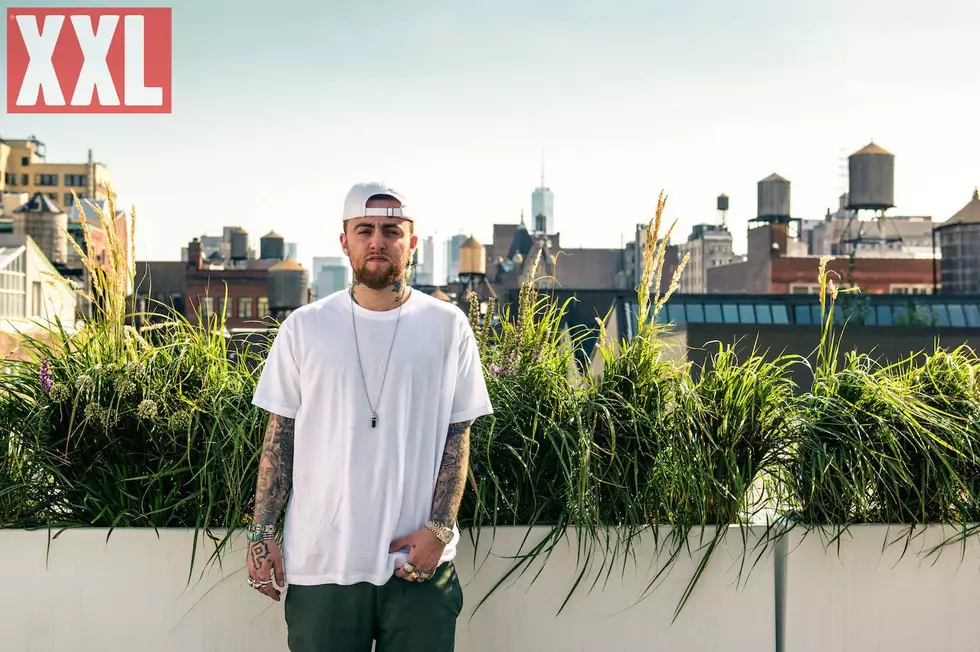 Mac Miller Has Found His Groove
Photo Credit: Andrew Link
My Way
While carving out a lane just for himself, Mac Miller has found his groove.
Interview Miranda Johnson
Images Andrew Link
Editor's Note: This story originally appeared in the Fall 2015 issue of of XXL Magazine, on stands now.
It's a blazing hot afternoon in late August and Mac Miller is puffing on a cigarette while chilling on the hooked up rooftop hangout of the Tumblr headquarters in Manhattan's famed Flatiron District. A week earlier the Pittsburgh native moved from Los Angeles to Brooklyn for a change of scenery and has made a mission out of getting familiar with all the local hotspots in his new Dumbo hood.
Today though, Mac's less focused on food and drink and more interested in discussing the upcoming release of his third solo album, GO:OD AM. In addition to a new LP, life has been going well for Mac. After parting ways with Rostrum Records in 2014, the 23-year-old energetic MC has found a new home at Warner Bros. Records, and last October negotiated a deal with Warner for his own label, REMember Music.
Now gearing up for the release of GO:OD AM, Mac is eager to get back in the swing of things. For this project he spent a chunk of time working with Rick Rubin and No I.D., two hip-hop heavyweights Mac has been very inspired by. The album also features guest appearances from Chief Keef, Miguel, Lil B and more.
While looking over the building's edge at a sprawling Big Apple, Mac can't help but be excited about all that is going on. Here he shares his thoughts with XXL.
XXL: So is your life always this hectic with you running around doing interviews?
Mac Miller: You know what, it isn't. It's just around album time. Other than that and touring, everything else is pretty normal. I do all this stuff, but for the most part, I just sit around and create, but I get some perks.
You recently moved to Dumbo. How's Brooklyn treating you?
It's been amazing. I love it here. If I were to have just come in for the week, I would being doing all this stuff shoved into one week. It would have been like 24-hour work days, but because I live here now, it's easier. I just really like my apartment and I love the neighborhood. It's an interesting time to have a new place 'cause there's a new album, so it feels like it's a new phase of life.
What made you want to move to New York?
Well, I feel like one of the biggest blessings my life has given me is the opportunity to have experiences. I've had an L.A. experience. I've had a Pittsburgh experience. Growing up in Pittsburgh, which is like six hours away from here, my dream was always to live in New York one day. I think everyone that grows up on the East Coast, that's kind of their dream. Everything has shifted to where it makes sense now. I like apartment living rather than having a mansion. The same amount of money, but I feel more like a human being.
You parted ways with Rostrum Records in 2014. What happened?
It kind of just seemed like the right thing to do. The transition was initially terrifying. It's a completely different game, but I'm lucky enough to be on a label that feels like I'm still at an independent company. I'm not pressured in any way to do anything creatively different. We'll see how it plays out after the album comes out, but so far it's been great. There's nothing about being on a major [label] that has been even at all negative.
You and your former Rostrum Records labelmate, Wiz Khalifa, helped spotlight the Pittsburgh rap scene. What happened with that whole Pittsburgh movement? And what's your relationship like with Wiz now?
That's another reason why I wanted to start my own movement, just to be able to open up more doors for people in Pittsburgh. It's not that anyone is doing anything wrong, but I'm saying just to represent the city in more ways than one. Me and Wiz are cool. I think we're two different artists. I think when I first came out, it was a lot of me and him grouped together. So, I think that time has allowed us to just do different types of things.
Who are some of your strongest relationships in the industry with?
Well, I refuse to work with people that I don't have a relationship with because I don't like that. I don't like how it feels and I don't like to have that on my record. My strongest relationships are with ScHoolboy Q, Ab-Soul and Vince Staples. I'd say those three and Thundercat, definitely. He's one of my best friends in the whole entire world. So those four.
You said in an interview in August with Power 105's The Breakfast Club that 2014 was a weird year for White rappers after the Macklemore and Iggy Azalea controversies. Is that why you have been kind of lowkey?
There wasn't any reasoning for taking time off. I just think that with all the stuff that was going on in the world, the racism issues, that I don't think people are looking at White rappers like, "Yay!" I just think that with all the issues, White people didn't stick out as being awesome and White rappers didn't either. So it wasn't a bad time to be chillin'.
It doesn't seem like you get pigeon-holed into that category...
Yeah, that's another thing. There's a difference between a White rapper and a White person that raps. I think I'm just a White dude that raps. I don't want to be in the genre called White rapper. I think that exists. I just don't think I'm in that.
You have a new deal with Warner Bros. Records. How did that come together?
I met with every single label. It wasn't about who could give the best deal [money-wise]. It was really down to what company we fit at the most. Warner is in the middle of [creating] a hip-hop movement. Everything hip-hop at Warner just went through Atlantic, and now they're just doing their own thing. I like that I'm a part of something new. The president is real smart and he's picking really good people to be a part of what's going on. OVO is over there. It's just dope to be the franchise player. I just like the new company a lot. And, they got Prince.
What's the appeal you want your label REMember Music to have?
I think that they just have to be genuine people that I'm pushing. That comes way before if someone is going to be big or not. I've had meetings and opportunities to sign people that I didn't want to because the person didn't impress me as much. That means a lot to me. Maybe when I get older and I'm more business-like, I won't care, but I'm not that. I want to push genuine people that I feel deserve it.
Lately you have alluded to falling back on some drug usage. You're not sober now, are you?
It's just a shift in the state of mind. I'm not sober but I'm more focused. I'm just seeing the importance in what I do and the opportunities that I have. Just trying to make sure that I'm not the reason that anything would be ruined.
Did you get the vibe that was happening? Were people like, "Mac's going to show up drunk?"
Yeah, even still. Before, when I was onstage, I used to drink a whole fifth of Jameson straight out the bottle per show every night, which was good times. On my birthday, I drank two fifths of Jameson. That was great. But, I didn't want to be the artist with a team of people trying to keep me sober enough to be onstage. I like to be aware. I don't like whispers within my own camp.
Was there a specific person that was influential in helping you get this mind frame?
Rick Rubin was someone that was really instrumental in helping me get to a better place. I didn't go to rehab. I went to Rick Rubin's house. I was in Europe doing a show and I was super wasted. I just called him like, "I'm really wasted and I need you to help me." So I got a house in Malibu, literally around the corner from him for the summer. I just did a lot of stuff with him that was just about getting healthy. It all started when I was meeting with different labels. Rick is working with Republic and they sent me to his house to play him some music. We just really hit it off and built a good relationship. He just really has a positive state of mind. I think there's people in the industry that will take someone who's fucked up on drugs and will try to milk that person for everything they can. Then there's people that understand that you need good soil for something to grow.
Was it harder to make music without all the drugs?
No, I'm always making all kinds of music. It's just what I decide to put out. I remember I was making [my mixtape] Faces, I was listening to it and how many drug references there were. So to me, it became corny to continue talking about it. I want to challenge myself.
What is the main inspiration behind your new album, GO:OD AM?
It's not like any type of [sings], "I'm clean" records. It still goes through its moments of darkness. It still has its own journey. I like to describe the album as a breath of fresh air and not say it in a cliché way. It's a breath of fresh air, but more like if you woke up in a super smoky room and then you threw water on your face, walked outside and it was a nice day. There's a lot of different meanings within the meaning.
How did you come up with the name for this album?
The working title was Good Morning. It was too simple for me. I was over at No I.D.'s spot and I was just telling him how frustrated I was. He was like, "Just call that shit GO:OD AM." So he basically named the album. I didn't even expect for it to happen. I was just playing him records. We've had some dope conversations. I don't work with people unless I can have a good conversation with them. Collaborating is a good conversation, so you can't collaborate with a loose language.
How is this album different than your last two projects?
I think it's a different soundscape. No pun intended, but it's even a little more awake sounding. That's what the main difference is. I'm a little more awake and aware. I think me on this album is a little bit more sure of who I am as a person.
Was it a hard transition for you to anchor into the role of a boss man? People tend to look at you as the playful homie.
My label is still in a building process. I'm not going to be the boss, the super business dude. I'm here to have fun, create and give people that I genuinely care about help when they need it. It's so horrible to think about being stripped down into something you hate. That comes way before if someone is going to be big or not.
So with a new solo album and a label deal, you're making moves. What's the five-year plan?
That's interesting. I haven't gotten that question yet. My five-year plan, put out this album, tour and I hope in the next five years, I can explore all these different sides of creativity. Whether it be different kinds of music or side projects. I really want to make a film. If you know me, you know that I'm addicted to watching movies and TV shows. I binge watch. It's safe to say I replaced drugs with Netflix.