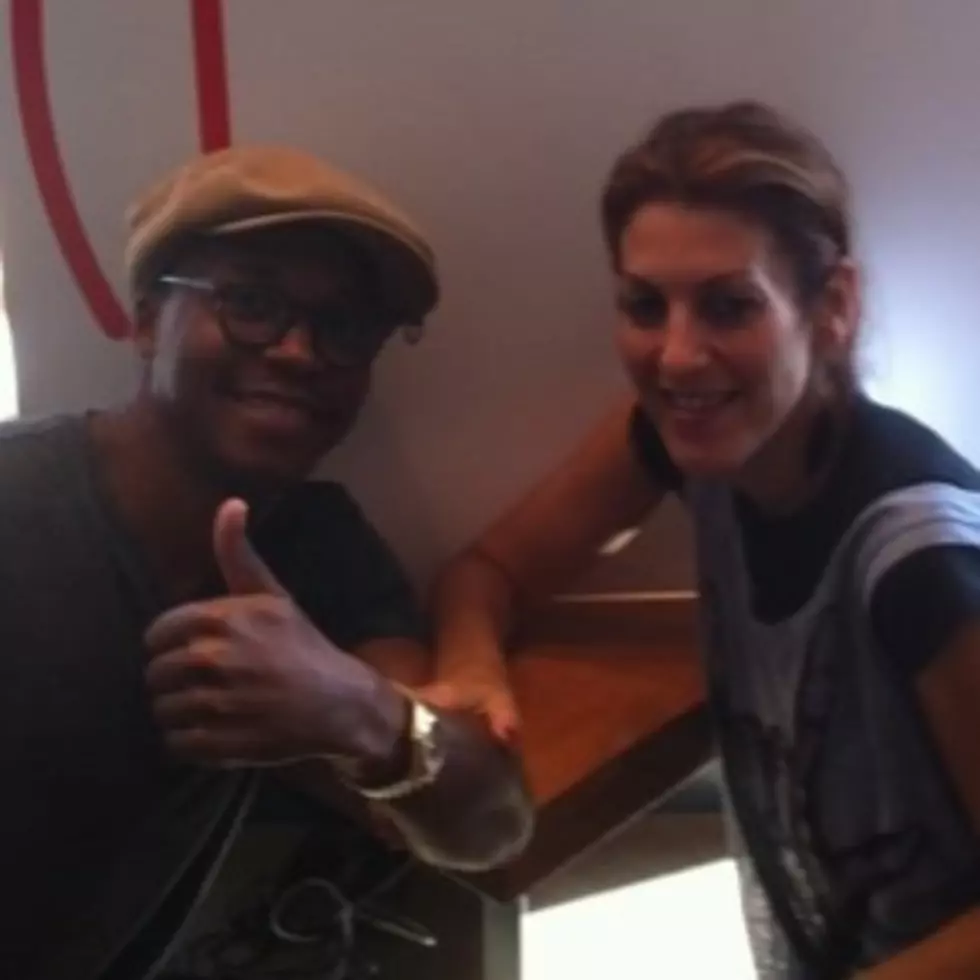 Update: Lupe Fiasco's 'Lasers' to Drop on March 8, Label Tweets
Lupe Fiasco and his fans took a collective sigh of relief this morning (October 8), as it was announced via Atlantic Records' Twitter account that his long delayed third album, Lasers, will be released March 8.
Yesterday, Lupe tweeted a picture of himself and Julie Greenwald, the president of Atlantic, in which the Chicago MC was giving a thumbs up and a smile as the two sat at a table in front of a large Atlantic Records sign [see above].
The announcement comes after months of turmoil and delays on the project, which is a follow up to Fiasco's sophomore offering, 2007's Lupe Fiasco's The Cool. Consistent pressure had been put on the label by both Lupe and his fans.
The spitter himself had mad numerous comments about being unhappy in his situation, most recently in a keynote address at the Second Regional Academic and Cultural Collaborative in Dayton, Ohio. During the speech, he expressed frustration over the fact that he felt Atlantic did not push any of his new music from earlier this year to radio or television, that they wanted 25 percent of what he made from other endeavors, including concerts and endorsements, and that there were general creative differences. "They think I'm wack," he said at one point.
If the picture and Lupe's subsequent tweet are any indication ("Victory!" he wrote), the road towards reconciliation seems to have been paved following yesterday's meeting and his project finally receiving an official date.
It's not unrealistic that, in addition to the remarks Fiasco made himself, the diligent work of his devoted fans played some role in the resolution. This past summer, an online petition demanding the album's release was created, eventually garnering some 30,000 signatures. Then plans to protest outside of the Atlantic offices were announced. Called #FiascoFriday, the demonstration is set to take place on October 15, one week from today. However, it would seem that this may quell some of the anger among his fans.
The creator of the fan site The LupEND Blog and one of the main organizers of the protest, who previously spoke with XXLMag.com about the event, feels differently. Known in the online community as SeanTheRobot, he said he believes the protest will go on, regardless of the announcement. "I don't think [the protest will be cancelled]. They'll still go and protest about how Atlantic treated Lupe."
Atlantic Records did not respond when reached for comment. —Adam Fleishcer