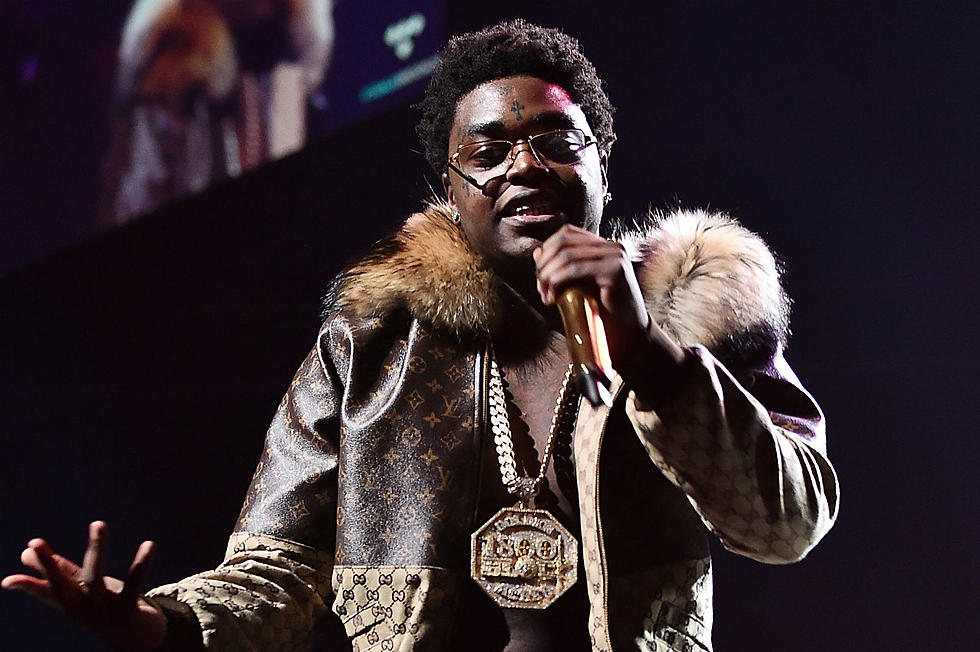 Kodak Black Indicted for Allegedly Lying to Buy Firearm
Theo Wargo, Getty Images
Speaking to XXL Monday afternoon (May 13), the rapper's criminal attorney, Bradford Cohen, confirmed that the 21-year-old has been charged with for two counts of making a false statement on governmental paperwork. The form he speaks of is the Firearms Transaction Record (Form 4473), which is the paperwork that must be filled out in order to purchase a registered firearm.
The paperwork in question includes a section that asks if the person filling it out is under indictment for a felony. The paperwork was checked off with a "no," even though Kodak was previously indicted for criminal sexual conduct for a 2016 case in South Carolina. That's what led to his arrest.
Cohen says legal jargon can make such paperwork like the Firearms Transaction Record confusing.
"When you throw around legal terms like indictment, information, or anything like that where someone's not an attorney, [the federal government is] making the assumption that you know what that means," Cohen says without indicating whether or not Kodak actually filled out the paperwork.
"Down here, they file in information," continues Cohen. "Like in state court, they file information. Generally, they don't indict unless it's a capital crime. So every state has different terminology."
According to the Miami Herald, federal prosecutors say Kodak lied about whether he was under indictment while buying or attempting to buy weapons from Hialeah, Fla.'s Lou's Police Distributors gun store two separate times in January and March. While the Herald says Kodak isn't allowed to own a weapon in Florida because he's a convicted felon, Cohen says that rule doesn't apply to Kodak because the rapper technically isn't a convicted felon.
"Kodak's not a convicted felon, he's only had withholds of adjudications," says Cohen, referring to a legal term that describes the process of sanctions being handed down by a court rather than an actual conviction. "So [Kodak is] still eligible to buy a firearm.
Kodak's next court appearance will be for his bail hearing at 10 a.m. this Wednesday (May 15).
As we mentioned above, Kodak was arrested this past Saturday. The U.S. Bureau of Alcohol, Tobacco, Firearms and Explosives, Miami-Dade Police Northside Gang Unit, and U.S. Marshals were all involved in Kodak's arrest, according to Miami's WSVN News. The U.S. Marshals released a statement on the night of his arrest, and called it an "extensive investigation."
Although it was initially reported that he was on-site at Rolling Loud, reps for the festival have since stepped up and said that he was apprehended before even making it to the Hard Rock Stadium.
"Kodak Black was not arrested at Rolling Loud," a statement from the festival reads. "He was arrested on his way to the festival and we have no knowledge of what led to the arrest since he was not on festival property."
This news follows a previous drugs and weapons-related arrest just weeks prior at the U.S.-Canada border. Authorities said that Kodak had marijuana and a Glock 9mm pistol inside the Cadillac Escalade he was driving on April 17 while en route to a performance in Boston. The rapper posted bail the following day (April 18) and was released.
Kodak Black also has the aforementioned criminal sexual conduct trial pending, following its postponement in April. The charges stem from a 2016 incident where the rapper was accused of criminal sexual conduct at a hotel in Florence, S.C. near where he'd been performing on the night of Feb. 7, 2016.
See 17 Rappers Who Were Arrested in 2019