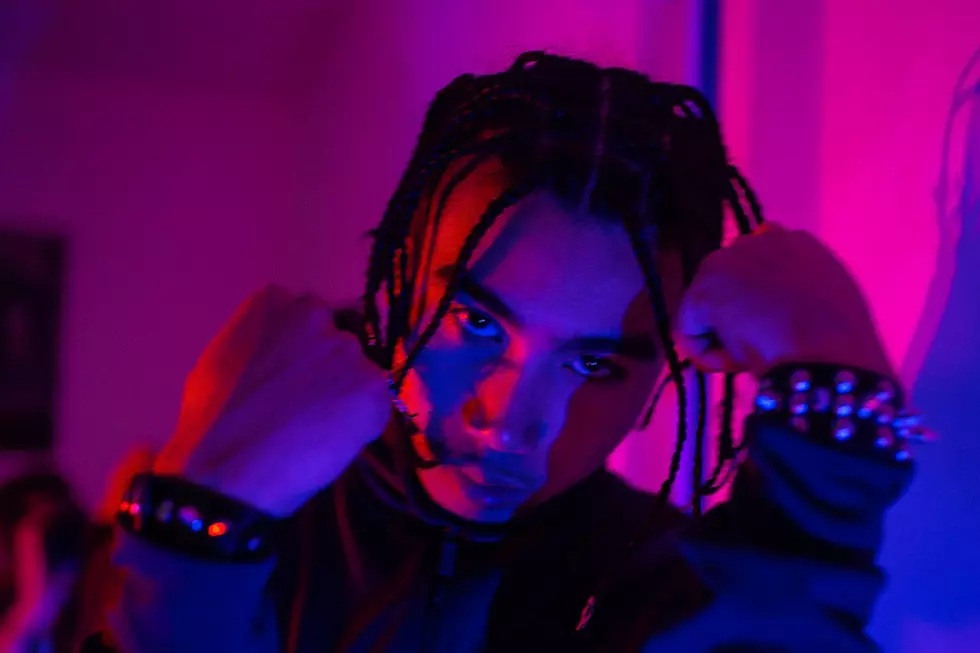 Killy Shares Surrender Your Soul World Tour Dates
Hallie Tut
The Toronto talent recently announced the dates for his jaunt, dubbed the Surrender Your Soul World Tour, and the "No Mistakes" rapper will be making 33 stops in total. Kicking off on April 28 in Seattle, Wash., Killy will criss-cross the U.S. making stops in cities like Houston, New Orleans, Atlanta, Miami, New York and Los Angeles before heading abroad.
Killy's rise to fame has been short but noticeable. His trippy, breakout single "Killamonjaro" dropped last February and quickly gained momentum on SoundCloud. "There wasn't really a marketing plan, I just had a plan," Killy told XXL about his rise. "I'm the type [that] if I was gonna do something I was gonna do it thoroughly. I recorded ['Killamonjaro'] around this time last year and waited six months to release a video so I could get a poppin' budget for a good video, so I could have the image of the video, like having my hair longer in braids so it could really capture the energy of the song."
With Surrender Your Soul's release, the rhymer has an even bigger wave and big plans for the future, "I'm the next leader," he added. "I'm the next up for the people. Killy for the people. Killy season."
Check out Killy's Surrender Your Soul World Tour dates below.
Killy's Surrender Your Soul World World Tour Dates
April 28 - SEATTLE, Wash. - THE VERA PROJECT
April 30 - SAN FRANCISCO, Calif. - BRICK + MORTAR
May 1 - SAN DIEGO, Calif. - DELTA ROOM – HOUSE OF BLUES
May 2 - PHOENIX, Ariz. - CLUB RED
May 4 - DALLAS, Texas - JIMBLYA
May 5 - AUSTIN, Texas - JIMBLYA
May 6 - HOUSTON, Texas - JIMBLYA
May 7 - NEW ORLEANS, La. - THE PARISH – HOUSE OF BLUES
May 9 - ATLANTA, Ga. - VINYL
May 11 - MIAMI , Fla. - ROLLING LOUD
May 14 - WASHINGTON, D.C - SONGBYRD
May 16 - BOSTON, Mass. - MIDDLE EAST UPSTAIRS
May 17 - NEW YORK, N.Y. - SOB'S
May 18 - PHILADELPHIA, Penn. - VOLTAGE LONGU
May 20 - CHICAGO, Ill. - SUBTERRANEAN
May 22 - DENVER, Colo. - GLOBE HALL
May 24 - LOS ANGELES, Calif. - THE ROXY THEATRE
May 25 - SANTA ANA, Calif. - CONSTELLATION ROOM
June 4 - WARSAW, PL - DRUKARNIA
June 6 - ZURICH, CH - KOMPLEX KLUB
June 7 - BERLIN, DE - ST GEORG
June 8 - BARCELONA, ES - RAZZMATAZZ
June 9 - MADRID, ES - COOL STAGE
June 11 - HELSINKI, FL - TAVASTIA
June 13 - STOCKHOLM, SE - DEBASER STRAND
June 14 - AARHUS, DK - ATLAS
June 15 - FRANKFURT, DE - ZOOM
June 16 - STUTTGART, DE - F & k
June 18 - ViENNA, AT - FLEX
June 19 - PARIS, FR - LA MAROQUINERIE
June 20 - LONDON, UK - O2 ACADEMY 2 ISLINGTON
June 22 - AMSTERDAM, NL - MELKWEG UPSTAIRS
June 23 - BRUSSELS, BE - FIRE IS GOLD
See New Music Releases for April 2018