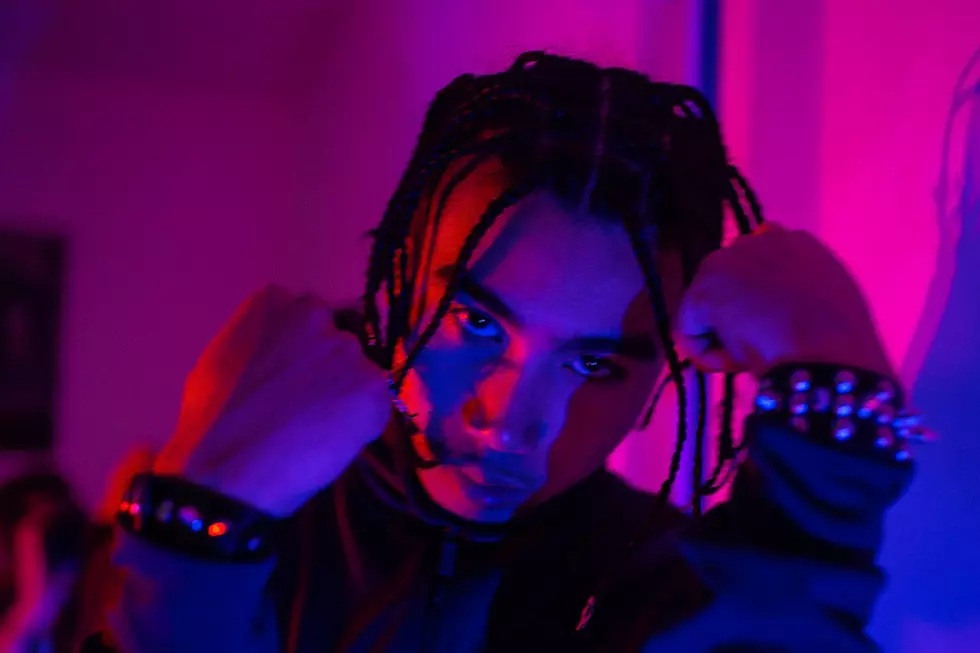 The Break Presents: Killy
Hallie Tut
Despite being neglected or pushed to the back-burner in the past, Canada has had a strong track record for pumping out massive stars in rap's recent history. The list of Canadian rappers gaining mainstream success grows longer and now, the Northern territory's renaissance period continues with Toronto rapper KILLY. Over the last year, the braid-swinging rhymer has racked up millions of plays online, most of them coming from YouTube.
KILLY's breakout track, "Killamonjaro," released in February, captures the high-on-life feeling of molly, weed and music over a healthy piano and bass-driven beat produced by Gray Jacques. Though it gained steam on SoundCloud, KILLY knew he wanted to wait until the right time to drop his first music video. In KILLY's word's, it's been an "avalanche."
"There wasn't really a marketing plan, I just had a plan," KILLY tells XXL. "I'm the type [that] if I was gonna do something I was gonna do it thoroughly. I recorded ['Killamonjaro'] around this time last year and waited six months to release a video so I could get a poppin' budget for a good video, so I could have the image of the video, like having my hair longer in braids so it could really capture the energy of the song."
KILLY's music is characterized by strategic voice manipulation—going from deep, groggy tones to a high-pitch closer to his natural tone—and though it may look effortless, the 20-year-old says he's got a calculated plan for every piece of art he puts out.
Inspired by acts like Young Thug and Tame Impala, KILLY wants to make music solely based off feeling and only release content that matches the music's energy. He teamed up with buzzing producer 16yrold for his latest track "No Romance" and, of course, the pair dropped a visual to match. The rapper aims to drop videos for every song he makes and says his debut project will drop by this winter. Get to know KILLY's story in The Break.
I grew up listening to: "I listened to everything. I listened to MF Doom early, I fuck with Kanye [West] and G.O.O.D. Music, Mobb Deep, Soulja Boy was the shit. The way I started rapping was listening to Joey Bada$$. When I started rapping I was modeling my raps after MF Doom beats and New York stuff.
"I was probably in grade seven on my BBM [BlackBerry Messenger] recording voice notes, like, doing bars and shit. When I started recording them for real I was in high school, grade nine and grade 10. And that's when I started making full songs."
My style's been compared to: "[People] try to box me into the SoundCloud rap shit; that's a comparison that I get that I don't really agree with. But I don't really pay attention to that 'cause my songs are off of YouTube. I made my mark on YouTube. I have less than 10 songs on SoundCloud. I've never reposted someone else's song on SoundCloud. That's just what people look at, I guess, seeing my image. And they try to classify me and box me in with those other people that dress the same as me, but my music's very, very different—generally speaking.
"A couple blogs have posted my music calling it emo rap. To me, the reason is because they're hearing something they have never heard before. They can't put a name on the unknown. At this point, they're just trying to make up things to describe what they've never heard before, and that's a perfect example of that. If that's your perspective on it, I mean, that's your perspective, but I definitely wouldn't consider myself an emo rapper. I just make music based off energy."
Most people don't know: "I don't fuck with people. I'm for the people, but I don't fuck with people. I'm kind of anti-social. I just don't fuck with a lot of people. I can appreciate a lot of people. It's hard to explain. For me, I feel like I don't work on the same frequency as a lot of people and when there's that disconnect... I might connect with music that way, but in person, it's almost just two different people. I don't know how to really explain it."
My standout moment to date: "I haven't even went off yet, you know what I'm saying? I don't even think there's a good one yet, you know. Real talk. I think my most standout thing, like, moment, is... I don't know, I think just the come up in general. Seeing people at every show singing back to me. All I know is Chantel Jefferies is bad and she was the first public figure to recognize 'Killamonjaro' early. She picked up 'Kilimanjaro' early and yeah, I'm happy for that."
My goal in hip-hop is: "I need to be very analytical about this. My goal is to… I don't know, change the culture. To make an impact through my sound."
I'm going to be the next: "I'm the next leader. I'm the next up for the people. KILLY for the people. KILLY season."
Standouts: "Killamonjaro"
"No Romance" With 16yrold
Here Are 19 Rappers Going Platinum in 2017